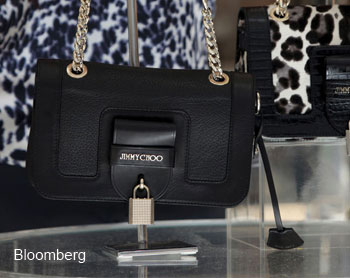 (Oct 17): Jimmy Choo Plc rose on its debut in London trading after the maker of $1,995 Lust peep-toe sandals sold shares at the bottom end of its range following a week of market turmoil.
The stock advanced as much as 2.1 percent and was trading up 0.4 percent at 140.5 pence at 9:00 a.m. in the U.K. capital.
JAB, the investment arm of the billionaire Reimann family, sold a 25.9 percent Choo stake for 140 pence a share. The shares were originally offered for as much as 180 pence before the shoemaker lowered the top end to 160 pence this week, people with knowledge of the matter said.
JAB seemed "very eager to float Choo one way or the other," said Luca Solca, an analyst at Exane BNP Paribas. The IPO signals it considers a "lower price better than no price."
The initial public offering valued Jimmy Choo at 546 million pounds ($876 million), about the same amount JAB paid for the company three years ago. The IPO comes as subdued spending by Chinese shoppers causes luxury industry growth to slow and after weakening stock markets led U.K. companies including Homebuilder Miller Homes Plc and lender Aldermore Group Plc to shelve plans to list.
Carrie Bradshaw
Choo's revenue is growing at a high double-digit pace in China, where it aims to expand, and more than 20 percent in Japan, Chief Executive Officer Pierre Denis said last month. The company, whose shoes were made famous by "Sex and the City" character Carrie Bradshaw, benefits from high brand recognition and limited distribution in Asia, where consumers are tiring of widely available brands, according to Neev Capital.
The IPO reflects "confidence in our ability to outperform the luxury shoe market," Dennis said in the statement.
Choo, which was acquired by private-equity investors three times before being bought by JAB for more than 500 million pounds in 2011, sells women's and men's shoes, handbags and accessories in more than 100 stores worldwide.
JAB reorganized its business in June, bringing brands including Choo and jacket-maker Belstaff under direct management in a move it said reflected an increasing commitment to luxury goods. The shoemaker's namesake designer left in 2001, followed by co-founder Tamara Mellon a decade later.
Bank of America Corp.'s Merrill Lynch International organized the sale as sole sponsor and global coordinator. Merrill and HSBC Bank Plc are joint bookrunners and BHF-Bank is co-lead manager.