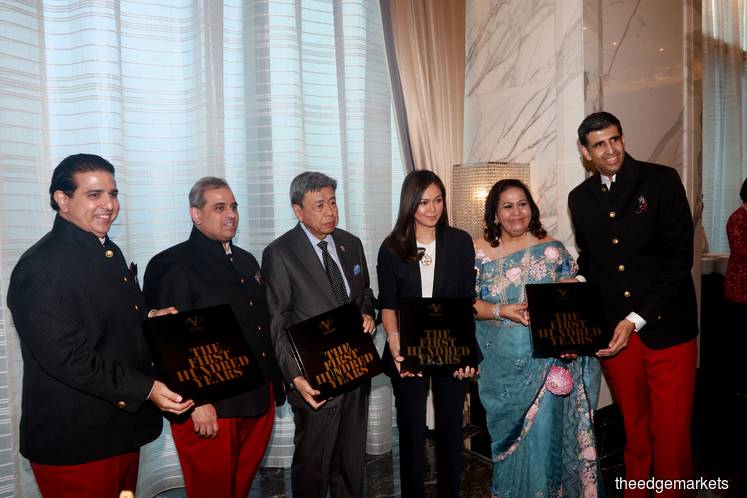 KUALA LUMPUR (Feb 24): Luxury and lifestyle retail group Valiram today launched a coffee table book that charts the history of the company since its founding in 1935.
Titled Valiram: The First Hundred Years, the book is a passion project led by Valiram executive directors and brothers Sharan, Ashvin and Mukesh Valiram, alongside their mother Datin Champa Valiram.
The book also serves as a tribute to the family's late patriarch, Datuk Jethanand Valiram, who passed away in 2017.
"This book has been three generations in the making, and we dedicate it to the next with the hope that they leave their imprint in the future chapters of the Valiram story. Every element in this book was carefully curated with input from all of us as a family," said Sharan.
Meanwhile, Ashvin said the book was titled "The First Hundred Years" because the family believes that the Valiram story will continue to evolve and the next generation will undertake the responsibility of recording the next hundred years.
"We hope that the tales within this next volume will remind them of the legacy they come from and inspire them to work towards creating their own epic tale," he added.
Meanwhile, Mukesh said their father had always reminded them of the importance of family and upholding the family name.
"We're proud of how far the family name has come, enabled further by the many relatives, friends and partners who've been there throughout the decades, supporting our endeavours. We thank you, from the bottom of our hearts," said Mukesh.
During his speech at the launch of the book, Selangor Sultan Sharafuddin Idris Shah praised the Valiram family as icons of Malaysia's multicultural society.
"Through the ups and downs, I am glad that Valiram's business has become prosperous and successful. The Valirams are a true Malaysian success story and it's a story to be shared," the sultan said.
Also gracing the launch was his consort Tengku Permaisuri Norashikin.
The book saw limited numbers of copies printed and distributed to selected people; they are not for sale.