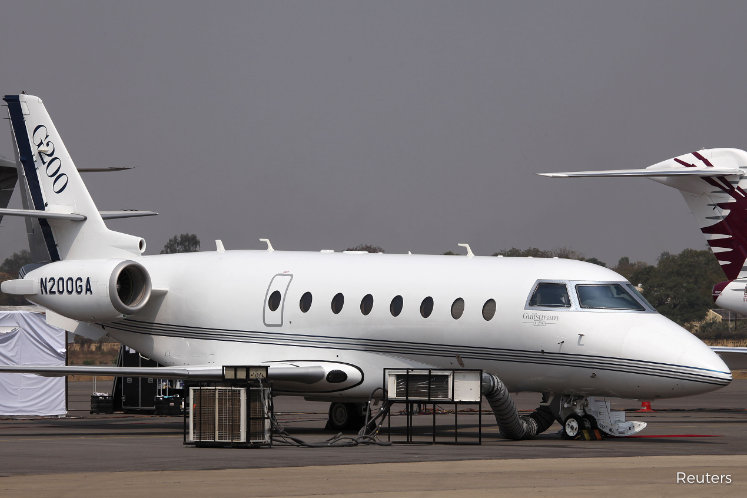 (May 14): Luxury charter airlines and companies that fly tourists on sea planes in Alaska received millions of dollars in federal aid under the $25 billion Treasury Department program to keep aviation workers on the job, along with medical-evacuation providers and other carriers.
Located at Florida's Palm Beach International Airport and just a few miles from President Donald Trump's Mar-a-Lago club, Jet Access Aviation LLC is slated to receive $2.4 million in payroll assistance.
But business is down 95% because nearby islands and most U.S. states remain closed, said Jack Lambert, the company's chief executive officer.
"I'm really, really concerned that we're not going to be able to start back up and running until after September," he said in a telephone interview from the 16th hole at a West Palm Beach golf course. "We just don't know how long this is going to last."
The Treasury Department data reveal the breadth of the pandemic's impact on the aviation industry, with the biggest carriers to the smallest airlines all suffering from a historic plunge in passenger traffic. Even well-heeled individual and corporate clients served by Jet Access and others have cut back.
Jet Access, which last year had $40 million in revenue, employs around 100 people, of which 66 are receiving their full salary with the help of federal aid, said Lambert, the company's owner and founder.
New York to Florida
The company's fleet includes more than 20 private jets including two Gulfstream G200 planes dressed with leather seating, wood panels and golden cup holders, according to its website.
For the few flights that Jet Access is still running, Lambert has pilots tested for Covid-19 weekly, and does a deep cleaning of the private planes. Those flights are largely moving between New York and Florida, he said.
Other luxury carriers that Treasury said received funds include:
    Houston-based Wing Aviation Charter Services LLC received $4.7 million. It operates roughly 20 aircraft including four Gulfstream V jets, according to its website
    Pegasus Elite Aviation Inc. near Los Angeles got $3.6 million
    Sun Air Jets LLC in Camarillo, California, whose website advertises "discreet luxury," received $3.7 million
    Medway Air Ambulance LLC in Lawrenceville, Georgia received $2.4 million
The companies did not reply to requests for comment.
Charter airlines have seen business decline by 80% or more since the pandemic reached the U.S., according to the National Air Transportation Association, an industry trade association that represents some 2,000 operators. Most are small businesses and half fly planes that carry nine or fewer passengers. Once virus-related restrictions are lifted, more businesses could turn to private flights by charters as a safe and sanitary mode of transport, the group said.
The federal aid was provided as part of the $25 billion in grants earmarked to support payrolls at passenger air carriers that have seen demand plummet during the coronavirus pandemic. Treasury listed some 96 companies that have received funding through the program, with more than $19 billion going to large carriers.
Bigger airlines are required to repay 30% of the payroll grants through low-interest loans due within five years and offer financial stakes to the government. Smaller carriers receiving $100 million or less do not need to offer the government financial stake or pay compensation details.
Missed season
Among the smaller carriers is Anchorage, Alaska-based Rust's Flying Service Inc., which received $1.16 million in aid. The family-owned company operates a fleet of more than 20 aircraft, including several seaplanes for charters, sightseeing and bear viewing tours.
Co-owner Suzanne Rust said canceled cruises and commercial flights to the state have essentially wiped out the company's roughly 120-day tourist season that generates a majority of its annual profit.
"I'm trying to look to 2021 because we're going to miss our season," she said, pointing out that the company would continue to remain open for what business remains.
Rust said the federal aid will help her keep on her core staff of roughly 25 people including pilots with years of experience navigating Alaska's rugged back country and mechanics who work on the company's specialized aircraft, many of whom have worked there for years.
The companies getting federal assistance can only use the funds to pay employee wages and benefits, and must refrain from layoffs, furloughs or reduced wages through September. Companies taking the aid are also barred from stock buybacks or paying dividends to shareholders until September 2021.
While some smaller carriers want more assistance, the House Democrats' $3 trillion stimulus bill proposed this week does not set aside further aid for the airline industry.
Jet Access' Lambert thinks that while the rest of 2020 will remain difficult for the charter-plane industry, pandemic protocols may eventually be a boon.
"The private jet industry as a whole is going to take off, people aren't going to go commercial," he said.