This article first appeared in The Edge Financial Daily, on June 13, 2017.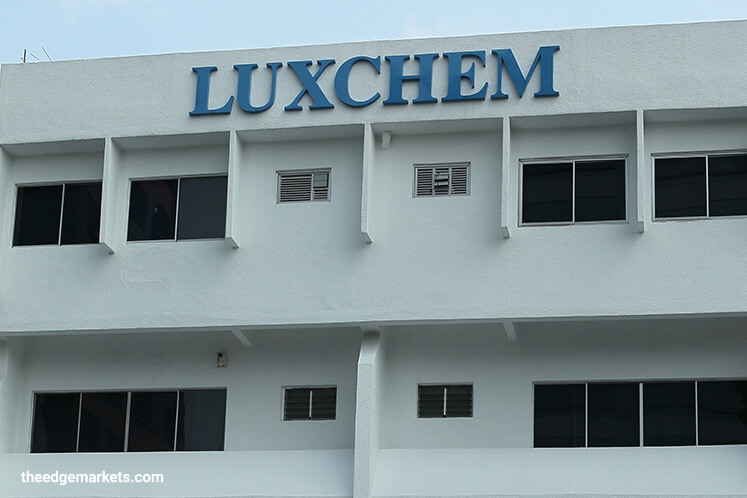 KUALA LUMPUR: With no plans for further expansion in the near future, industrial chemical supplier Luxchem Corp Bhd's focus is on enhancing its presence in Indonesia and Vietnam and raising its operational efficiency.
Founder and chief executive officer Tang Ying See said the group would be spending more time and efforts on further developing the two markets instead of seeking to penetrate other markets.
"These two markets are big enough for us [to focus on] for the next five years," Tang told The Edge Financial Daily. "It's no point if we haven't fully developed the market and expand into other areas. I think these two markets are the upcoming markets."
Luxchem's exports totalled RM206.35 million or 26% of its total sales in the financial year ended Dec 31, 2016 (FY16), compared with RM178.62 million in FY15.
Tang attributed the increase in exports to more sales in Vietnam and Indonesia. Exports to Vietnam rose 23.2% to RM96.92 million in FY16 from RM78.7 million in FY15, while exports to Indonesia surged 35.7% to RM70.43 million from RM51.89 million.
Tang said Luxchem will be replicating its Malaysian business model in Indonesia.
"Indonesia should be growing … we need to put in more efforts in the Indonesia market", he said when asked about the outlook for the market in FY17.
As for Vietnam, Tang said the market "is still new, so we will see". The company set up business operations in Ho Chi Minh City in 2015 to cater to the growing sales in that country.
Incorporated in 1991, Luxchem supplies industrial chemicals to four major industries — rubber, latex (glove), fibreglass reinforced plastic and polyvinyl chloride.
"Overall, we are confident that this year should be more or less the same as last year pending any unforeseen circumstances," said Tang, commenting on the overall outlook for FY17.
For the first quarter of FY17, Luxchem's net profit nearly doubled to RM13.61 million from RM7 million, as revenue jumped 36.4% to RM218.13 million from RM159.97 million on higher contribution from the trading segment.
Luxchem has two plants in Malaysia — Luxchem Polymer Industries Sdn Bhd and Transform Master Sdn Bhd — which are located in Cheng Industrial Estate, Melaka and Sitiawan, Perak respectively.
The Melaka plant manufactures unsaturated polyester resin. Tang said the plant has an annual capacity of 30,000 tonnes, which Luxchem plans to increase to 40,000 tonnes by the end of this year.
The Perak plant, meanwhile, manufactures and trades in chemical dispersion items. It has an annual capacity of 9,600 tonnes and the company is targeting to raise this to 12,000 tonnes this year.
Tang said Luxchem has allocated capital expenditure of RM4 million for the Melaka plant and RM1 million for the Perak plant as it wants to install more equipment to smoothen the bottlenecking process.
The money will be raised through internal funds.
"We have almost reached full capacity. So, we need to acquire more new equipment. We need the spare capacity," said Tang.
Tang said Luxchem is expected to complete its acquisition of an 8.4-acre (3.4ha) piece of land on Pulau Indah, Selangor this year and has set aside about RM7 million for it.
Tang said the management will focus on the company, its growth, being profitable, and maintaining a strong balance sheet.
"We want to be more efficient with our operations. Our working culture is to be more efficient, [to be able to] understand the market and expand our business," he said.
"I think it's a better way than waiting for a problem to arise as problems are always there," added Tang. "[We need to make] sure that we run faster than our competitors."
Year to date, Luxchem's share price has risen by 22% to close at RM1.80 last Friday, giving it a market capitalisation of RM502.52 million.