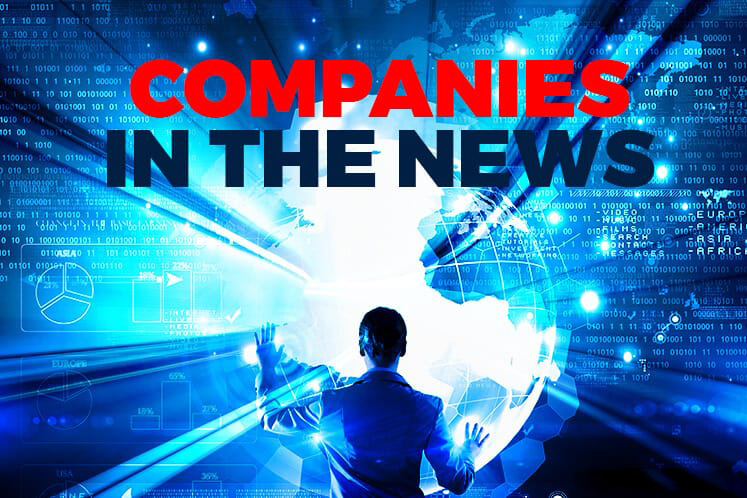 KUALA LUMPUR (Feb 15): Based on corporate announcements and news flow today, stocks in focus on Monday (Feb 18) may include: Luxchem Corp Bhd, Astro Holdings Malaysia Bhd, Axiata Group Bhd, APFT Bhd and London Biscuits Bhd.
Luxchem Corp Bhd's net profit for the fourth quarter ended Dec 31, 2018 (4QFY18) fell 8% to RM8.77 million from RM9.49 million in the previous year, on lower margins and higher expenses.
Revenue rose 5% in the quarter to RM206.25 million, compared to RM197.23 million a year ago on higher contribution from the group's trading segment.
The group announced an interim dividend of 1.25 sen per share for the financial year ended Dec 31, 2018 (FY18) — to be paid on
a date to be fixed. This brings its FY18 payout to 4.44 sen versus 4.86 sen for FY17.
Tunku Alizakri Raja Muhammad Alias, the chief executive officer of the Employees' Provident Fund (EPF), has joined the board of Astro Malaysia Holdings Bhd as a non-independent and non executive director.
Tunku Alizakri was appointed to the board as a nominee director of EPF, which holds a substantial 8.09% stake in Astro.
Also joining Astro's board as a non-independent and non-executive director is Mazita Mokty, the General Counsel and nominee director of Astro's substantial shareholder, Usaha Tegas Sdn Bhd.
Axiata Group Bhd has decided to sell its 28.7% stake in Singapore-listed M1 Ltd to Keppel Corp Ltd and Singapore
Press Holdings Ltd (SPH) at the offer price of S$2.06 or RM1.65 billion in total.
The telco will gain approximately RM126.5 million from the divestment, which was held via its wholly-owned unit, Axiata
Investments (Singapore) Ltd (AISL), to Konnectivity Pte Ltd, a special purpose vehicle formed by Keppel and SPH, Axiata said in a statement today.
"Axiata has made the decision to accept the offer due to the need for capital reallocation, new priorities in line with its vision to be the next generation digital champion by 2022 and investments required to achieve that. The group also prefers not to be a minority investor in a potentially privatised company, making the investment illiquid," Axiata said.
Less than a month after his appointment as executive director of APFT Bhd, Jeya Kumar Jegathison has resigned from the post, citing "personal reasons".
In a stock exchange filing today, the group said the change took effect yesterday. It did not provide any other details.
Jeya Kumar was appointed to APFT's board on Jan 23, 2019, along with two other independent and non-executive directors, namely Chan Tiam Hin and Datuk Md Ismail Hamdan.
London Biscuits Bhd is proposing to undertake its second private placement in less than a year, this time to raise up to RM22.73 million via a placement to third-party investors to be identified later.
The proceeds raised will be used to further pare down its bank borrowings and for working capital. As at Jan 24, the total bank borrowings of London Biscuits stood at RM363.54 million, largely consisting of banker's acceptances, medium term notes, revolving credits and bank overdrafts.
The proposed private placement will involve the issuance of up to 45.46 million new shares, representing not more than 15% of its enlarged issued shares.