Click / Tap image to enlarge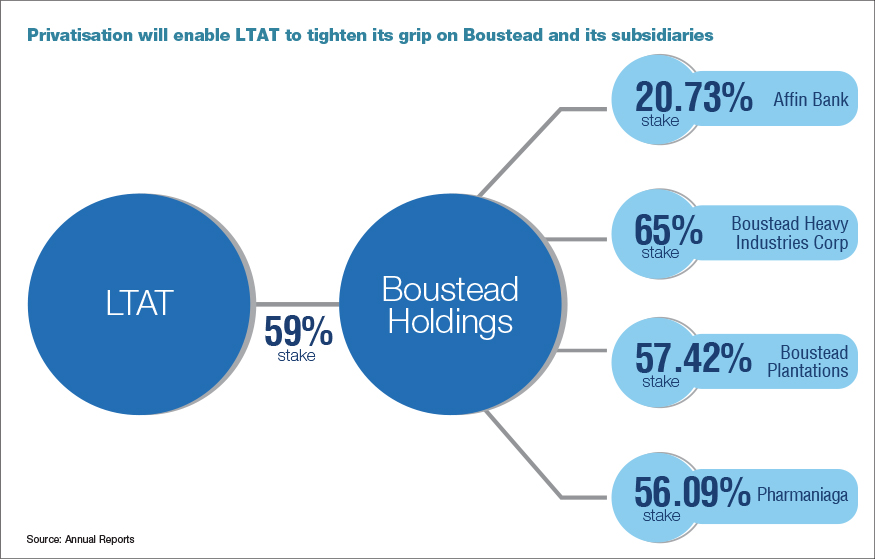 KUALA LUMPUR (May 28): Lembaga Tabung Angkatan Tentera (LTAT) makes known that it is considering to take its 59%-owned Boustead Holdings Bhd private at an indicative price of 80 sen per share compared with today's closing price of 63 sen. 
However, the army fund said in a statement that the notification does not amount to a firm intention that it will undertake the proposal. "Accordingly, there can be no certainty that we will proceed with the proposal. 
"If we decide to proceed with the Proposal, we expect to propose an offer price of RM0.80 per ordinary share in BHB (Boustead). This offer price is indicative only and non-binding. The final offer price in relation to the Proposal (if undertaken) is subject to finalisation by LTAT," said LTAT in a statement. 
"We will make subsequent announcement(s) on any material development in relation to the Proposal in accordance with the Rules on Take-overs, Mergers and Compulsory Acquisitions," it added. 
LTAT stressed that any decision made is subject to, amongst others, the finalisation of the structure of the proposal, the requisite funding and the required regulatory approval(s).  
The indicative price of 80 sen per share given by LTAT is about 27% premium over today's closing price. Nonetheless, it is less than half of the conglomerate's net asset per share of RM1.85 as at end-2019.
Nonetheless, it is worth noting that the conglomerate's total borrowings amounted to RM7.91 billion as at end-2019. 
It would be interesting to see if the share price of Boustead, a hardly traded counter, will increase in tandem with the announcement to 80 sen or higher than the indicative price.
Trading interest in Boustead spiked today. Its trading volume soared to 46.7 million shares while share price climbed four sen or 6.8% to 63 sen.
The diversified conglomerate is the main contributor to LTAT's dividend income. However, over the past three years, the group's dividend per share has been declining. For its financial year ended Dec 31, 2019 (FY19), Boustead did not declare a dividend. This is in contrast to the five sen dividend posted in FY18, the 11 sen dividend posted for FY17, and 17.5 sen in FY16.
Boustead holds equity interest in four publicly listed companies — Affin Bank Bhd, Boustead Plantations Bhd, Boustead Heavy Industries Corp Bhd (BHIC) and Pharmaniaga Bhd, all of which its parent LTAT also holds a stake.
Some quarters commented a privatisation exercise will enable LTAT to tighten its grip on these listed companies. 
For instance, Boustead holds 20.73% stake in Affin Bank, it is the third largest shareholder after LTAT, which is the largest stakeholder with a 35.33% stake, and Bank of East Asia (23.56%).
Over at Boustead Plantations Bhd, Boustead is the planter's largest shareholder, controlling a 57.42% stake as of April 30. LTAT is the second-largest shareholder, controlling a 12.10% stake.
Boustead holds a controlling stake in BHIC. According to its 2018 annual report, Boustead Holdings holds the largest stake in BHIC at 65%, followed by LTAT with 8.16%.
At Pharmaniaga, Boustead holds a 56.09% while LTAT owns an 11.23% stake.
Read also: 
Interest in Boustead spikes amid market talk on privatisation
Malaysia Armed Forces Fund weighs taking Boustead private