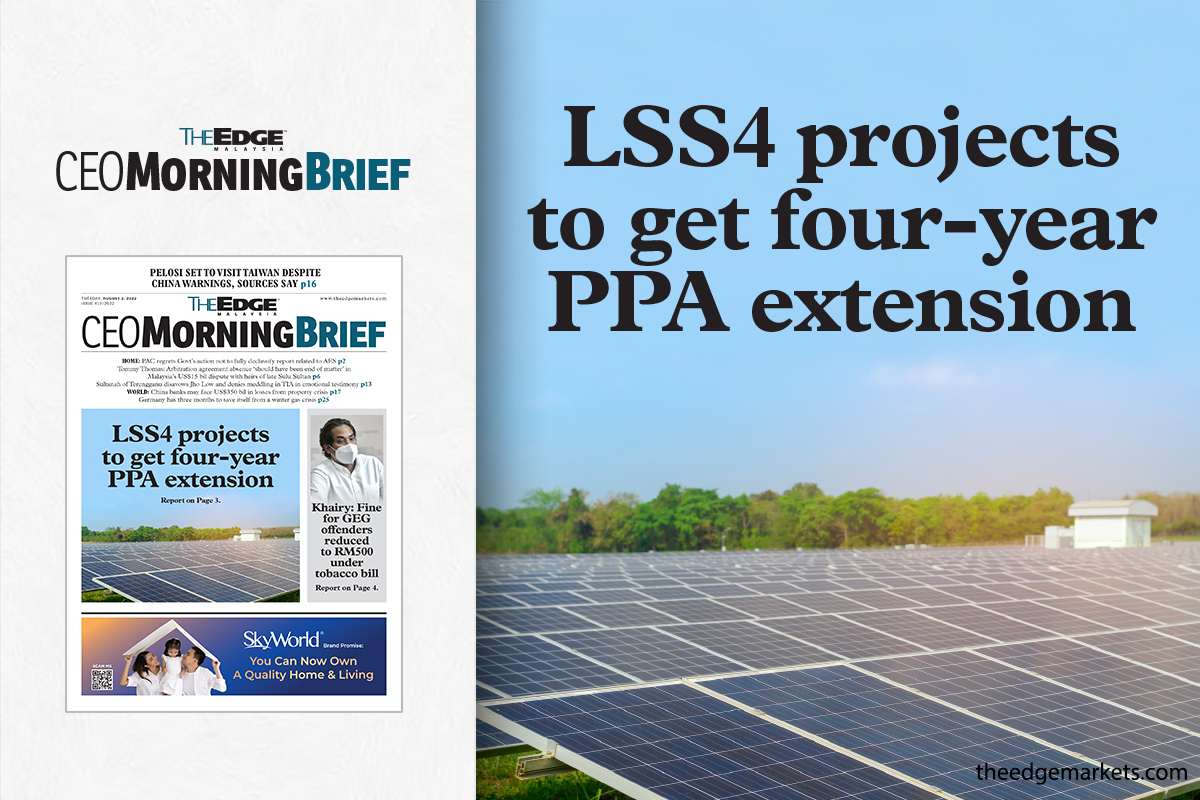 KUALA LUMPUR (Aug 2): Bidders of Malaysia's fourth round of large scale solar awards (LSS4) will have their power purchase agreements (PPAs) extended by four years to 25 years, from 21 previously, according to sources.
This appears to be a concession the Energy Commission (EC) is making in consideration of how the viability of certain projects have been affected, following a 30%-50% jump in solar panel prices — compared to when they submitted their bids in 2020.
A number of project owners have also requested for the EC to review the electricity bid prices, considering the challenging environment, but this has been rejected by the regulator.
Nevertheless, the PPA extension, which could be finalised by the EC as early as this week, would provide a relief to companies whose internal rate of return (IRR) could now return to the high single-digit percentage forecasted in the bids they submitted before the price shock.
At press time, the EC has yet to respond to queries from The Edge on the matter.
Meanwhile, although there is a better chance for companies to recoup their investments with the PPA extension, bidders would still need to consider asset deterioration during the extended period, which was not projected in their initial bids.
LSS4, which will have a total quota of 823.06 megawatt (MW), saw intense competition during the bidding stage, which contributed to some companies putting in aggressive bids that incorporated a declining trend in solar panel prices — which suddenly reversed course during the pandemic.
Solar panel prices, which reached as high as US$0.40/watt peak in the last two years from US$0.20/watt peak pre-pandemic, now hovers at around US$0.28/watt peak, industry players said.
While LSS projects previously relied on solar panels from China due to the cheaper price, the situation has changed amid restricted Chinese exports and higher logistics. This prompted some companies to switch to Malaysia-manufactured solar panels, which were previously produced largely for the US market.
It was previously reported that LSS4 winning bids ranged from 17.68 sen per kilowatt-hour (kWh) to as high as 24.81 sen/kWh.
Financing hurdles
Sources said the PPA extension would also help companies secure financial close, after many LSS4 companies faced difficulty doing so, due to concerns over the project's viability amid soaring costs.
There are financing schemes to support renewable energy projects, including the Green Technology Financing Scheme 3.0 (GTFS 3.0) through Danajamin, which provides up to 80% or RM400 million guarantee on project financing.
However, there have been grouses about the absence of the seven-year 2% interest subsidy and guarantee on working capital that was provided under the previous GTFS 2.0 scheme, which helped attract financing for smaller scale LSS projects in the past.
It was previously reported that the government had allowed the financial close deadline for certain LSS4 projects to be pushed to March 2022, from Dec 2021. Others have a much later financial close deadline of end-2022.
Given the cost and financing headwinds, certain project owners, as well as the Malaysia Photovoltaic Industry Association (MPIA), had also sought extension to commercialise the assets, as they were at risk of forking out payments for liquidated ascertained damages should they miss the deadlines, according to a note by RHB Research dated June 30. 
With the LSS4, Malaysia has awarded a total of 2,457.27MW of capacity under the large-scale solar projects, EC data showed. As at end-2Q2022, 47% or 1,160.42MW are operational, leaving 1,296.85MW to be completed.
The push for LSS projects, as well as rooftop solar installations are in line with Malaysia's target to reach 18,000MW renewable energy share — which translates to 31% of the nation's installed capacity mix by 2025 — from 7,995MW as at June 2021.