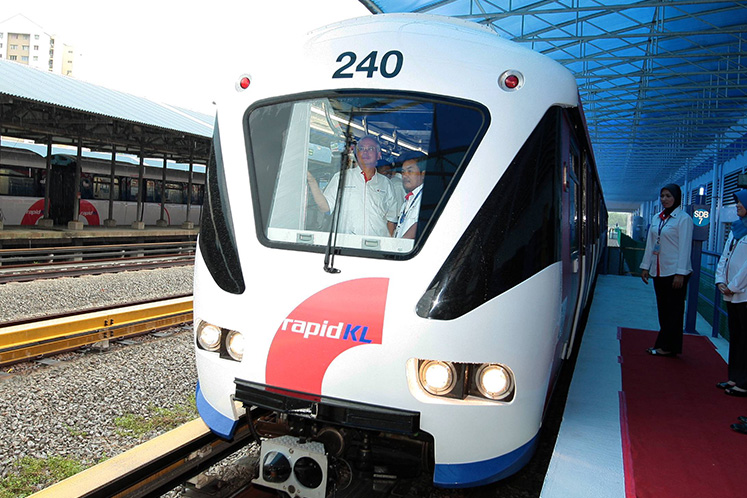 KUALA LUMPUR (Oct 17): MRCB George Kent Sdn Bhd said today the government has agreed to continue with the Light Rail Transit Line 3 (LRT3) project at a cost of RM16.6 billion – almost half or 47% of the earlier cost of RM31.45 billion in July.
This includes land acquisition costs, interests during construction and other costs.
"The implementation concept of the project will be remodelled from a project delivery partner (PDP) regime to a fixed price contract regime," Malaysian Resources Corp Bhd (MRCB) and George Kent (Malaysia) Bhd said in separate filings with Bursa Malaysia today.
They added that further announcement to Bursa will be made as and when there is a material development in relation to the project.
On July 10, Finance Minister Lim Guan Eng revealed that the projected total cost of LRT3 had spiralled to a whopping RM31.45 billion, blaming it on Prasarana Malaysia Bhd's poor management. The original estimate when the project was launched in 2015 was RM9 billion.
He also revealed that Prasarana had sought an additional financing of RM22 billion in the form of government guarantees on March 30, on top of the initial RM10 billion granted in 2015 to finance the project.
Guan Eng had then called for a drastic cost reduction to make the project feasible and cost-effective.
On July 12, Guan Eng said the government had agreed that the project would continue, but at a much lower cost of RM16.63 billion and a reduced size.
The 37km line will connect Bandar Utama in Petaling Jaya to Johan Setia in Klang.
In April 2017, Prasarana announced that the MRCB George Kent joint venture (JV) was selected as the PDP for the LRT3 project, beating six other tenderers.
The other tenderers considered at the final evaluation for the construction of rail project were IJM Corp Bhd, MMC Gamuda JV, Naza TTDI Sdn Bhd-CSR Zhuzhou Electric Locomotive Co Ltd JV, Sunway Construction Bhd, UEM Group Bhd and WCT-Alloy MTD JV.
MRCB shares closed up 7.5 sen or 10.42% at 79.5 sen, with 84.23 million shares done, bringing a market capitalisation of RM3.49 billion.