This article first appeared in The Edge Financial Daily, on August 4, 2017.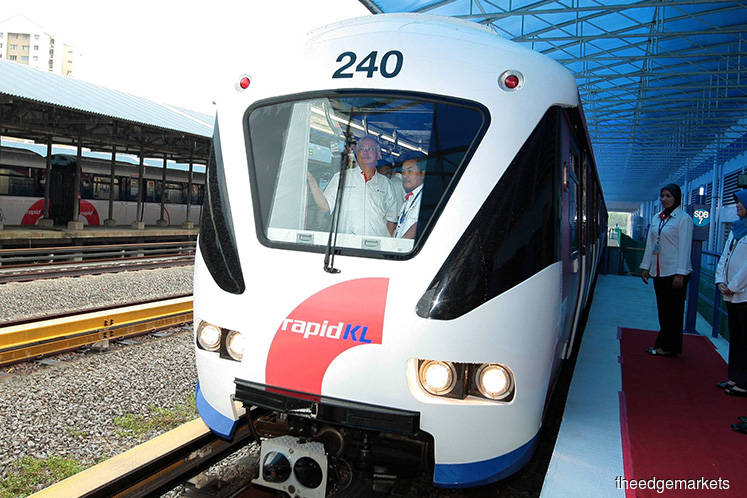 KUALA LUMPUR: Prasarana Malaysia Bhd's latest award of work package worth RM1.6 billion for the Light Rail Transit 3 (LRT3) project, linking Bandar Utama to Klang, is building a positive momentum in the construction sector.
According to CIMB Investment Bank Bhd (CIMB IB), which keeps its "overweight" call on the construction sector, the impending award of the LRT3 contracts within the second half of this year (2H17) is expected to benefit both small and large contractors.
"The rail theme continues to be the main sector driver in 2H17, both in terms of contract awards and progress news flow. Over the coming months, LRT3's award phase is likely to be accelerated as groundworks on the project are expected to be in full swing from 2018," CIMB IB senior analyst Sharizan Rosely said in a note to clients yesterday.
Sharizan's continued optimism in the construction sector was renewed after Prasarana had on Wednesday awarded a consortium comprising three firms — CRRC Zhuzhou Locomotive Co Ltd, Siemens Ltd China and Tegap Dinamik Sdn Bhd — with a contract to deliver 42 six-car light rail vehicles for the upcoming LRT3 line.
Prasarana president and group chief executive officer Datuk Seri Azmi Abdul Aziz also said three more work packages, collectively valued at RM2.5 billion, would be announced by the end of this month.
"We expect the three packages to be related to the viaduct or above ground packages including station works, and could also include additional depot packages in Klang. It is unknown at this juncture whether it will include the single 2km tunnelling package," said Sharizan.
He sees Gamuda Bhd, CIMB IB's top pick in the construction sector, to be the front runner for the 2km underground tunnelling package given its strong expertise and previous experiences in underground rail tunnels.
Based on the average combined RM514 million cost per kilometre for the construction of the Sungai Buloh-Kajang mass rapid transit line and Sungai Buloh-Serdang-Putrajaya line, Sharizan said Gamuda stands a good chance of clinching the tunnelling contract which could worth as much as RM1 billion.
Sharizan also views IJM Corp, Sunway Bhd and WCT Holdings Bhd as potential winners of the LRT3 upcoming contract awards.
Also positive about the construction sector, Maybank Investment Bank Bhd said the latest award of the LRT3 work package shows that the sector is "gathering steam".
Similarly, Affin Hwang Investment Bank Bhd — which is maintaining an "outperform" call on the construction sector — noted that news flow on contract awards should sustain the construction sector's outperformance in 2H17.
"We believe the construction sector's core earnings per share growth is on track to rebound from a 6% year-on-year (y-o-y) contraction in 2016 to a growth of 16% y-o-y in 2017 and 18% y-o-y in 2018, driven by higher progress billings on burgeoning construction order books," it added.
AllianceDBS Research Sdn Bhd said the latest LRT3 work package award is a testimony to the higher development expenditure contained in the 11th Malaysia Plan, with RM260 billion allocated over the next five years.
"This gives some assurance that project flows will continue to be forthcoming, and transportation-related projects which are government-backed have very little risk of being shelved," it said, keeping an "overweight" call on the construction sector.