This article first appeared in The Edge Financial Daily, on July 20, 2018.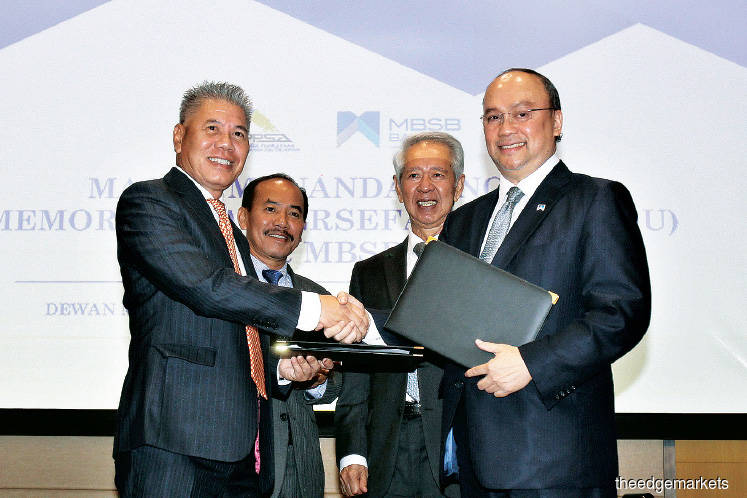 PUTRAJAYA: The Public Sector Home Financing Board (LPPSA) has teamed up with MBSB Bank to provide a joint financing scheme for civil servants to own their first homes, which will be rolled out this year.
LPPSA chief executive officer (CEO) Datuk Kamal Mohd Ali said the scheme is to assist civil servants to secure higher loans compared with the board's existing individual housing loans.
He added that the scheme allows spouses or parents and children to apply for joint loans to purchase a house, provided that at least one of the joint applicants is a civil servant.
"This will give them the option to purchase higher-priced houses on top of helping them to reduce their monthly financing commitments when they share the loans with others (their spouse or parents and children who work in the private sector)," he told a press conference after signing the memorandum of understanding (MoU) between LPPSA and MBSB Bank yesterday.
"[Under the MoU,] when there is a difference [between the loan and housing prices], the partner who works in the private sector is eligible to borrow the difference from MBSB Bank. That way, they don't have to fork out their own money," Kamal said.
LPPSA and MBSB Bank will also offer two loan categories for the scheme — financing for completed houses and houses under construction.
MBSB Bank president and CEO Datuk Seri Ahmad Zaini Othman said the bank will allocate about RM500 million for the scheme for three years in the form of a syariah-compliant product called Tawarruq.
"We will increase the [allocation] amount if necessary, depending on the growth of the (LPPSA) portfolio [in terms of number of applicants].
"The facilities offered by MBSB Bank are to finance the differential of the loans between the amount of funding approved by LPPSA and the price of the house.
"For example, if LPPSA provides a loan of about RM250,000 for a home worth RM350,000 to the civil servant, our role is to provide the difference to the applicant who works in the private sector," Ahmad Zaini said.
Established on Jan 1, 2016, LPPSA has approved 101,753 new loans amounting to RM20.71 billion to date, while its home financing assets stood at RM55.88 billion, with 761,099 active borrowers, as of Dec 31, 2017.
On average, the board has received about 4,000 applications per month. The board is a statutory body under the Public Sector Home Financing Board Act 2015.