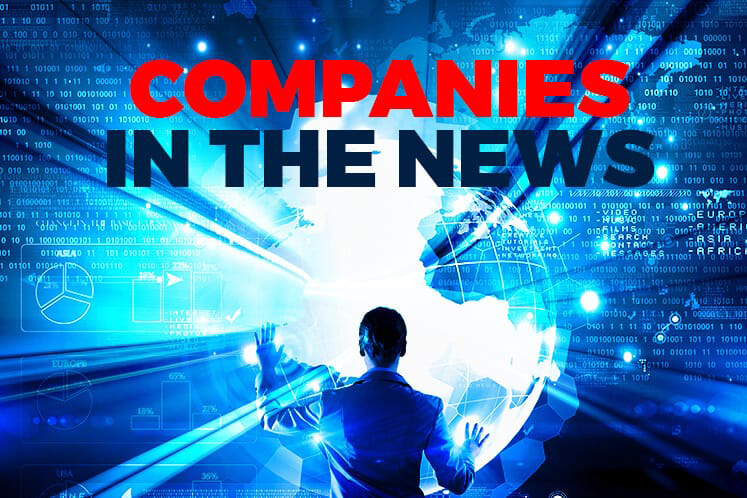 KUALA LUMPUR (Oct 10): Based on corporate announcements and news flow today, companies in focus on Thursday (Oct 11) may include: LPI Capital Bhd, Top Glove Corp Bhd, Red Ideas Holdings Bhd, MCE Holdings Bhd, Malaysia Airports Holdings Bhd (MAHB), Gamuda Bhd, MMC Corp Bhd, CNI Holdings Bhd and mTouche Technology Bhd
Insurer LPI Capital Bhd saw a marginal contraction of 0.4% in its net profit to RM91.81 million for the third quarter ended Sept 30, 2018 from RM92.17 million year-on-year, as quarterly revenue declined 4% to RM390.59 million.
The dip in revenue came on the back of a decline in gross earned premiums from its general insurance segment.
For the cumulative nine months, net profit was flat at RM230.05 million compared with RM230.8 million in the same period a year ago, while revenue increased 1.6% to RM1.12 billion from RM1.11 billion.
Shareholders of Top Glove Corp Bhd have voted to remove Low Chin Guan as an executive director despite his claims of innocence in alleged fraudulent misrepresentations in the acquisition of Aspion Sdn Bhd.
Low, who is a director of Aspion's former parent Adventa Capital Pte Ltd, did not attend the glove maker's extraordinary general meeting (EGM) today.
Low has vowed to hold Top Glove responsible for any losses he or Adventa Capital may suffer as a result of the suit against them. He also said Adventa no longer considers itself beholden to guarantee the core profit after tax shortfall based on a clause in the sales and purchase agreement for Aspion.
LEAP Market-listed Red Ideas Holdings Bhd has teamed up with Parcel 365 to operate community parcel lockers at neighbourhoods.
The service is an alternative to delivery of parcels to communities that are unable to await the deliveries during designated times.
Under the collaboration, the two companies will set up the community parcel lockers at 50 neighbourhoods managed by Red Ideas.
MCE Holdings Bhd will manufacture and sell window regulators to Proton and Geely Motor customers in Malaysia under a technical assistance agreement with China-based Shanghai SIIC Transportation Electric Co Ltd (STEC).
MCE said its wholly-owned subsidiary Multi-Code Electronics Industries (M) Bhd had entered into an agreement to purchase equipment and products comprising child parts and components designed by STEC and for Multi-Code to manufacture the products.
Passenger traffic at the 39 airports in the countries where Malaysia Airports Holdings Bhd (MAHB) operates, rose 1.3% in September to 7.75 million from 7.65 million in the same month last year.
International traffic climbed 0.9% year-on-year (y-o-y) to 4 million passengers, while domestic traffic rose 1.6% y-o-y to 3.75 million passengers.
MMC Gamuda KVMRT (T) Sdn Bhd said the joint venture will leave the issue of the termination of the Mass Rapid Transit Line 2 (MRT2) underground contract in "the Prime Minister's good hands".
MMC Gamuda said it welcomes the decision by Tun Dr Mahathir Mohamad to review the cancellation of the MRT 2 underground contract with the joint venture, a 50:50 partnership between Gamuda Bhd and MMC Corp Bhd.
The joint venture company stressed it remains committed to further discussion with the finance ministry and to cooperating with MoF to reach an agreeable reduction of cost.
CNI Holdings Bhd suspended its multi-level marketing (MLM) business activities in Myanmar after local authorities banned the use of such methods.
On Sept 18 the Ministry of Commerce Myanmar issued a notification prohibiting the MLM business in Myanmar.
Consequently, its indirect subsidiary Creative Network International (Myanmar) Co Ltd suspended its MLM business activities there to comply with the notification.
mTouche Technology Bhd has aborted its plan to jointly develop and operate the SMART4 public phone and WiFi hub terminal with G.I.S. Park (Thailand) Co Ltd, for Thai state-owned telecommunications company TOT PCL.
mTouche said there were certain issues relating to the due diligence review which cannot be resolved to the satisfaction of its subsidiary mTouche (Thailand) Co Ltd.