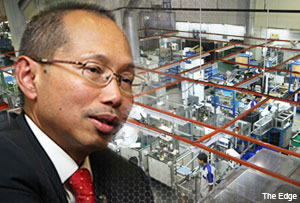 KUALA LUMPUR (Sept 30): The share of Malaysian workers who earn less than RM2,000 a month dropped to 47% as at March of this year, compared with 57% from 2009, said Minister in Prime Minister's Department Datuk Seri Wahid Omar.
In his closing address at Khazanah Megatrend Forum 2014, Wahid said in the same period, workers earning salaries between RM2,000 and RM4,000 rose to 32% from 28%, citing data compiled by Khazanah Nasional Bhd.
Meanwhile, those earning in the range of RM4,000 and RM10,000 make up 16% of the Malaysian workers -- up from 14% five years ago – while the ones earning RM10,000 and above saw an increase to 4% from 2%.
"In tandem with the high-income economy target, the Economic Transformation Programme also aims to move up workers into higher-income brackets," said Wahid, who described the plan to have seen "encouraging" results based on the data up to March 2014.
Wahid also pointed out that Malaysia's Gini Coefficient – an measurement where the lower the ratio is, the more equal the income distribution – dropped to 0.431 in 2012 from 0.461 in 2002.
"The government will need to work harder to reduce income disparity. Not by reducing the income of the 'haves' but by increasing the income of the 'have-nots'," he added.
However, Wahid said based on the employees' wages' share of the gross domestic product of 33.6% in 2013 is still below the 40%-level in high-income developed economies, which he described to be an optimal target for Malaysia.
In 2008, the employees' wages made up 29.3% of the economy.
In terms of labour productivity, however, Wahid pointed out that Malaysia is still far from the regional high-income nations, which ranges between US$65,500 and slightly below US$100,000. Last year, Malaysia's productivity level was at US$37,264.
The country's labour productivity growth of 3% last year, too, seemed to be lower than developing regional peers, said Wahid. This compared with China's 7.1% and Indonesia's 3.6%.
"It could be argued that this is because Malaysia's productivity level is already at a higher base," he added.
"Productivity growth is the only way of growing an economy without requiring additional physical inputs," Wahid added.