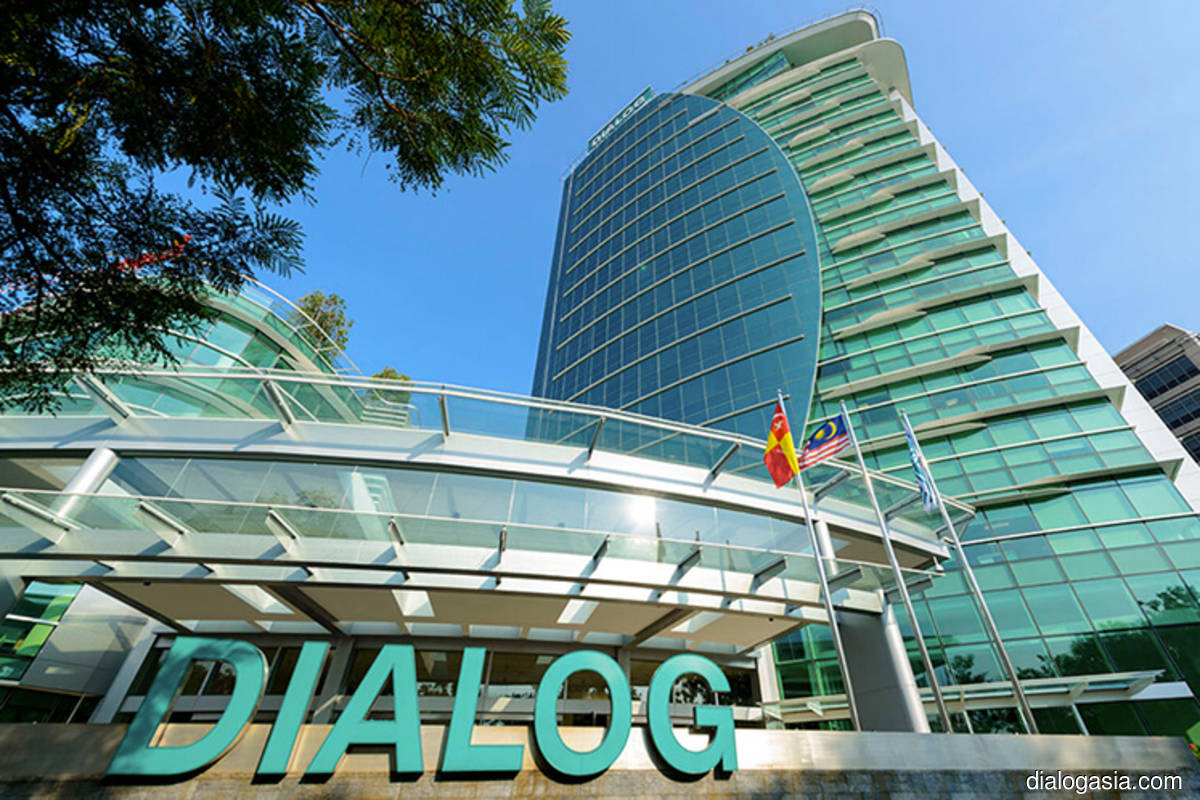 KUALA LUMPUR (Feb 9): Dialog Group Bhd's net profit fell 16.9% to RM121.82 million in the second quarter ended Dec 31, 2020 (2QFY21), from RM146.62 million in the preceding quarter, due to lower share of profits from joint ventures and associates.
Earnings per share fell to 2.16 sen from 2.60 sen, according to the group's filing with Bursa Malaysia.
This was despite a 5.8% increase in quarterly revenue to RM350.95 million, from RM331.66 million in 1QFY21, mainly due to increased downstream activities in Malaysia.
Dialog said share of profit of joint ventures and associates stood at RM28.02 million, 63% lower compared with RM75.83 million in 1QFY21.
On a year-on-year basis, the group's 2QFY21 net profit declined 22.9% from RM158.01 million in 2QFY20, while revenue fell 42.7% from RM612.31 million.
"The focus on the development of group's own internal midstream terminal assets during the quarter and the drop in upstream oil prices resulted in the lower reported revenue," Dialog said.
The group also attributed the lower earnings to the lower profit contribution from a joint venture, following the finalisation of its assets costs and the provision for deferred taxation liabilities.
On the international front, Dialog blamed the poorer performance on the reduced business activities, as a result of the challenging market and economic downturn due to the prolonged Covid-19 pandemic.
For the cumulative six months ended Dec 31, 2020, Dialog's net profit fell 16.8% to RM268.43 million, from RM322.65 million a year ago, while revenue dropped 45.7% to RM682.61 million from RM1.26 billion.
On prospects, the group said it is confident that its performance will remain profitable for FY21.
Although the economic environment is expected to remain extremely challenging in the short to medium term, Dialog said it remains confident that its business model is well structured to manage and sustain itself through periods of economic uncertainty, oil price volatility and currency movements.
In the midstream sector, Dialog said it will continue to develop Pengerang Deepwater Terminals (PDT) for oil, gas and petrochemical players, as PDT continues to offer a compelling value proposition for the establishment of strategic hub operations, given its ideal location and one stop integrated hub offering.
In the downstream sector, Dialog will continue to leverage on our strengths and established track record in integrated technical services comprising engineering, procurement, construction and commissioning, (EPCC), plant maintenance and catalyst handling services, and specialist products and services.
"With the completion of PDT Phase 2 and the refinery projects at RAPID, we are also now actively involved in the plant maintenance services for these projects, in addition to other existing projects," said Dialog.
In the upstream sector, the group is taking proactive steps in the cash flow management of its upstream assets, together with its respective partners accordingly, due to demand disruption of petroleum products caused by the Covid-19 pandemic.
Shares of Dialog closed one sen or 0.32% lower at RM3.15 today, valuing the group at RM17.78 billion.