This article first appeared in The Edge Malaysia Weekly, on September 23, 2019 - September 29, 2019.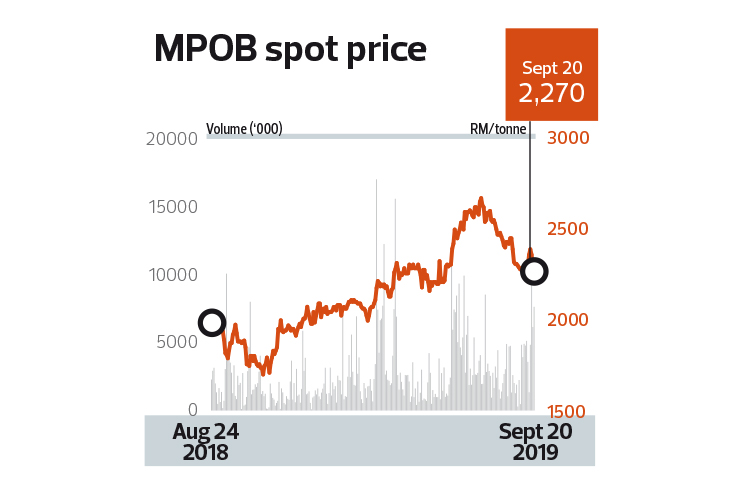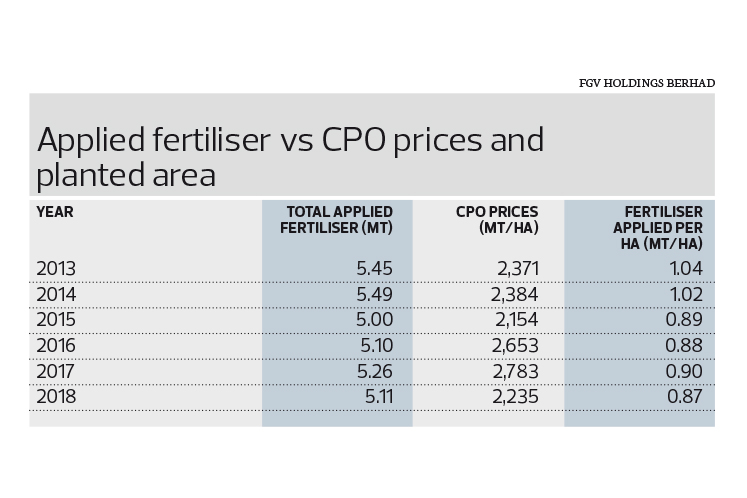 THE thick haze that has been smothering Malaysia, Singapore and parts of Indonesia for the last few weeks could have an impact on palm oil production if it continues.
"It really depends on how long the fires last. If they go on for a prolonged period, then we would see the impact on yield six months down the road. If the problem is resolved within a month, it should not be an issue for output," says Public Invest Research analyst Chong Hoe Leong.
CGS CIMB Research highlights in a Sept 13 report that if the haze continues, it could negatively impact the fresh fruit bunch (FFB) yields, similar to the situation in 2015, mainly due to less rainfall and a lack of sunlight.
"This could lead to lower palm oil supply in the future and, thus, be positive for crude palm oil (CPO) prices. CPO supply from Indonesia and Malaysia fell 3.5% and 13% respectively in 2016, following the Southeast Asian haze from June to October 2015, while the CPO price rose 23% year on year to RM2,653 per tonne in 2016," says the research house. It is keeping its year-end price forecast for CPO at RM2,100 per tonne.
The haze, which is almost an annual event, is often associated with oil palm plantation smallholders in Indonesia who slash and burn to clear their land. But the Indonesian government has accused four Malaysian companies — Sime Darby Plantation Bhd, IOI Corp Bhd, TDM Bhd and Kuala Lumpur Kepong Bhd — of contributing to the haze. Sime Darby has issued a denial.
However, Maybank Investment Bank Research says in a Sept 16 report that it is "inconceivable" that the current haze is due to oil palm planting. The research house believes it is due to the hot and dry weather, which has caused peatlands and forests to catch fire easily.
CPO prices have been seeing a recovery since August, moving above the RM2,000 per tonne level. Early this year though, CPO has been in a rut, having fallen to a year low of RM1,775 per tonne on Nov 19 last year.
The CPO third-month futures contract was last traded at RM2,225 last Friday.
While a prolonged haze could lift the CPO price in the near future, lower production growth, due to slowing new plantings since 2015 in Malaysia and Indonesia, is expected to continue to support prices. Public Invest's Chong projects that fewer new plantings would result in a slowdown in FFB production growth as early as next year, tightening CPO supply going forward.
"New plantings in Malaysia and Indonesia have slowed significantly since 2015. This structural change might start to impact global palm oil supply from 2023, as there are limited mature areas coming onstream. There are also limited new planting areas due to more stringent sustainability policies and lower CPO prices," says UOB Kay Hian Research in its Sept 6 report.
Another contributing factor to lower FFB production growth in the near future is that many planters, especially smallholders, have cut costs by reducing fertiliser applications.
"I believe the impact on FFB production of cutting fertiliser applications could be significant, given that 34% of the total (plantation) land bank is in the hands of smallholders. Many have been loss-making for the last 1½ years and cutting fertiliser cost is one way to conserve cash flow," says Chong.
An industry player says reducing fertiliser usage does help in controlling costs since labour cost is fixed.
UOB Kay Hian says that according to a speaker at its recent seminar, lower fertiliser application at the end of last year would have a more significant impact on production in 2020.
"In the first half of 2019, fertiliser sales dropped 30% year on year. The reduction of fertiliser application usually occurs when the palm oil price is low as fertiliser cost is a major cost component, making up 30% to 40% of total production cost. Based on field research by Dr Lee Chin Tui of FGV Holdings Bhd, a speaker at the seminar, if planters stop applying fertiliser, FFB yield would drop by as much as 39% compared with the yield from full fertiliser application," it says.
On the demand side, many see the higher usage of biodiesel as a catalyst for the sector and CPO price. Recently, in a move that surprised the industry, Indonesia announced plans to raise its biodiesel mandate to B30 by next year and B50 by 2021.
"According to our rough estimate, Indonesia's plan to raise its biodiesel mandate ... could boost the country's palm biodiesel usage to 8.4 million tonnes and 13.9 million tonnes, respectively. The higher demand for palm oil for new usage will be positive for CPO prices," says CGS CIMB Research in an Aug 13 report. The research house believes the move will boost Indonesia's palm oil consumption for domestic biodiesel mandate by three million and 5.6 million tonnes to 8.4 million and 13.9 million tonnes in 2020 and 2021 respectively.
"The incremental palm oil usage represents 26% to 48% of Indonesia's palm oil consumption of 11.4 million tonnes, and 4% to 8% of global palm oil consumption in 2018. This is significant and could spark the next CPO price rally as over the past five years, the average annual increase in CPO supply was only three million tonnes," it adds.
Most research houses forecast a CPO price of RM2,100 per tonne for this year with a "neutral" or "negative" call on the sector.
Maybank has a "buy" call on Sarawak Oil Palms Bhd (target price: RM2.90) and Ta Ann Holdings Bhd (TP: RM2.65). CGS CIMB Research has "add" calls on Genting Plantations Bhd (TP: RM11), Hap Seng Plantations Holdings Bhd (TP: RM1.65) and Ta Ann (TP: RM2.48). Public Invest has only one "overweight" call among the plantation counters under its coverage — Ta Ann (TP: RM2.98).