This article first appeared in City & Country, The Edge Malaysia Weekly, on June 3, 2019 - June 09, 2019.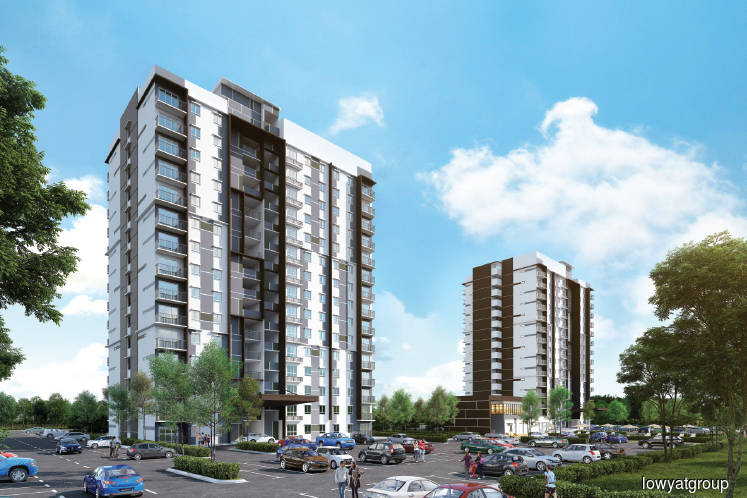 An artist's impression of Perdana Park. Pictures by Low Yat Group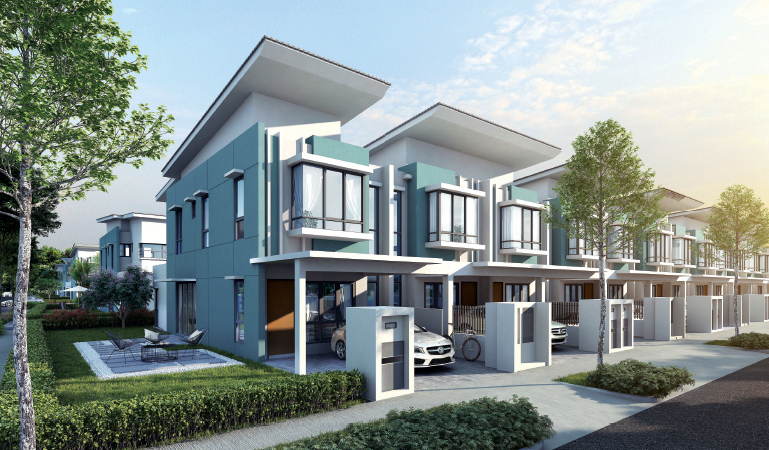 An artist's impression of Acacia Park Phase 4A
Bandar Tasik Puteri is a 2,670-acre leasehold township in Rawang. According to developer Low Yat Group Bhd, it is considered the largest township in the northern side of the Klang Valley.
The township was launched in 2000, with the first of its products offered being 2-storey terraced houses and 3-storey shophouses called Green Valley Park. The group has since steadily unveiled different types of developments in the township, and to date has developed close to 15,000 products. As at 2014, the population in Bandar Tasik Puteri has exceeded 70,000.
About 40% of Bandar Tasik Puteri is still undeveloped while more than half of it is residential and about 10%, commercial. The remainder has been taken up for recreational parks, open spaces and institutions.
The amenities in this township include primary and secondary schools, a 33-acre central park, a 27-hole golf course, a clubhouse and a bird sanctuary.
In the second and third quarters of this year, Low Yat Group will unveil four products in Bandar Tasik Puteri — Perdana Park Phase 2, Acacia Park
Phase 4, Quatro Garden Homes and Avenue 3.
Perdana Park is an eight-tower high-rise development on an 11.39-acre parcel. Launched in July 2004, Phase 1, which comprises two 10-storey towers, was completed in 2009 and is fully sold.
Phase 2 will comprise two 15-storey towers. The first tower, which was opened for sale in July 2017, is 70% sold to date while the second tower is targeted to be launched by the end of this month.
The soon-to-be launched towers will have 203 units and only one layout — three bedrooms and two bathrooms. The built-ups range from 850 to 950 sq ft while the selling price is RM285,000 onwards.
The 61.4-acre Acacia Park comprises 889 two-storey terraced houses and is divided into four phases.
The fourth and final phase of Acacia Park is spilt into two sub-phases — Phase 4A (117 units) and Phase 4B (101 units).
According to Low Yat Group's area property development/management general manager, Andrew Goh, Phases 1 to 3 are fully sold and have been handed over while Phase 4A, which was opened for sale last year, has seen a 60% take-up.
Goh says Phase 4B will be launched once Phase 4A is 80% sold. "We are looking at the third quarter."
The selling price for Phase 4A, with a layout of four bedrooms and three bathrooms, starts at RM561,000. The built-ups are between 1,892 and 2,585 sq ft.
Quatro Garden Homes, comprises 56 clustered semi-detached houses that sit on 4.62 acres of land. Goh says this development has been fully sold en bloc to a bulk buyer.
Avenue 3 is a commercial development of 48 three and five-storey shopoffices with built-ups of 4,291 sq ft. The selling price starts at RM1.65 million.
"For Avenue 3, I am holding back at the moment because I am negotiating with an interested party. If the deal falls through, I will launch it in the second quarter of this year," says Goh.
He adds that three developments — Acacia Park Phase 3A and 3B, and Quatro Garden Homes — in Bandar Tasik Puteri were bought by bulk buyers.
"We were quite lucky because we have buyers who see potential in our products," he says.
The group is looking to launch 645 gated terraced houses, 101 terraced houses, 151 townhouses, 48 cluster houses, 16 semi-detached houses and 400 apartments in Bandar Tasik Puteri in the future.
Focusing on commercial
Group property development/management services director Lee Kok Wah says Low Yat Group is focused on developing the commercial segment of Bandar Tasik Puteri by bringing in retailers such as fast-food operators, supermarkets and organisers of recreational activities.
"Bandar Tasik Puteri is a self-sustaining development. The first phase is, of course, to bring in the people. However, once people are residing here, they would want the facilities and amenities. This is what we are doing right now," he says.
He adds that they are also exploring the possibility of inviting international schools, universities, colleges and hospitals to set up here.
"With all these facilities and amenities, people will not need to go out of the township to do their shopping and other things. We are bringing everything in. Bandar Tasik Puteri is mature and people are confident enough to start and operate businesses here," he says.
The group is currently in the midst of speaking to some retail brands and a hospital. "Currently, we are short of facilities and we believe that once they [the retail operators] are in, Bandar Tasik Puteri will be very popular," Lee says.
The township has attracted many buyers, some of whom live as far as 30km away, right up to Jalan Ipoh. "The market is receptive to the products we offer here because of the affordable prices," Lee says, adding that the buyers come from Sentu, Rawang, Kepong, Jinjang, Selayang and Segambut.
Moreover, the group has taken the initiative to build an interchange connecting the township from the Kuala Lumpur-Kuala Selangor Expressway (LATAR). The interchange, which was opened in June 2017, cost about RM100 million. "We received a grant from the government for the construction of this interchange as it is a public road," says Lee.
It has shortened the travelling time to Kuala Lumpur and eased traffic entering the township and the surrounding developments along Jalan Batu Arang.
In terms of developing the township, the group is taking things slow and steady.
"We don't launch everything at once and expect sales to come in. Then during vacant periods, there will be a lot of [property] agent signboards plastered all over the place and that is not a very good image," Goh says, adding that 80% to 85% of the township's buyers are owner-occupiers.
"Unlike those days, when you hear about abandoned housing, people will be worried whether the house will be completed and delivered on time … For us, we are not that aggressive. We build what the market needs and our occupancy rate is quite good," Lee adds.
Future plans
In the beginning, says Lee, Low Yat Group started as a construction company established by the late Tan Sri Low Yat. Today, the group has diversified into property development, hotels and resorts, retail and commercial and agriculture. At present, it is being helmed by the third generation.
However, property development is still the group's core business and Lee says that they are focusing on it. "The other components contribute to the profitability but our bread and butter is still property development."
The group also has plans to develop the parcels of land it is currently holding in Penang and the Klang Valley.
Lee says the group's key area will be the Klang Valley, where there is demand. "We have landowners who come to us with offers. But we are studying the feasibility. Our strength is still here in the Klang Valley," adds Goh.
According to Lee, the group is always cautious before embarking on any project, and would first conduct feasibility and marketing studies to observe the demand in that area. "Once we are confident of the demand and feel that we can launch, then we will start the ball rolling. We are careful with what we launch."
Another thing the group notes is the affordability of its products. "We look at how to package our product so that people can afford it. There is no point in launching a product that does not have any takers. We are very careful and we study ways to cater to affordability and the eligibility of buyers' loans," Lee says.
When it comes to developments like Bandar Tasik Puteri, Goh says the group makes sure that the sales are there before it proceeds to other aspects of the township. "We take a more cautious approach and ensure that we give the best quality that we can," he concludes.