Ringgit-denominated perpetual bonds (also known as perps) with call dates that fall within the next two years are largely expected to be redeemed, according to iFAST Capital Sdn Bhd fixed income analyst Ganageaswaran Arumugam.
"In general, the risk of ringgit perpetual bonds [issued by local corporations] not being called is low at the moment. That is because the current low interest rate environment, which dictates the pricing of newly issued bonds, is favourable for corporations to refinance their existing perps. They can raise new debt in the market at a low rate to pay back the principal to their perp holders," he says.  
On July 7, Bank Negara Malaysia lowered its overnight policy rate by 25 basis points to 1.75%. Several industry players expect the central bank to cut the rate to 1.5% at the end of the year. "Thus, the incentive for issuers to call and refinance [their existing perps] is relatively high," says Ganageaswaran.  
He points out that the low interest rate environment could last another 1½ years as the country takes its cue from the US Federal Reserve's recent announcement. Fed chairman Jerome Powell announced last month that US interest rates are likely to stay near 0% until 2022.
"Economies around the world, including Malaysia, tend to follow the Fed's movements. We are of the opinion that the lower-for-longer interest rate environment is here to stay," says Ganageaswaran.
In a recent Personal Wealth story titled "Bond funds tipped to hold steady", some investment experts expressed concerns about whether the issuers of perps, which generally offer higher yields than ordinary bonds, would be able to redeem them on their call dates in the near term amid the tough economic conditions. These concerns came at a time when Ascott Residence Trust — the largest hospitality real estate investment trust (REIT) in Asia-Pacific listed on the Singapore Exchange — announced that it would not be redeeming its perps at the first call date in June.
For corporations looking to issue bonds to refinance their existing perps, the next question is whether there will be enough demand for them. Ganageaswaran believes so.
"There is a lot of money floating in the market. Institutional investors are looking to buy bonds [including those issued to refinance existing perps]. In fact, there has been an uptick in bond issuances this month after a quiet two to three months since March," he says.
Ganageaswaran says such liquidity comes from the decrease in the statutory reserve requirement (SRR) to 2% from 3% previously, which was announced by Bank Negara on March 20. This news has been overlooked by some investors.
"You can think of the SRR as a capital buffer that banks need to have in relation to their total capital. When it is lower, it means that the buffer which banks have to maintain has decreased. Hence, this has released a lot of money into the banking system," he says.
Ganageaswaran is confident that most issuers — including some property companies that have been badly hit by the measures taken to contain the Covid-19 outbreak — can get refinancing for their existing perps. He points out that these issuers are not in an extremely distressed financial situation yet.   
Another reason most companies will redeem their perps is to avoid increasing their financing cost, says Ganageaswaran.
While perpetual bonds have no maturity dates, they typically have a call date — usually five years after issuance — so that the issuer can redeem them and return the principal to investors.
If the issuer does not redeem the bond, its yield rate could be revised higher. Some perpetual bonds do have these "step-up" features, where the interest payment increases at specified times in the future. This could incentivise issuers to redeem their perps in order to avoid increasing their borrowing costs.
Recently, it was reported that Ascott Residence Trust decided not to redeem its S$250 million (about RM767 million) perp, which offered a yield of 4.68%. Instead of refinancing its existing perp, it skipped the first call date on June 30 and announced that it would pay holders a reset distribution rate, which is lower than its initial coupon rate.
Ascott Residence Trust announced that drawing on debt to redeem the securities would increase its leverage and reduce the debt headroom available for acquisition opportunities during a market recovery. It also said that its property valuations could come under pressure on the back of a softer operating performance and potentially increase its leverage further.
"Investors do not need to be overly worried about such news," says Ganageaswaran, noting that the REIT has set a precedent by skipping its first call date based on a mathematical calculation, which means it can refinance its perp but has chosen not to.
He says Ascott Residence Trust noticed that the reset rate of its perp was lower than the initial coupon rate, and most likely also significantly lower than the cost of issuing a new perp, given the current market environment for issuers in the hospitality sector. Also, considering the management's decision to preserve cash, the REIT decided to skip the first call date of its perp.
However, Ascott Residence Trust is taking on reputational risk by doing so. It could upset some of its perp holders, who were expecting to receive their principal on the first call date. Its cost of financing perps could also go up in the future as investors could demand a higher rate to compensate them for taking a higher level of risk, says Ganageaswaran.
"How big the reputational risk Ascott has taken will only be fully known when it issues its next perp. The REIT is the first perp issuer in the Singapore dollar space to skip the first call date, not due to financial distress but based on economic considerations and liquidity planning," he adds.
A check on Bondsupermart, a content information portal operated by a wholly-owned subsidiary of iFAST Corp Ltd, shows that the bid and ask prices of the Ascott Residence Trust perp had fallen since June 30. As at July 14, the bid and ask prices of the perp had dropped about 7.3% to S$94.47 and S$931.11 respectively, with an estimated yield to maturity of 3.136%.
iFast Capital, via its Bond Express platform, is the only company in Malaysia that allows individuals to invest directly in bonds, including perps, from as low as RM1,000.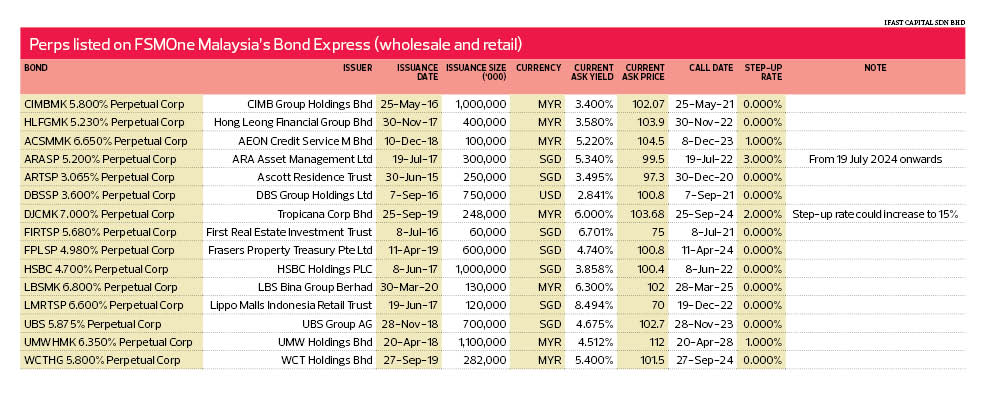 Bank perps are not an alternative to fixed deposits
Perpetual bonds (also known as perps) issued by banks should not be treated as an alternative to fixed deposits, says iFAST Capital Sdn Bhd fixed income analyst Ganageaswaran Arumugam.
"Some people say those who invest in fixed deposits (FDs) and perps issued by banks are taking on the same risk. That is not true. There are reasons for the higher yields offered by perps that compensate for the risk investors are taking upon themselves," he says.
For instance, each FD account is insured by Perbadanan Insurans Deposit Malaysia (PIDM) up to RM250,000. FDs also have maturity dates, on which investors receive interest along with their principal.
On the other hand, perps are not insured by PIDM and do not have a maturity date, which means there is a chance that investors may not get back their principal. Perps are also a more complicated financial instrument compared with FDs and conventional bonds, says Ganageaswaran.
For instance, each perp has a different step-up rate. A higher step-up rate is advantageous to investors as it increases their chances of receiving their principal on the first call date.
"However, it is worth noting that perps issued by companies in certain sectors such as banks do not have a step-up rate and their coupon rates, after being reset, could go lower than their initial rates," says Ganageaswaran.
In addition, some perp issuers are allowed to defer their coupon payments and pay them in a lump sum later on while others are allowed to outright forego the payments under specific conditions. "It all depends on the terms and conditions of each perp. Investing in perps can be quite complicated for individual investors," says Ganageaswaran.
Under the current regulations, retail investors are only allowed to invest in perps issued by banks. On July 15, there were two perps listed on FSMOne Malaysia's Bond Express platform which allows retail investors to buy into them for as low as RM1,000. The perps were issued by CIMB Group Holdings Bhd and Hong Leong Financial Group Bhd, with an initial rate of 5.8% and 5.23% respectively.
Sophisticated investors (those with RM3 million in assets or have an annual income of more than RM300,000) will have access to more perps issued by players such as property companies, REITs and asset management firms based in Malaysia and Singapore.
Ganageaswaran says perps have been gaining traction among the local high-net-worth individual population as interest rates fall to historical lows. "But the total number of perp investors remains small as it is a complicated investment for individual investors."