This article first appeared in The Edge Malaysia Weekly, on September 2, 2019 - September 08, 2019.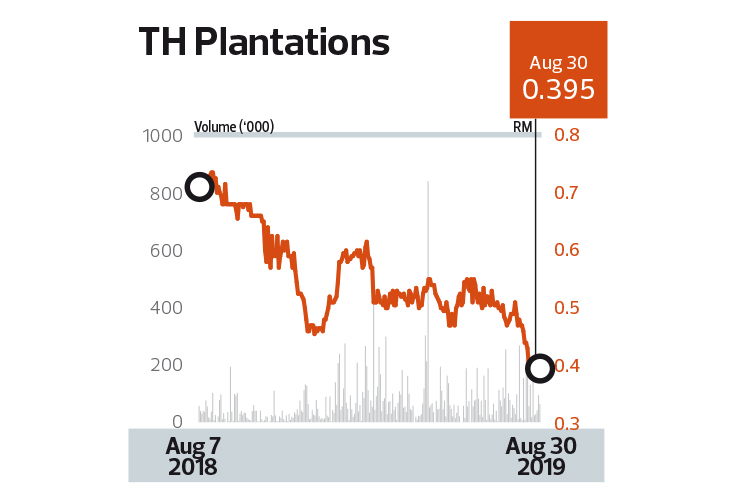 AS TH Plantations Bhd (THP) released its second-quarter results last Thursday, its shareholders may rightly be even more concerned about its financial health amid its turnaround programme this year.
In a nutshell, its turnover in the second quarter was not enough to cover cost of sales and administrative expenses due to its high cost base, pushing the company to borrow even more amid an already heavy debt burden.
Its ongoing turnaround programme partly hinges on raising cash from asset sales to mitigate debt commitments, although no sale has been announced year to date.
THP reported a net loss of RM19.15 million on the back of RM106.11 million in revenue for the three-month period ended June 30, 2019 (2QFY2019) — its fourth consecutive loss-making quarter and fifth quarter in the red over the last seven quarters.
That takes its accumulated losses in 1H2019 to RM27.24 million, compared with a RM3.43 million profit in 1H2018. Revenue slipped 14.78% to RM221.4 million for the same period.
According to management, the drop in revenue was primarily due to the lower average selling price (ASP) of crude palm oil (CPO) at RM1,905 per tonne in 2Q2019. As a yardstick, Maybank Research estimated that its all-in cost of production per tonne in 1Q2019 was RM2,154.
The lower ASP exacerbated its 3% decline in production to 205,953 tonnes. Overall, however, output still improved 4.04% year on year to 414,501.51 tonnes in 1H2019.
It is worth noting that THP suffered a core net loss in 2Q2019 — its RM106.11 million revenue was insufficient to cover RM101.62 million in cost of sales and RM8.92 million in administrative expenses.
For its oil palm plantation segment, THP also reported increased estate production costs due to higher manuring cost in 2Q2019, up by RM8.48 million.
Adding on the RM36.72 million in finance costs last quarter, THP burnt through RM47.27 million in cash operationally for 2Q2019. It was the planter's second consecutive quarter with negative operating cash flow.
It is noteworthy that THP had supported its finances in 2Q2019 by drawing down RM68.12 million in loans and borrowings.
The additional borrowings last quarter meant its short-term debt had more than doubled over the course of six months up to June 30, 2019, to RM112.43 million. As at Dec 31, 2018, its short-term borrowings stood at RM41.54 million.
Overall, THP's balance sheet is grappling with RM1.2 billion in long-term borrowings plus RM112.43 million in short-term debt. Its current assets as at June 30 stood at RM955.74 million — including RM30.76 million in cash and RM799.47 million in assets held for sale.
As things stand, THP is on course to end the current financial year in the red, barring a sustained upward trend in CPO prices. In the current quarter, CPO prices have risen from RM1,897.50 per tonne on July 1 to RM2,195.50 on Aug 26, an 11-month high.
"The palm oil industry is still facing a challenging and volatile business environment, but we are expecting CPO and palm kernel prices to improve in the second half of 2019, supported by better export and higher biodiesel demand in Indonesia and Malaysia," says THP.
In a research report released last Friday, Maybank Research expects THP to record a core net loss of RM76 million in FY2019, compared with RM31 million in FY2018. It projects revenue to decline 10.6% y-o-y to RM464 million in FY2019.
"Pending an update with management, we make no changes to our forecasts, although the earnings risk appears to be on the upside if its normal fertiliser application cycle was carried out in 1H2019. Our forecasts impute CPO ASP of RM2,100 per tonne for FY2019 and RM2,300 per tonne for FY2020," says the research house.
It maintains a "hold" call on THP with a target price of 41 sen for the next 12 months.
Another loss-making year will hurt its majority shareholder, Lembaga Tabung Haji (TH), which holds a 73.84% stake and historically receives a substantial proportion of its dividend income from THP.
TH's 2018 annual report is not yet available on its website. THP did not pay dividends in FY2018.
As an illustration, in FY2017, TH recorded RM91.91 million in dividend income from subsidiaries. A back-of-the-envelope calculation shows that THP's dividend payments to TH would have amounted to RM13.05 million that year or over 14% of TH's dividend income.
One potential catalyst for THP, however, would be any major asset sale in the coming months, which management has previously said it intends to undertake and expects to complete this year.
The asset sales are part of THP's turnaround programme following massive impairments that led to a net loss of RM653.4 million in FY2018 as revenue fell 24.52% y-o-y to RM519.32 million.
Other aspects include a change in management that saw the appointment of Muzmi Mohamed as CEO beginning Feb 11.
Last Friday, THP closed at 39.5 sen per share, giving it a market capitalisation of RM349 million, down 44.37% y-o-y.