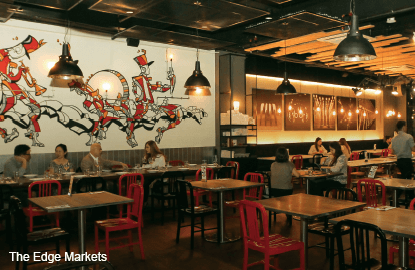 This article first appeared in The Edge Financial Daily, on June 1, 2016.
IT was for the love of Italian cuisine and the joy of sharing good food with others that led Datuk Kok Wee Kiat to start Amanti della Cucina Italiana, a registered society that gathers every month to savour delicious cuisine and wine at a chosen restaurant in the Klang Valley.  
A gastronome and wine lover, Kok recounts how it all came about. "When I was Deputy Minister of Trade and Industry, I did a lot for the Italian business community. At that time, they wanted to bring in not only Italian cooking equipment but also their wines and food. I helped them quite a bit there. In recognition of what I had done they made me a Commendatore of the Italian Order in 1989. And then one day shortly after, the Italian ambassador pulled me aside and said, 'Now that you're a Commendatore, how about coming to Italy?' At that time, I'd only been to Italy once, so I said, 'Okay, I will do it.'"
And so began a love affair, if you will, with all things Italian, but in particular, the renowned and varied cuisine and luscious wines. "I really like Italy. Any kind of dish you have in one place, although it's called the same in another place, is cooked differently depending on the chef. The kind of local variation appealed to me a lot. I've now covered the whole of Italy except for the island of Sardinia," says Kok, who calls Italy his "playground".
The impetus to start Amanti in 2002 was to help promote affordable Italian cuisine among young people, "people who have just come out to work and who have a limited budget on what they are prepared to spend on food," says Kok. "I thought of this device of having dinners with a limited budget, and getting wines thrown in as part of the deal. It became very popular."
The society, which was formally registered in 2011 and currently has 56 members, started awarding certificates of recognition in 2012 to their favourite dining venues and chefs as a way to show their support and approval. A vote is tallied on criteria such as authenticity, effort, service and dining experience. Awards that have been given out so far include to chef Federico Machieletto of Marini's Group and chef Rudy Stecca of Ciao Ristorante.
Recently, Amanti honoured its first Malaysian chef with Favourite Chef of the Year for 2015 to William Teh, who is head chef and co-owner of popular Italian restaurant, Enorme, located at PJ Centrestage. The restaurant is co-founded with friends, Wong Jun Ken and Brandon Tan, in 2014. Teh honed his skills at Casa Verde by Les Amis in Singapore — a trattoria serving classic Italian dishes — for a number of years before deciding to come back and set up his own place.
Enorme prides itself in serving authentic Italian cuisine. Teh is unapologetic about the use of pork as his definition of what makes his food authentically Italian. "Once you do pork-free, the flavour is not there and you have to replace it with other duplicates like beef or turkey. That's not authentic... For me, I just want to promote real, authentic Italian food. But I did change it a bit to make it more suitable to Malaysian taste buds — Malaysians like spicy and sweet. But the pork is the main thing. A lot of dishes in Italian cuisine have pork," says Teh.
Among the highlights at Enorme is a whopping 21-inch sized wood-fired thin-crust pizza with unique toppings. Examples include the carbonara and bolognese, which is what you would typically find mixed with pasta, but at Enorme, they are on pizzas, instead. Another crowd favourite is the battered, deep-fried Portobello mushroom, served with sautéed chicken strips, mushrooms and onions on a bed of arugula leaves. Pastas come highly recommended too, among them the squid ink pasta with seafood. In the way of dessert is the tiramisu, but with a twist — Teh serves it in a deconstructed style.
Receiving the recognition from Amanti is a boost for the restaurant, says Wong, "It definitely shows the capabilities of our chef. It means a lot to us."
Amanti's Kok chimes in, "I want to point out that Italian food need not be formal, it can be simple. I don't want to give the impression that only the formal restaurants can be considered as good cuisine. Simple fare like this can be good cuisine."