This article first appeared in The Edge Financial Daily, on August 1, 2017.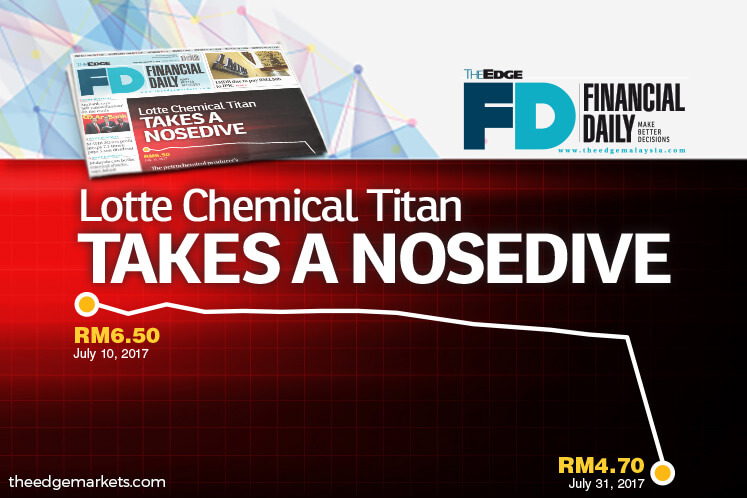 KUALA LUMPUR: Lotte Chemical Titan Holding Bhd's (LCT) share price dived to its new low after the announcement of a 72% plunge in its net profit for the second financial quarter ended June 30, 2017 (2QFY17).
Shareholders were caught off guard by the unexpected sharp earnings contraction that was mainly caused by an unplanned water supply disruption at its plant in Johor.
Many rushed to sell the shares in the afternoon trading session, sending LCT's share price to an intraday low of RM4.65, down by as much as 24.1%. Some RM3.25 billion of market  capitalisation evaporated after the selldown.  
At the closing bell, the counter shed RM1.43 or 23.33% at RM4.70 — 27.6% lower versus the group's initial public offering (IPO) price of RM6.50.
The integrated petrochemical producer reported a 72% drop in its net profit to RM113.62 million or 6.58 sen per share for 2QFY17, from RM404.03 million or 23.38 sen per share a year earlier.
Quarterly revenue fell 11% to RM1.78 billion from RM1.99 billion.
It is understood that LCT's top management held a conference call to brief fund managers at 3.30pm yesterday. However, the conference call did seem to have convinced investors that such a big fall in earnings was not a recurring issue.
While the group had disclosed the water supply disruption in its IPO prospectus, the significance of the impact was not made clear as analysts did not expect the incident would have taken a heavy toll on its profit.
In its prospectus, the group said it suffered a period of shutdown between two and 11 days in April, with its plants restarting operations on a staggered basis.
The shutdown resulted in a 75 kilotonne decline in production volume, the prospectus stated.
"This has definitely affected the overall sentiment on LCT. Institutions that have taken up the stock would have to contend with the losses. We can definitely say that it is on track to miss our full-year forecast by a substantial margin," said Inter-Pacific Research Sdn Bhd research head Pong Teng Siew.
Similarly, Hong Leong Investment Bank Bhd analyst Lim Sin Kiat did not expect the big impact brought by the water cut.
"LCT's performance for the quarter was worse than expected. We expected the plant to turn around but we didn't expect this water outage issue," said Lim.
However, Lim expects that this was likely to be a one-off loss, adding that the long-term outlook for LCT remains intact.
He noted that the group will have completed its turnaround maintenance for its plants, which should support the group's performance in FY18.
"After this year, the maintenance and turnaround work — which is done every five years or so — will be completed.
"LCT's refining margin is a bigger factor but the expectation is that margins should be maintained next year," said Lim.
The water supply issue aside, the decline in LCT's results was also due to slower sales during the Hari Raya festive season, coupled with fair value losses on derivatives of RM21.9 million and a property, plant and equipment write-off of RM20.1 million.
For the first half of the year, the group's cumulative net profit declined 32% to RM455.77 million, or 26.38 sen per share, from RM676.2 million, or 39.14 sen per share, a year earlier. Its revenue was 7% lower at RM3.69 billion from RM3.99 billion.
On its prospects, the group said it expects the petrochemicals market to continue to be resilient in the near term, as demand growth outpaces the rate of new supply additions in the region.
LCT added that its production output is expected to normalise in the second half of the financial year with the completion of the turnaround of its NC1, NC2 and downstream plants, while its TE3 project will be coming online in the second half of the financial year.