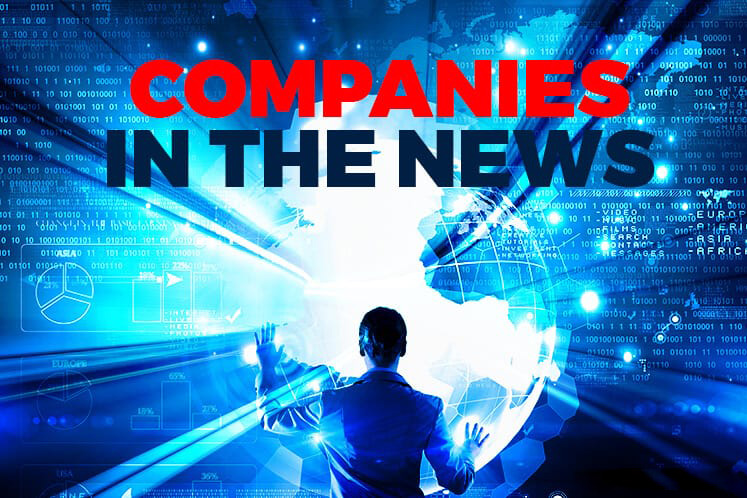 KUALA LUMPUR (May 10): Based on corporate announcements and news flow today, stocks in focus for Monday (May 13) may include the following: Lotte Chemical Titan Holding Bhd, Malaysia Airports Holdings Bhd, Seacera Group Bhd, Media Prima Bhd, Tasco Bhd, DPI Holdings Bhd, Advance Synergy Bhd and Khee San Bhd.
Lotte Chemical Titan Holding Bhd (LCT) has expanded its presence in the United States with the debut of a new shale gas project in Louisiana.
The project, by Lotte Chemical USA Corporation, is a 60:40 joint-venture investment project worth US$3.1 billion between LCT and Lotte Chemical Corporation South Korea.
LCT said the large-scale petrochemical complex, comprising two manufacturing facilities, is expected to produce one million tonnes of ethylene and 700,000 tonnes of mono ethylene glycol per year.
Malaysia Airports Holdings Bhd (MAHB) said its network of airports, including the Istanbul SGIA in Turkey, recorded a 5.6% growth in passenger traffic at 11.7 million people in April from a year earlier as international and domestic passenger movement rose.
MAHB said international passenger traffic increased 6.5% to 5.6 million people while domestic traffic grew 4.7% to 6.1 million passengers.
It said cumulative passenger traffic between January and April rose 4.2% to 45.2 million people from a year earlier.
Seacera Group Bhd has been a served a letter of demand for payment of RM12.85 million by Ambank Islamic Bhd.
Seacera said the payment was in respect of total amount outstanding and due payable under the Murabahah Tawarruq Term Financing-i, Murabahah Tawarruq Cashline-i and Multi Trade Finance Facilities-i.
The company is required to settle full settlement within seven days from May 9, failing which AmBank Islamic Bhd shall proceed with necessary action as deemed fit and all costs to be incurred by the company.
Media Prima Bhd is targeting to increase digital revenue contribution to the group to 20% this year by capitalising on its wide digital audience across the board.
Group managing director Datuk Kamal Khalid said the group is in a transformation journey which focuses on revenue diversification.
He said the decline in traditional revenue was offset by higher revenue from the group's digital and commerce business
In FY18, Media Prima's revenue grew 25%, compared with a 14% growth in the preceding year, driven by its digital and commercial ventures.
The group's digital revenue increased to RM87.9 million from RM41.5 million, while in the commerce segment, home shopping platform, CJ WOW SHOP generated RM213.1 million in sales, a 65% increase from RM129.5 million in FY17.
Tasco Bhd is buying seven parcels of leasehold industrial land measuring a combined 16.3 acres in Port Klang for RM25.83 million.
Tasco said the proposed acquisition provides the group with the opportunity to acquire a sizeable landbank with existing warehousing facilities strategically located in Port Klang, which is the country's busiest container port and can be easily accessed to and from various expressway connections.
It added that the temperature-controlled warehouses on the assets would provide Tasco with the opportunity to scale up its cold chain warehousing operations, which are currently operating at full capacity.
DPI Holdings Bhd plans to expand its aerosol manufacturing business into China by partnering with Chen Junxiong and Li Feng Ming.
DPI executive chairman and managing director Peter Chai said the collaboration is in line with the ACE Market-listed company's intention of expanding its geographical footprint and industry presence in the aerosol manufacturing business.
DPI said it had today entered into a Memorandum of Understanding with the duo to form a joint venture company in China.
Under the collaboration, the JV company will explore and identify an aerosol business in China to be purchased. Upon completion of the acquisition of the aerosol business by the JV company, DPI will then invest in the JV company by subscribing for new shares representing a 51% equity interest, it added.
Advance Synergy Bhd is selling a piece of land in Pekan Baru Hicom, Shah Alam to Singapore's real estate giant Mapletree Investments Pte Ltd for RM124 million.
The hotel and resort operator said it is expecting to record a net gain of RM81.82 million or 8.81 sen per share after the proposed disposal. Its original cost of investment in the land and buildings was RM39.99 million as at June 3, 2003.
The group added that it plans to use the proceeds from the proposed disposal to repay borrowings, for working capital and pay expenses in relation to the transaction.
Khee San Bhd has proposed to raise up to RM4.78 million via a private placement to third-party investors to be identified later.
The manufacturer of sweets and confectionery products said the proposed private placement entails the issuance of up to 10.4 million new shares, representing not more than 10% of its total issued shares.
Of the RM4.78 million, RM2.5 million has been earmarked for purchase of raw material, RM2.1 million for working capital and the remaining RM180,000 for expenses in relation to the proposed exercise.