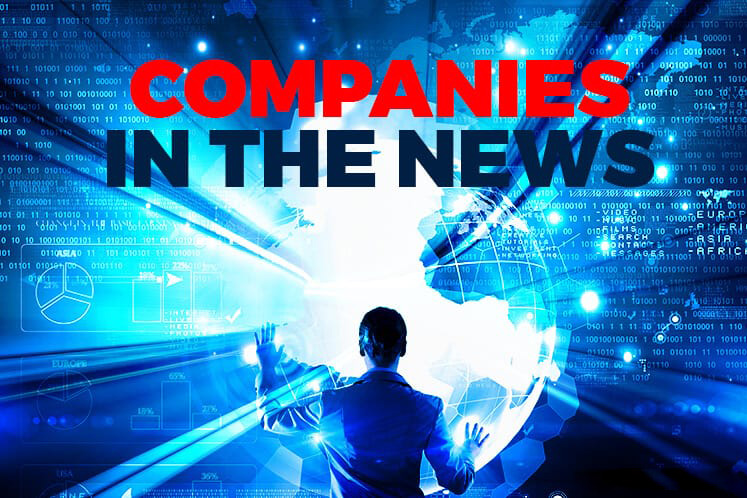 KUALA LUMPUR (Jan 30): Based on corporate announcements and news flow today, stocks in focus for Friday (Jan 31) may include the following: Lotte Chemical Titan Holding Bhd, Bursa Malaysia Bhd, E.A. Technique (M) Bhd, Pestech International Bhd, Scomi Group Bhd, Sime Darby Plantation Bhd, Heng Huat Resources Group Bhd and ATTA Global Group Bhd.
Lotte Chemical Titan Holding Bhd (LCT) net profit for the fourth quarter ended Dec 31, 2019 surged to RM187.76 million against RM7.22 million a year ago, mainly due to a one-off gain on the disposal of equity interest and lower write down of inventories.
LCT said revenue for the quarter fell 15.53% to RM1.97 billion, from RM2.34 billion previously. Earnings per share jumped to 8.26 sen versus 0.32 sen a year earlier.
For the full year ended Dec 31, 2019, LCT said its net profit fell to RM439.72 million from RM783.33 million, due to margin squeeze resulting from lower product selling prices. Its revenue dropped to RM8.44 billion from RM9.24 billion, due to a decrease in average selling price.
Bursa Malaysia Bhd's net profit for the fourth quarter ended Dec 31,2019 declined 12.15% to RM45.46 million from RM51.86 million a year earlier, amid higher operating expenses.
Quarterly revenue inched up by 0.32% to RM129.33 million, from RM128.92 million previously.
Bursa declared a final dividend of 10.4 sen, amounting to RM84.08 million. This brings total payout for FY19 to 20.80 sen per share, compared with 33.6 sen for FY18.
For FY19 as a whole, Bursa's net profit dropped 17.04% to RM185.85 million from RM224.04 million in the previous year. Annual revenue declined 8.64% to RM502.49 million from RM550 million previously.
Separately, Bursa said it is seeking to expand and develop new income streams to grow both its trading and non-trading revenue (NTR), as it continues to manage costs amid challenging conditions.
Its chief executive officer, Datuk Muhammad Umar Swift, said NTR comprised 36% of the group's revenue in 2019, while the balance was accounted by trading revenue.
E.A. Technique (M) Bhd (EATech) is bullish on this year's performance with an improvement of between 30% and 40% in its bottom line.
Revenue from projects secured last year is expected to transpire in the current financial year.  
Managing director Datuk Abdul Hak Md Amin said EATech secured combined contracts valued at more than RM500 million in 2019, including an Operation and Maintenance (O&M) contract from Petronas Carigali Sdn Bhd's subsidiary Vestigo Petroleum Sdn Bhd, worth about RM20 million annually.
The company ended the last decade on a positive note, with its order book standing at RM1.3 billion.
Pestech International Bhd has called off its partnership with a Japanese renewable energy power plant developer for a potential joint investment under the third cycle of the large scale solar (LSS3) scheme.
The group said the Memorandum of Understanding (MoU) signed by its wholly-owned subsidiary Pestech Power Sdn Bhd with Japanese outfit RS Renewable KK has been mutually terminated as it did not achieve the intended purpose of the MoU.
Pestech Power inked the MoU with RS Renewable in March last year for both parties to explore the possibility of undertaking a joint co-operation via a bid under the LSS3.
Scomi Group Bhd said the High Court today approved the winding-up of its wholly-owned subsidiary Scomi Engineering Bhd.
Scomi Group said it does not intend to contest the winding-up order.
The group said the court appointed lawyer Lim Tian Huat of Messrs Rodgers Reidy & Co as the liquidator of Scomi Engineering, with costs to be paid out of the subsidiary's assets.  
Scomi Group said the winding-up of Scomi Engineering will not have any financial or operational impact on the group for the financial year ending June 30, 2020 (FY2020).
Sime Darby Plantation Bhd (SDP) has completed a refinancing exercise involving credit facilities worth about RM3.9 billion on marginally improved terms.
The financing facilities secured by the group in December 2019 consist of foreign currency term loans of US$830 million and a ringgit term loan of RM500 million.
The exercise involved refinancing of SDP's existing term loans which are due for repayment in June 2020, restructuring and replacing some of the existing facilities with better pricing, and converting some of the group's working capital facilities to term loans.
SDP said the exercise did not result in any increase in the group's gearing. The group's borrowing as at Sept 30, 2019 stood at about RM7.9 billion (excluding perpetual sukuk of RM2.2 billion).
Ooi Chieng Sim, the executive chairman of Heng Huat Resources Group Bhd and ATTA Global Group Bhd, was among eight men charged with drug trafficking at the Magistrate's Court in Bukit Mertajam today.
The eight men were charged with trafficking 4,980 grammes of methamphetamine at a warehouse by the side of Atta Global's premises in the Perai Industrial Estate at about 10.30am on Jan 16, according to the charge sheet sighted by theedgemarkets.com.
They were charged under Section 39B of the Dangerous Drugs Act 1952 and face the death penalty or a life sentence if convicted.