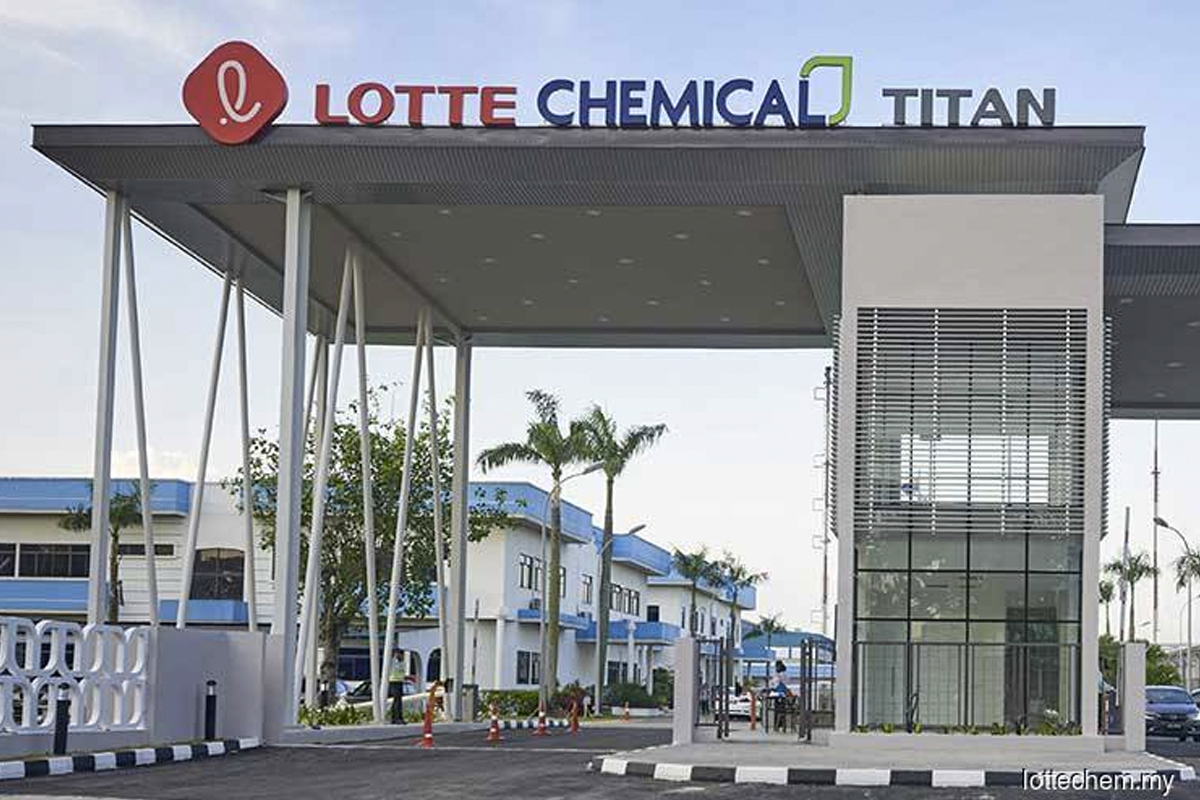 KUALA LUMPUR (Oct 28): Lotte Chemical Titan Holding Bhd saw its net profit for the third quarter ended Sept 30 (3QFY20) fall 13.73% to RM78.77 million, from RM91.3 million a year ago, due to lower revenue, higher share of associate losses and higher operating cost resulting from Hurricane Laura.
In a bourse filing, the group said its revenue for 3QFY20 dropped by 10.45% year-on-year to RM1.94 billion, from RM2.17 billion.
The group said its profit before tax was lower as a result of higher share of associate losses due to lower product margin, higher operating cost and direct costs resulting from Hurricane Laura of RM15.9 million.
Meanwhile, its profit for the olefins and derivative products decreased from RM27.6 million to loss before tax of RM17.7 million, mainly due to margin squeeze resulting from lower average product selling price.
Its profit before tax for polyolefin products, however, increased from RM55.3 million to RM216.0 million mainly due to improved margin spread from lower feedstock cost.
For the nine months ended Sept 30, the group slipped into a net loss of RM2.57 million, compared with a net profit of RM251.98 million in the year-ago period. Its revenue for the period also declined by 22.98% to RM4.98 billion, from RM6.46 billion a year ago.  
In a separate statement, Lotte Chemical Titan president and CEO Dr Lee Dong Woo said that year to date, the group's business is now back in the black and had since observed operational performance turnaround with continuously improving gross profit margin trends.
Loo said Lotte Chemical Titan's long-term strategy to ride through these challenging periods will include optimising plant operations to increase production output, improving its business competitiveness in light of industry competition and enhancing business sustainability and governance to solidify its long-term business viability.
"As Lotte Chemical Titan embarks into the future, the company strives to continue maintaining its business resilience and strengthen the ability to deliver on its value creation promise," he said.
Amidst the slow economy and oil price volatility, the company said, it will continue to monitor closely the pandemic development as the petrochemical industry correlates with and is heavily dependent on the regional and global economic growth and aggregate consumption pattern.
"Notwithstanding the external circumstances, the company will continue to maintain its strong financial resilience and optimize its operations to ride through the highly volatile business environment," it said.
At midday break, Lotte Chemical Titan shares were up 5 sen or 2.08% to RM2.45, valuing the company at RM5.57 billion.
Read also:
Lotte Chemical Titan share price slumps after quarterly earnings contraction