This article first appeared in The Edge Financial Daily, on April 30, 2019.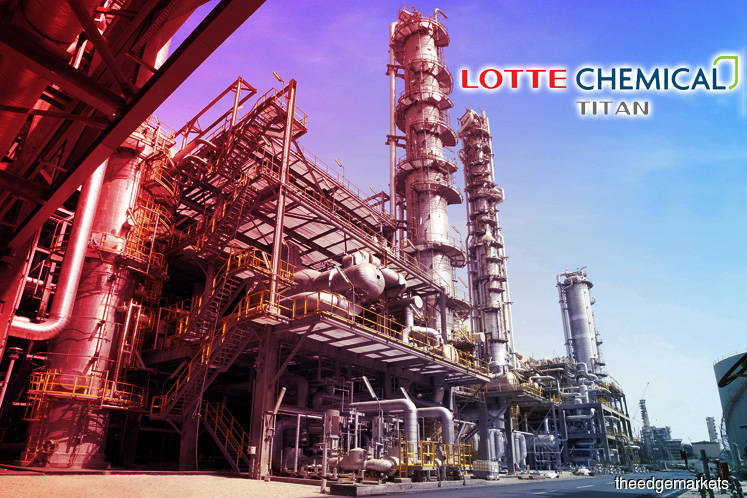 KUALA LUMPUR: Lotte Chemical Titan Holdings Bhd (LCT), the country's largest integrated producer of olefins and polyolefins, saw a 77.1% year-on-year drop in first-quarter (1Q) net profit due to margin squeeze on lower product selling prices.
In a statement yesterday, LCT said average selling prices for both olefins and polyolefins continued to soften in the first quarter of 2019, amid weaker overall demand impacted by the ongoing market uncertainties, as well as increased supply of lower-priced polymers from the US in the Asean region as a consequence of the US-China trade war.
"Other factors contributing to the lower profit includes royalty expenses to holding company of RM9.3 million, foreign exchange loss of RM18.7 million, share of loss from associates of RM13.4 million, which is mainly due to loss on fair value changes in interest rate swap entered by Lotte Chemical USA Corp," it said in a separate filing with Bursa Malaysia.
The group saw its net profit for the quarter ended March 31, 2019 (1QFY19) fall to RM55.83 million from RM244.2 million a year ago. As a result, earnings per share was lower at 2.46 sen for 1QFY19 compared with 10.74 sen for 1QFY18.
Quarterly revenue also fell by a marginal 2% to RM2.17 billion from RM2.21 billion, due to lower average product selling price during the quarter. This was partially offset by increased sales volume, which was driven by improvement in production quantity.
LCT said overall production quantity increased due to commissioning of new plants, as the plant utilisation rate for 1QFY19 improved to 87% from 83% in 1QFY18.
"The plants were operating at a sufficient level to maintain profit maximisation taking into consideration the need for general plant maintenance," it added.
On prospects, LCT said the petrochemical industry will remain challenging amid persisting market uncertainties pending the outcome of the on-going trade negotiations between the US and China.
"Crude oil price, which has increased by more than 30% since beginning of the year, will impact on our naphtha feedstock cost moving forward.
"In addition, this upward price momentum is likely to continue in the short to medium term, with continued production cuts by the Organization of the Petroleum Exporting Countries and Russia, together with new US sanctions on Venezuela and removal of waivers for Iranian crude oil export," it noted.
"However, the crude oil price movement would partially be mitigated by potentially higher US shale productions," it added.
LCT president and chief executive officer Dr Lee Dong Woo said the petrochemical industry is undergoing a "very challenging period amid various global market uncertainties".
"Nevertheless, our group is expected to ride through current market downcycle given our zero-gearing position with ample liquidity," he added.
The group's project in the US, slated to commence commercial operation by the first half of 2019, is expected to contribute to the group in the second half of 2019. Its Indonesian integrated petrochemical facility project will also "significantly increase production capacity upon completion by 2023".
"Over the next five years, the advancement of the group's growth plan will result in capacity expansion," it noted.