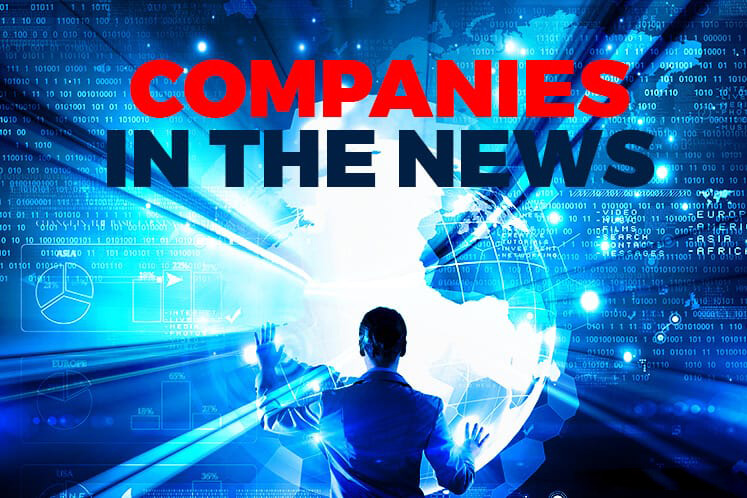 KUALA LUMPUR (April 30): Based on corporate announcements and news flow today, companies in focus on Wednesday (May 2) may include the following: Lotte Chemical Titan Holding Bhd, Luxchem Corp Bhd, MBM Resources Bhd, UMW Holdings Bhd, Guocoland (M) Bhd, Malaysia Airports Holdings Bhd, AirAsia X Bhd, Bintulu Port Holdings Bhd, Censof Holdings Bhd, Westports Holdings Bhd, MISC Bhd, TMC Life Sciences Bhd, Ire-Tax Corp Bhd, Yinson Holdings Bhd, TH Heavy Engineering Bhd, Chin Teck Plantations Bhd and Tomypak Holdings Bhd.
Lotte Chemical Titan Holding Bhd's net profit for the first quarter ended March 31, 2018 fell 28.6% year-on-year to RM244.19 million from RM342.15 million, due to margin squeeze and foreign exchange loss.
The company said revenue for the quarter rose 15.7% to RM2.21 billion from RM1.91 billion a year earlier, on higher sales volume.
Luxchem Corp Bhd's net profit for the first quarter ended March 31, 2018 dropped 29.2% to RM9.63 million, compared with RM13.61 million a year earlier, on lower revenue contribution.
Revenue fell 9.8% to RM196.65 million from RM218.13 million due to lower exchange rate and lower quantity.
Disgruntled minority shareholders of Med-Bumikar Mara Sdn Bhd staged a walkout today as the remaining shareholders voted to sell its 50.07% stake in listed auto group MBM Resources Bhd to UMW Holdings Bhd.
Sources told theedgemarkets.com that the extraordinary general meeting was convened as scheduled, but its validity was questioned by the minorities who had opposed the proposed sale.
Details are scarce but the dissenting shareholders, accounting for 48% of Med-Bumikar's shareholding, walked out led by executive chairman Datuk Abdul Rahim Abdul Halim. It is learnt that the remaining shareholders collectively holding 52% of Med-Bumikar's outstanding shares proceeded to vote in favour of the proposed sale.
Tycoon Tan Sri Quek Leng Chan has stepped down as chairman of Guocoland (Malaysia) Bhd effective immediately, amid an internal rationalisation and streamlining exercise.
Guocoland said Quek, 74, will be replaced by incumbent non-executive director Choong Yee How as chairman.
Malaysia Airports Holdings Bhd (MAHB) is taking legal action against AirAsia X Bhd (AAX), claiming the airline owes it RM34.88 million in outstanding airport charges, rent and late payment charges.
MAHB said its wholly-owned subsidiary Malaysia Airports (Sepang) Sdn Bhd has filed a writ of summons and statement of claim at the Shah Alam High Court on AAX.
Bintulu Port Holdings Bhd expects to achieve another year of record container throughput for 2018 at 340,000 TEUs (20-foot equivalent units), up 10% from 2017.
The port operator is also projecting up to a 4% increase in operating revenue this year, driven by the anticipated growth in container volume handled.
The group registered a revenue of RM679.82 million for the financial year ended Dec 31, 2017 (FY17), a 16.48% increase from RM583.62 million in FY16.
"For 2018, we have set a target of 320,000 TEUs (in container throughput), but we are optimistic we can hit 340,000 TEUs," its chief executive officer Datuk Mohammad Medan Abdullah told reporters after the group's annual general meeting here today.
Censof Holdings Bhd has bagged a contract worth RM73.35 million to implement an integrated core and finance system for the Human Resources Development Fund.
Censof said the five-year contract took effect on April 25.
Westports Holdings Bhd is acquiring a piece of leasehold land under the sea at Pulau Indah, Port Klang from Perbadanan Kemajuan Negeri Selangor (PKNS) for RM116.19 million.
The purchase, through wholly-owned subsidiary Westports Malaysia Sdn Bhd, will be funded via internally generated funds and bank borrowings, said Westports in a filing to Bursa Malaysia.
The group said the land, measuring 154.2 ha or 381 acres, will be used for terminal expansion as the current preliminary port design for container terminal 10 to 19 requires additional land acreage to accommodate new wharf and container yard space.
MISC Bhd has taken delivery of Seri Cemara, the last of five new liquefied natural gas (LNG) carriers, from South Korea's Hyundai Heavy Industries Co Ltd. The vessel will be chartered to Petroliam Nasional Bhd (Petronas) for the next 15 years, upon delivery.
MISC said the 150,200 coal-bed methane LNG carrier is part of the group's long term fleet expansion programme to cater to the energy transportation needs of Petronas.
The delivery of Seri Cemara brings the current number of MISC's LNG fleet to 29 vessels.
Healthcare provider TMC Life Sciences Bhd expects its TMC fertility centres (TMCFC) to become a market leader in Asia in the fertility segment over the next five years.
Chief executive officer Roy Quek Hong Sheng  said the group has allocated about RM14 million for capital expenditure in the current financial year ending Aug 31, 2018 (FY18) to better serve patients and offer a wider range of services as part of its expansion plan.
Currently, TMCFC contributes about 20% to the group's revenue. To date, TMCFC has 12 fertility specialists and 13 scientists under its team of embryologists.
TMC Life Sciences' net profit for the second financial quarter ended Feb 28, 2018 increased 4.8% to RM4.76 million from RM4.54 million a year ago.
This resulted in higher earnings per share of 27 sen compared with 26 sen previously. Quarterly revenue was also up 11.8% at RM39.71 million from RM35.51 million.
TMC Life Sciences attributed the strong performance to the group's focus on delivering high quality medical and health services in a cost efficient manner.
Ire-Tex Corp Bhd's external auditors have highlighted a material uncertainty in the group's financial statements that may cast significant doubt on its ability to continue as a going concern.
Messrs UHY pointed to Ire-Tex's accounts for the financial year ended Dec 31, 2017 (FY17) when the company had incurred a net loss of RM16.27 million. On top of that, the group's current liabilities as of FY17 exceeded its current assets by RM15.16 million, which according to the external auditors, indicates the existence of a material uncertainty which may cast a significant doubt on the group's ability to continue as a going concern.
Yinson Holdings Bhd has entered into a novation agreement with JX Nippon Oil & Gas Exploration (Malaysia) Ltd and TH Heavy Engineering Bhd (THHE) for the novation of the contract for provision of engineering, procurement, construction, installation and commissioning (EPCIC) and leasing of the Layang floating production, storage and offloading (FPSO) facilities dated Nov 27, 2014 between JX Nippon and THHE.
The charter contract, as amended by Yinson Energy Sdn Bhd (YESB), an associate company and the exclusive agent of Yinson Production AS (YPAS), an indirect wholly-owned subsidiary of Yinson, is a firm charter period of eight years with 10 extension periods of one year each.
"The estimated aggregate value of the charter contract, assuming all extension options are exercised, is some US$860 million (RM3.37 billion)," Yinson said in a filing with Bursa Malaysia today.
Under the novation agreement, YESB will assume THHE's right and obligation under the charter contract but is conditional upon the provision by THHE to JX Nippon and YESB the order of the High Court of Malaya permitting the parties to undertake the novation, execution of amendment agreement to the charter contract by both YESB and JX Nippon, approval by relevant regulatory authority as well as the consideration of the novation of RM374 million being paid to THHE by YESB.
Chin Teck Plantations Bhd's net profit more than doubled in the second financial quarter ended Feb 28, 2018, mainly lifted by a net fair value gain of RM14.1 million as a result of the divestment of available-for-sale of investment securities.
The plantation group announced that its quarterly net profit jumped by 2.8 times to RM22.7 million or 24.8 sen per share, from RM8.1 million or 8.88 sen per share in the previous corresponding quarter.
The overall expenses were also lower mainly due to an absence of impairment loss of RM3.6 million on investment in a joint venture in the financial quarter under review.
Quarterly revenue grew 12.3% to RM42.2 million compared with RM37.6 million a year ago, mainly due to higher sales volume of fresh fruit bunch (FFB), crude palm oil (CPO) and palm kernel although the average selling prices of FFB, CPO and palm kernel were lower.
Chin Teck, however, said the group has not completed its quantification of the financial effects of the differences between financial reporting standards and accounting standards under the Malaysian Financial Reporting Standards (MFRS) framework due to the ongoing assessment.
As the adoption of the MFRS framework by transitioning entities will be mandatory for annual periods beginning on or after Jan 1 this year, the financial performance and financial position as disclosed in these financial statements for the year ending Aug 31, 2018 could be different if prepared under the MFRS framework.
Tomypak Holdings Bhd has reported a deviation of more than 10% between its audited and unaudited financial results for the year ended Dec 31, 2017.
The group's net profit after tax stood at RM13.6 million in the audited financial statement, about 43.16% higher than the RM9.5 million announced in the unaudited results, said Tomypak in a filing to Bursa Malaysia today.
Tomypak said the variance was mainly due to additional tax benefits arising from an increase in reinvestment tax allowances at one of its subsidiary, which was underprovided during the release of the unaudited results.