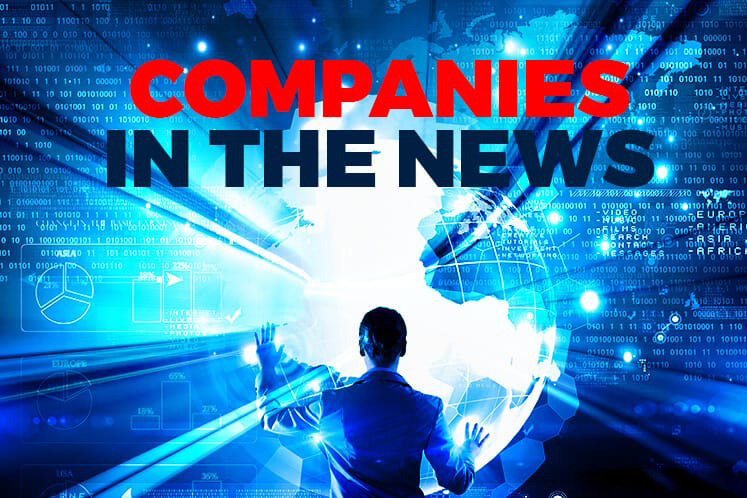 KUALA LUMPUR (Sept 3): Based on corporate announcements and news flow today, companies that may be in focus tomorrow (Sept 4) may include the following: Lotte Chemical Titan Holding Bhd, AirAsia Group Bhd, FGV Holdings Bhd, Marine & General Bhd, HeveaBoard Bhd, Uzma Bhd, Vertice Bhd, Vizione Holdings Bhd, DBE Gurney Resources Bhd.and Supermax Corp Bhd.
Lotte Chemical Titan Holding Bhd said today its polypropylene production plant (PP3) had successfully commenced commercial operations on Saturday (Sept 1).  
It said the PP3 plant will produce polypropylene for the domestic and export market.
"The PP3 project began construction in March 2017 and its mechanical completion was achieved in June 2018. Polypropylene is a thermoplastic polymer used by our customers to fabricate a wide variety of products including automotive parts, medical equipment and woven bags," Lotte Chemical said.
AirAsia Group Bhd has received US$201.5 million in gross proceeds from the transfer of 15 aircraft to entities managed by BBAM Ltd Partnership, as part of its divestment plan for the aircraft-leasing unit currently managed by wholly-owned subsidiary Asia Aviation Capital Ltd.
AirAsia said the proceeds include a cash consideration of US$151.5 million cash and 3.33 million FLY Leasing Ltd equity issued at US$15 per FLY depository share to AirAsia in accordance with the FLY subscription agreement.
To date, AirAsia has transferred 54 out of a total 84 aircraft up for transfer, for which the group has already received total gross proceeds of US$703.1 million.
FGV Holdings Bhd said several of its board members and management staff have been investigated with regards to some transactions and investment decisions undertaken by the group previously.
The group expects to obtain legal advice from its lawyers on the outcome of completed investigations.
FGV chairman Datuk Wira Azhar Abdul Hamid said the plantation group will take civil action, if and when appropriate, after receiving legal advice on the four completed investigations, which can be expected in several weeks from now.
The full report on all six investigations is expected to be ready by year-end, he added.
Marine & General Bhd has received a one-year extension on its contract from Repsol Oil & Gas Malaysia Ltd for the provision of two anchor handling tug supply vessels.
The extended contract, estimated to have a value of about RM25 million, is expected to contribute positively to the earnings of the group for the financial year ending Dec 31, 2018 and beyond, the group said.
HeveaBoard Bhd announced this evening the demise of its independent and non-executive chairman Tan Sri Chan Choong Tack @ Chan Choong Tak at the age of 85.
The board of directors will announce the appointment of the new chairman in due course.
Uzma Bhd has appointed its independent non-executive director Datuk Abdullah Karim as the group's new independent chairman, replacing Datuk Seri Syed Ali Syed Abbas Alhabshee, who resigned after serving as independent chairman for over 10 years to pursue his personal interest.
Abdullah is also currently the chairman of the group's nominating committee and member of the audit committee.
He brings with him over 41 years of experience in the oil and gas industry after joining Petroliam Nasional Bhd (Petronas) in 1977.
A joint venture between Vertice Bhd and Vizione Holdings Bhd has won a RM815 million contract from Consortium Zenith Construction Sdn Bhd to undertake construction work for a package in the Penang mega infrastructure project.
The contract, entailing the construction work for a 5.7km by-pass from Bandar Baru Ayer Itam connecting to Lebuhraya Tun Dr Lim Chong Eu, was awarded to Buildmarque Construction Sdn Bhd, a newly incorporated wholly-owned subsidiary of Vertice Construction Sdn Bhd, which in turn is fully owned by Vertice.
Vertice and Vizione are in the midst of arranging for the subscription of new shares in Buildmarque so that each party will eventually hold 50% equity interest in the new company.
The new contract is deemed to be a related party transaction in view of the interests of the major shareholders of Vertice, namely Datuk Zarul Ahmad Mohd Zulkifli and Vista Lestari Development Sdn Bhd (in which Zarul is a substantial shareholder).
The construction period is 36 months from the commencement date or from the date of issuance of the notice to proceed and is expected to contribute positively to the group's future earnings over the construction period.
DBE Gurney Resources Bhd has received a conditional mandatory takeover offer from its largest shareholder, Doh Properties Holdings Sdn Bhd, at 3.5 sen per share or a total amount of RM62.79 million.
The offer was made after Doh Properties, through open market acquisitions, increased its shareholding in the integrated poultry group to 33.02% from 32.89%.
Doh Properties intends to maintain DBE Gurney's listing status on the Main Market of Bursa Malaysia.
Under the Capital Markets and Services Act, Doh Properties is obliged to extend a mandatory takeover offer to acquire the remaining shares and warrants it does not own of 1.79 billion and 580.64 million, respectively.
The offer price for the shares represents a 7.36% premium to DBE Gurney's five-day volume-weighted average price of up to Aug 30 of 3.26 sen, while the offer price for the warrants is one sen per warrant or RM5.81 million in total.
Supermax Corp Bhd said its factory in Sungai Bulloh, which caught fire on Aug 24, is fully covered by insurance against all risks and including consequential loss claims.
It said the financial and operational impact on the group would be minimal as the plant contributes to less than 1% of its sales turnover.
The premises, having been sealed by the Fire and Rescue Department and inaccessible earlier, was opened today for the insurance adjustor to conduct the inspection, said Supermax.