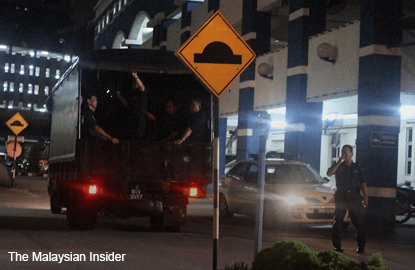 (Dec 3): The widow and daughter of a lorry driver who was found dead in a lock-up has filed a negligence suit against the government and police.
N.Selvi and C. Rita are also claiming for loss of dependency following the death of P. Chandran on Sept 10, 2012.
The suit was filed last September and the plaintiffs were relying on the outcome of a coroner's verdict to back up their claim.
Then Sessions judge Ahmad Bache, who sat as coroner, had ruled on Jan 16 that police were responsible for the death through their omission to provide Chandran with timely medical assistance.
Ahmad, now a judicial commissioner, in his verdict said that police officers from Cheras and Dang Wangi district police headquarters had committed unlawful omission by not giving Chandran his medication and sending him to hospital.
Chandran, a father of six, was arrested on Sept 6, 2012 and held at the Dang Wangi police station lock-up for four days before his death. During that period, he was not allowed to take the medication that his family members tried to give him.
The government in its defence said Ahmad's finding was erroneous in fact and law.
The suit will be heard before judicial commissioner S. Nantha Balan and case management was held today before the judge.
Lawyer M. Visvanathan, appearing for Selvi and Rita, said Federal Counsel Natassa Zaini informed Nantha Balan that the Attorney-General's Chambers (AGC) would be filing for a revision of Ahmad's verdict.
"We will object to the revision as it is done 10 months after the coroner's verdict," he told The Malaysian Insider.
Visvanathan said it was also an odd situation because in the inquest the AGC took a neutral position as a deputy public prosecutor acted as conducting officer to determine Chandran's cause of death.
"However, in the civil suit, the AGC is taking the stand that the police did no wrong," he said, adding that such a stand did not bolster confidence in the administration of justice. – The Malaysian Insider