This article first appeared in The Edge Financial Daily, on March 7, 2019.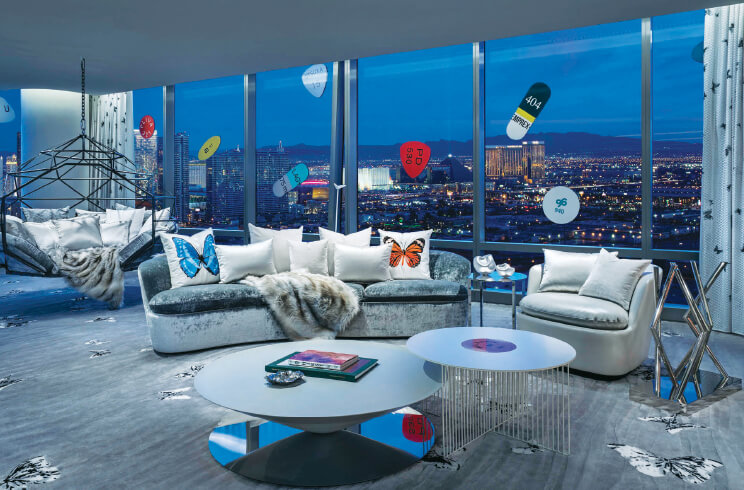 For the lounge area, Hirst designed the 'pill' applique on the windows, along with the embroidered couch cushions and coffee table top.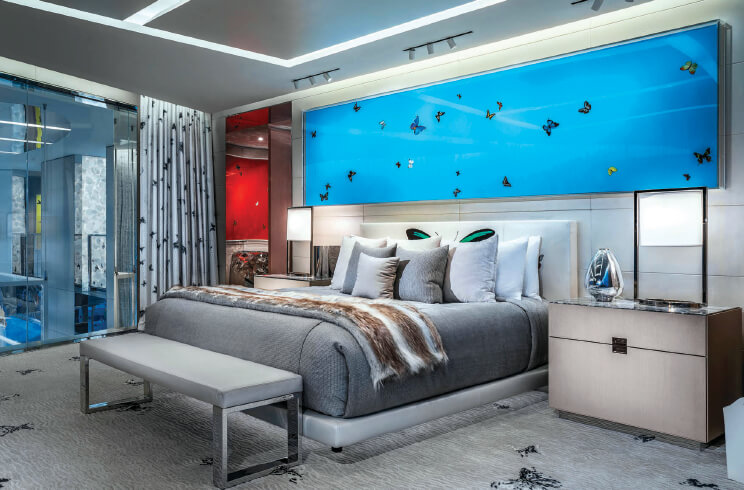 Above the bed of one of the suite's two bedrooms is Hirst's Casino Royale from 2018, an original work with real butterflies laid out on canvas. The rest of the room has a butterfly headboard, curtains and carpet, all designed by Hirst, to echo the artwork.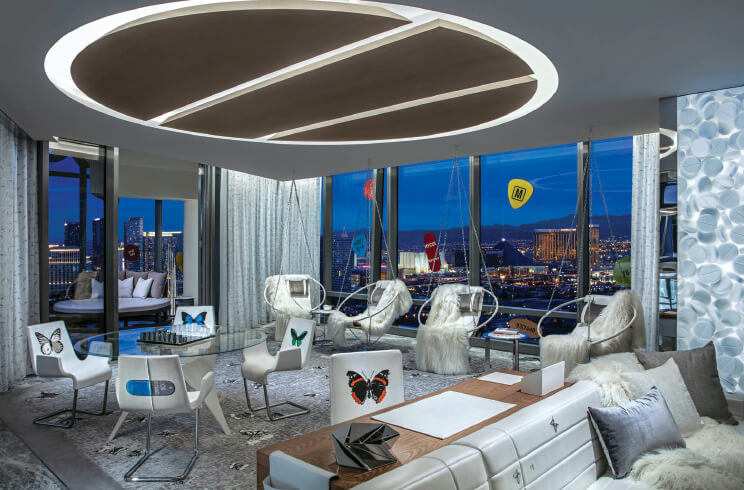 The butterflies and pills are embroidered on chairs and cushions in the dining area. The 'Pill' wall covering is part of an original Hirst design.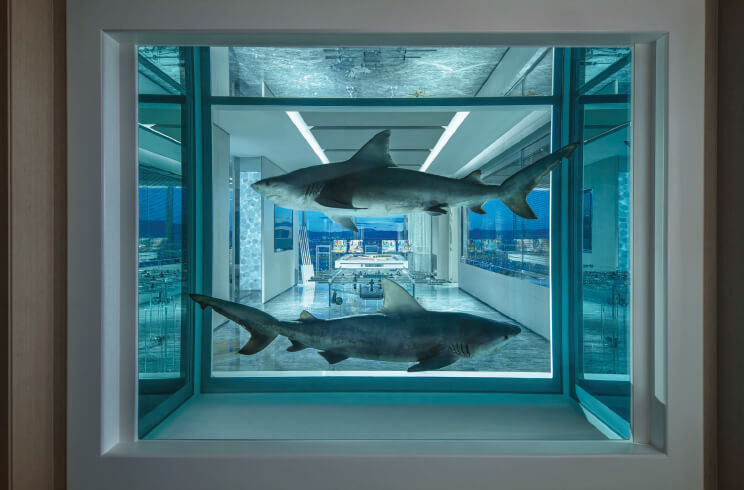 Hirst's famous bull sharks in formaldehyde serve as a room divider. This one, 2018's winner/loser, frames a game room with a billiard table that is covered in one of Hirst's 'spin' designs.
It is the new room for high rollers at the Palms Casino Resort in the city
Las Vegas has a reputation for excess, but anyone who has ever visited knows that its "excess" usually comes from scale (a two-storey M&M package!) or cost (US$30 [RM122.70] Martinis!), rather than anything genuinely lavish. Now, though, the newly renovated Palms Casino Resort has unveiled a room that can claim genuine extravagance.
Designed by artist Damien Hirst in conjunction with the architecture firm Bentel & Bentel, the two-storey space features six of Hirst's original artworks, along with 9,000 sq ft of Hirst-designed decoration. "You really feel Damien's design and art through the entire suite," said Lorenzo Fertitta, the vice chairman and director of Red Rock Resorts, which owns the majority of the company that bought the Palms in 2016. "He created a work of art with the entire floor."
Representatives declined to say how much the entire suite cost to build, but Frank Fertitta, Red Rock Resorts' chairman and chief executive officer, said: "If you look at some of the pieces individually in the suite, there are comps out there that can be pointed to, at least at auction, for what some of that stuff have sold for previously."
When you add up those comps, you quickly get close to US$10 million in art alone. One of Hirst's animals in formaldehyde, albeit smaller than the sharks in the hotel suite, recently sold for US$4.4 million, while a butterfly painting that is slightly smaller than the ones in the suite (the hotel room has two) sold for US$614,000 last year at Sotheby's in London.
Factor in the stools, dining chairs, pillows, headboards, duvet covers, "pill" decorations, tiles, billiard table, dots, applique, inlaid stone butterflies, and the total dollar amount for the suite continues to climb.
"I said, 'How much do you want to do?'" Hirst said. "And so we just set off in that general direction — the cushions, chairs, bar top, wallpaper — everything just snowballed in a good way."
Art, Hirst continued, should dazzle but not distract. "I like it when someone goes into a room and says, 'Wow!'" he said. "That's what you need with art: It needs to be in your face and then disappear."
Even if the art experience might be ephemeral, visitors to the suite might feel the impact on their wallet for years. The suite will be given free to high rollers who have US$1 million or more as a line of credit at the Palms. Alternately, for those who would prefer to pay cash, a two-night stay will cost a staggering US$200,000.
"There definitely is a market for that," said Fertitta. "It's people who are looking for one-of-a-kind experiences, or to throw an event, or to show off a bit, or to have the best experience they can have in Vegas." — Bloomberg