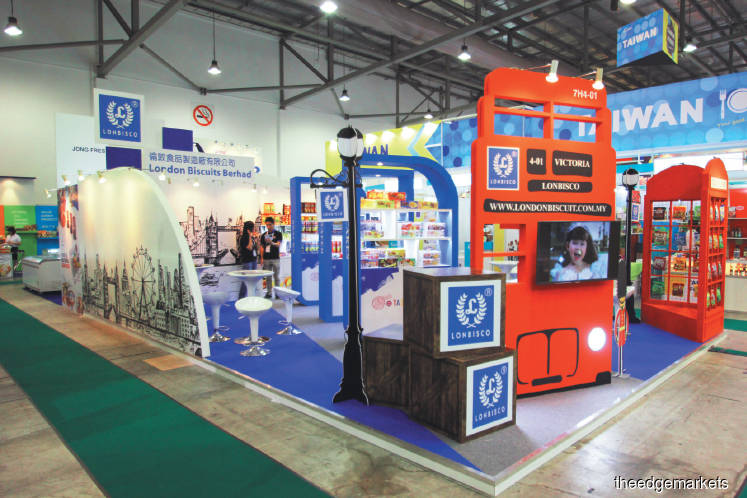 London Biscuits' trade receivables more than doubled from RM100.55 million in FY2014 to RM212.82 million in FY2018.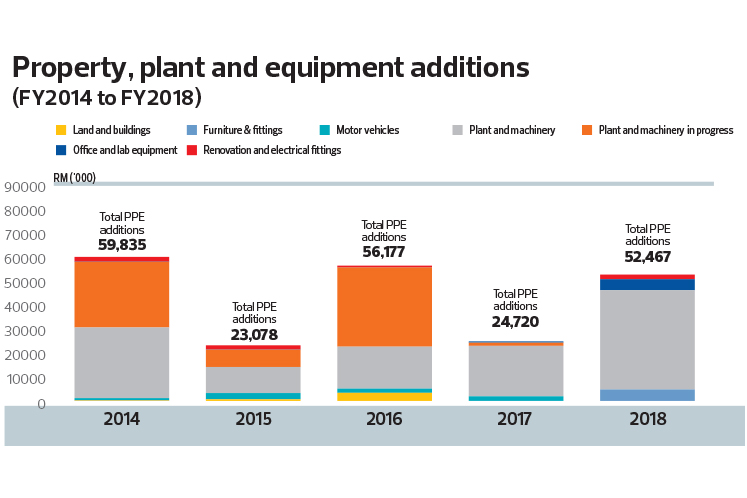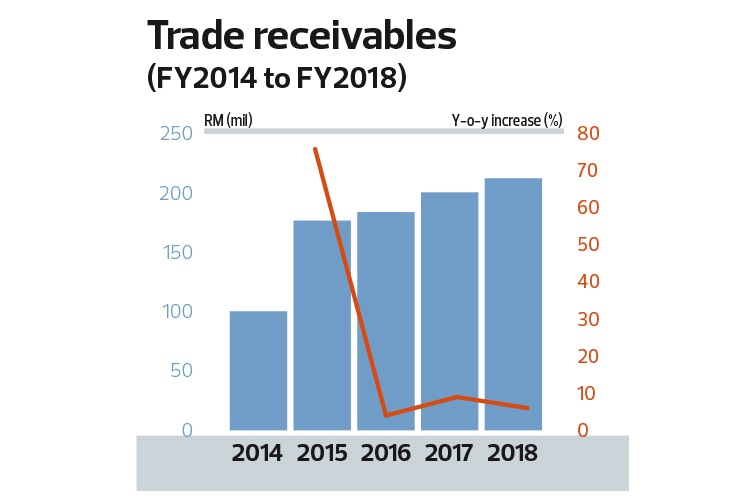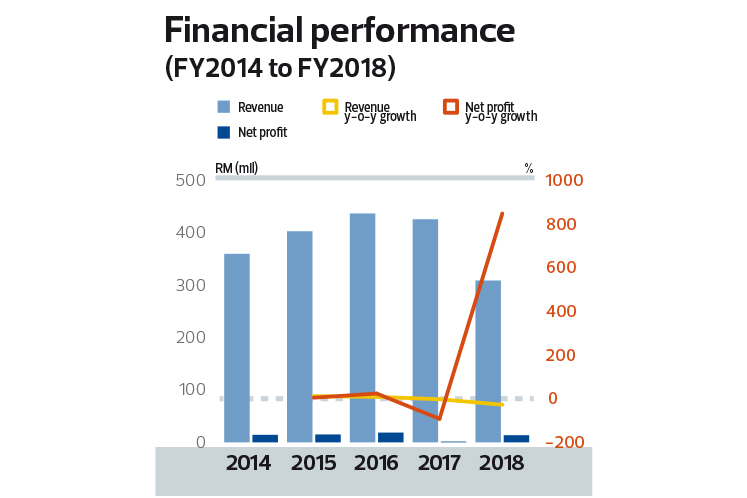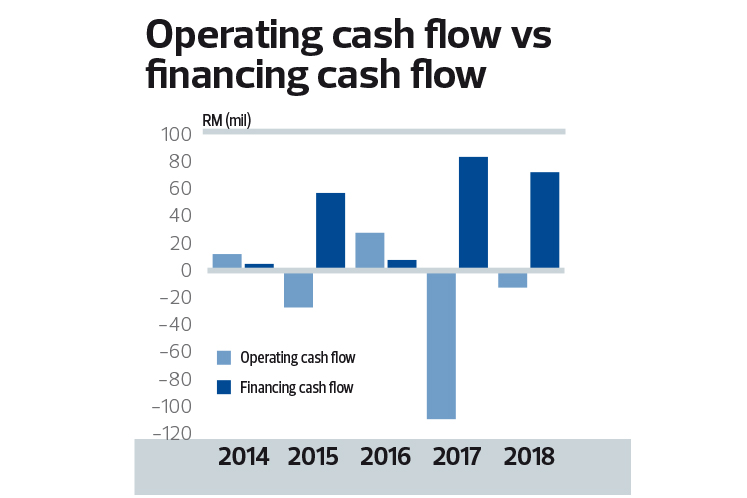 This article first appeared as "Transactions at London Biscuits raise eyebrows" in The Edge Malaysia Weekly, on August 12, 2019 - August 18, 2019.
CONFECTIONERY maker London Biscuits Bhd's share price has been on the decline since the beginning of the year, closing at 14 sen last Thursday — its lowest level since debuting on the local stock exchange in 2002. But the steepest fall occurred last month when the company announced that it had defaulted on a RM9.83 million banking facility from the Bank of Nova Scotia on July 3.
Following the default, London Biscuits fell into Practice Note 17 status on July 9 and its market capitalisation has been slashed by 50% since.
The company cited cash flow constraints for the default, which has raised eyebrows, as its books show that it is asset rich. As at March 31, 2019, total assets amounted to RM845.83 million, which translated into a net asset value per share of RM1.57.
This means that it defaulted on a banking facility that made up only about 1% of its total assets.
Based on its annual report for the financial year ended Sept 30, 2018 (FY2018), London Biscuits' total assets amounted to RM815.42 million. When compared with its peers like Oriental Food Industries Holdings Bhd (total assets: RM256.05 million for the financial year ended March 31, 2019) and Apollo Food Holdings Bhd (total assets: RM263.53 million for the financial year ended April 30, 2018), its total assets are significantly higher.
In terms of asset efficiency, London Biscuits' pales in comparison with that of its peers. The company's asset turnover ratio stands at a mere 0.379, implying that it only generates 37.9 sen from RM1 of its total assets. Oriental Food and Apollo's asset turnover ratio is 1.11 and 0.72 respectively.
From FY2014 to FY2018, London Biscuits' asset acquisition ranged from RM23 million to RM59 million, averaging at RM43.25 million per year. The bulk of the asset additions to the company is found in its plant and machinery, with the additions averaging RM23.97 million per year.
By comparison, Oriental Food's asset acquisition over its last five financial years averaged RM16.51 million while that of Apollo Food averaged RM7.64 million.
It is worth noting that London Biscuits' external auditors gave a qualified opinion on its financial statements for FY2018. The auditors said that they were unable to obtain sufficient appropriate audit evidence in respect of acquisitions of plant and machinery totalling RM52.46 million that year.
The auditors also highlighted that they were unable to ascertain the correctness of the ageing data of its trade receivables as well as the related information used to calculate and measure the expected credit loss required under MFRS 9.
London Biscuits' trade receivables more than doubled from RM100.55 million in FY2014 to RM212.82 million in FY2018. However, revenue contracted 14.2% to RM308.7 million over the same period.
Revenue did increase between FY2014 and FY2016 to RM436.51 million from RM356 million previously. However, it fell to RM426.02 million in FY2017 and then to RM308.7 million in FY2018.
It is worth noting that trade receivables surged 76% to RM177.13 million in FY2015 from RM100.55 million in the previous year. A total of RM62.24 million in allowance for bad debts was made in FY2018. This came alongside a RM1.99 million impairment of trade receivables and RM1.57 million worth of bad debts being written off.
The allowance for bad debts of RM62.24 million was the highest over the five years. Prior to that, there were hardly any allowances and no bad debts were written off.
Another point brought up by the auditors were the significant transactions between London Biscuits and Secret Ingredients Sdn Bhd (SISB). The auditors opined that the operations were indicative of a related-party relationship despite the absence of a legal connection. However, management said it believed that the related-party transaction disclosure would not apply due to the lack of a legal nexus.
In its notes, London Biscuits explains that SISB has an operational working arrangement with it, under which SISB protects the know-how of the manufacturing formulae and ingredients of its products.
"SISB is solely responsible for initiating the production process, with the preparation of the raw materials (premix) using its production line, which is located on the group's property. The premix is then transferred to the group's production line and the production of finished goods is completed by the group. SISB also purchases the group's products for distribution and retailing purposes," says London Biscuits.
A company search on SISB shows that it has a paid-up capital of RM1 million with total assets of RM7.3 million.
For the financial year ended April 30, 2018 (FY2018), SISB recorded revenue of RM227.31 million. For comparison, this is equivalent to 73.6% of London Biscuits' revenue of RM308.7 million for FY2018. It should be highlighted that SISB's revenue has been growing steadily over the last five years, from a mere RM14.16 million in FY2014 to a whopping RM227.31 million in FY2018.
SISB's revenue as a percentage of London Biscuits' revenue has also crept up steadily in the last five years despite the latter's revenue faltering in FY2018 and FY2017, increasing from 3.9% in FY2014 to 73.6% in FY2018.
It is safe to say that one of London Biscuits' main sources of cash flow is borrowings. From its statement of cash flow, it appears that the group's operations have been financed by loans in three out of the last five financial years.
Cash flow from operating activities for FY2018, FY2017 and FY2015 were in negative territory of RM12.52 million, RM109.27 million and RM27.13 million respectively. Meanwhile, its cash flow from financing activities amounted to RM72.34 million (FY2018), RM83.63 million (FY2017) and RM57.07 million (FY2015).
The question is, is there more than to London Biscuits than meets the eye?