This article first appeared in Enterprise, The Edge Malaysia Weekly, on May 14, 2018 - May 20, 2018.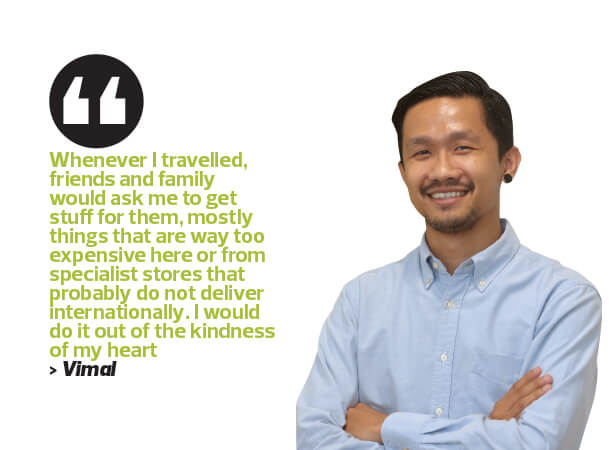 Desperately want that newly issued limited edition pair of sneakers from halfway around the world, but unable to buy it because delivery is restricted to domestic addresses or shipping is too expensive?
Vimal Kumar may have the answer. The co-founder of Yellow Porter Sdn Bhd, an e-commerce enabler specialising in cross-border logistics and last-mile delivery, says the start-up can help you shop in locations that do not ship to Malaysia at a fraction of the regular shipping price.
Basically, the company engages porters — verified and vetted regular Joes who travel in and out of Malaysia — to bring back your items. It also leverages partnerships with established logistics players when dealing with bulky or more complex deliveries.
"Essentially, for our business-to-consumer market, people come to us on a daily basis telling us that they want to buy something from Amazon in the US, Rakuten in Japan or Footlocker in the UK — usually things that are unavailable or too costly here," says Vimal.
"For example, you are on Amazon and you find an item that you wish to purchase because it is cheap or you cannot find it in Malaysia. You come to one of these scenarios — the retailer does not ship to Malaysia or the shipment cost is almost the same as the price of the product you are eyeing.
"That is where Yellow Porter's services come into play. We have local addresses in all the countries we operate in — Australia, the US, the UK, South Korea, Japan, India, Germany and Taiwan."
The idea for the business was born out of the sheer number of requests Vimal used to receive from family and friends whenever he travelled overseas. He had taken up a position with the operations and business development division of long-haul budget carrier
AirAsia X Bhd after spending a few years at management consulting firm Accenture. And one of the perks of the job was a nomadic lifestyle.
"Most of the time, I would be in Kuala Lumpur only on Mondays. From Tuesdays to Saturdays, I would be travelling," says Vimal.
"Whenever I travelled, friends and family would ask me to get stuff for them, mostly things that are way too expensive here or from specialist stores that probably do not deliver internationally. I would do it out of the kindness of my heart," he jokes.
It also dawned on him that if done well, the service could translate into a scalable business. But the idea stayed on the backburner. By then, he had moved to Think BIG Digital Sdn Bhd, a subsidiary of AirAsia Bhd that operates the AirAsia BIG Loyalty Programme.
"But I was at a crossroads and kept thinking about what I wanted to do next. I decided that I wanted to build something on my own," says Vimal.
Together with three former colleagues and a childhood friend, he created the start-up. "We drew up a very simple plan in August 2016. We did not have much money, but it was enough for a basic website to see if we could sell the idea to people and get traction," says Vimal.
"By December, with no money spent on marketing, we started getting some really good traction. We were seeing 100% growth, month on month. That was when I decided to do this full-time."
He quit his job and took a leap of faith. "I leveraged all the connections I had made when I was working for the airline. We spoke to potential partners who were strategically aligned with what we wanted to do. We received some angel funds in January last year and in March, we were awarded a RM150,000 grant under the Cradle Investment Programme. And, this year we received a round of pre-seed funding in April," he says.
Here is how Yellow Porter works: One has to sign up for an account and log in to access the local shipping addresses in the respective countries. Then, the customer proceeds to purchase the item and have it shipped to the address, or the team at Yellow Porter can make the purchase on his or her behalf.
"Some people ask us to purchase on their behalf because the particular website does not take international credit cards. So, our local partner makes the purchase. We have noticed that Malaysians are a bit wary of sharing their credit card details online," says Vimal.
If you purchase the products on your own, you will be given access to permanent addresses in all the countries in which Yellow Porter has partners and you can send the products to the addresses. These are residential addresses as most e-commerce websites do not deliver to post office boxes, says Vimal. "Once your items have arrived, you will get a notification, with the description of the item purchased, on the Yellow Porter website."
Why do they have to open the package to check the goods? Essentially, to make sure that the items purchased are the right ones and that they are in good condition.
"For example, if you purchase a pair of shoes, our warehouse personnel will enter the size and the other specifications so you know it is the pair you ordered. If it is not and the website screwed up the order, we can help you get it exchanged," says Vimal.
"This is important because if there are any errors or if the item was damaged in transit, we can have it exchanged before it make its way to its final destination, which could be thousands of miles away. We also get to check the security and safety of the item to make sure that our porter is not facilitating the transport of anything prohibited."
Once that has been sorted out, customers have the option of using the porter delivery or express delivery. "For express delivery, we have an exclusive partnership with DHL, which charges 40% below its normal market rate. You can get all your items from any of the countries we service within five working days," says Vimal.
"If you want even more savings and do not have time constraints, we can ship the item to you within seven working days of our receiving the item (in Australia, South Korea and Japan) for RM45 per kg (up to 5kg). For the US and the UK, we can do it within 15 working days for RM76 per kg."
The service also works for orders made in Malaysia that are to be delivered to another country but one will have to write in to the operator to get a quote. According to Vimal, Yellow Porter's customers are bound to save 75% to 80% on the purchase of the item at its source by using its porter service. "We take slightly longer using the porter delivery, a maximum of 15 working days as opposed to five. But we can cater for both markets — the price-sensitive and time-insensitive individuals and those who are time-sensitive but not price-sensitive," he says.
Yellow Porter allows its customers to consolidate their shipment, which Vimal refers to as crowd-shipping. If a customer were to buy a pair of shoes, she could choose to ship them in the box or without. If shipped without the box, the shoes usually weigh less than 1kg and the customer is charged accordingly. But if the shoes are shipped in the box, the shipment is classified as being under 2kg.
Vimal says the company then advises its buyers to add more stuff to their package if they are already paying for the weight. "They could buy another three T-shirts or cosmetics from different websites and have them sent to the same location. Then, we consolidate the package and they still pay for a shipment of 2kg."
This way, customers get to stretch the value of their shipping fee. "We also offer repackaging. For instance, if you buy something small, but it comes in a box that is three times larger than the size of the item, we will inform the buyer and ask if we could repackage it. This saves you some shipping cost as well," says Vimal.
"We also service buyers who need things from physical stores because we have runners in the countries in which we operate. The service is very relevant for countries like Japan because there are certain items that you cannot buy online."
This is possible as Yellow Porter has partnerships with start-ups in the logistics fulfilment segment in the host countries. "In South Korea, we have partnered their equivalent of GoGet [a start-up that helps run errands in Malaysia], so if there is something that needs to be purchased from a place far away or from a website that has no English translation, they will do it for us," says Vimal.
The start-up also works with small and medium enterprises (SMEs), almost like a fulfilment agency. "For our business-to-business segment, we work mostly with small businesses to bring in things like ingredients to make their end products. Sometimes, these are raw materials only available in certain countries. A lot of businesses are resellers as well," he says.
This year, it has partnered with freight forwarders, which enables customers to ship items over 100kgs. "It is something we have been working on for some time, and is particularly useful for those who are relocating from one country to another."
How does Yellow Porter keep its fees low? The unique value proposition lies in its listing of porters — regular travellers who get paid to cart back the assigned shipment because they are heading on the same route.
"The porter earns 80% of the fee. Say a porter carries 10 items from the US to Malaysia, he earn 80% of cost to carry the shipment back. When the 10 items arrive at our warehouse in KL, some will remain for local pickup while others move on to another country," says Vimal.
While the porters undergo stringent vetting procedures, customers sometimes still have confidence issues. So, Yellow Porter insures each shipment for up to RM500.
"We are very confident of our porters because we do the vetting and background checks when they sign up, as well as find out whether they are travelling on holiday or business. If you choose to have a porter bring the items back, our partners will send the items to where the porter is, such as a hotel. They drop the items off at the hotel's reception so that the porter's movements are not restricted by having to wait for the items," says Vimal.
Yellow Porter is working on an insurance product to cover items  worth more than RM500. "For instance, if someone buys a handbag worth RM6,000. We are working with a local insurer to cover the purchase," he says.
But for those who choose the express shipping option, its partner's (in this case, DHL) insurance coverage is extended.
Apart from prohibited goods, there are other restrictions to what it will carry. Vimal says it generally declines requests to porter personal items. "For example, if you write and say that you have left your bag at your aunt's place in the UK and ask us to bring it back, we usually turn down that request because we cannot guarantee where that bag has been or the safety of the contents."
It also turns down requests to carry items such as forgotten prescription medications. "Especially if it is just white pills and there is no way for us to ascertain the legality of the item," says Vimal.
If someone wants to buy protein powders from the US or food supplements from Australia, it will only agree to carry them if they are purchased by Yellow Porter's own runners. "Otherwise, all the items we carry are those purchased from reputable e-commerce sites," says Vimal.
Like all businesses, this is not without challenges. For one, its porters face the same difficulties as other travellers — flight delays or cancellations. "We guarantee delivery within seven working days once the item is purchased and reaches our warehouse. But if the porter's flight is delayed and he only gets back past the deadline, we can only fulfil the delivery on the eighth day," says Vimal.
"Another challenge is mishandled baggage. Coming from the aviation industry, I know how things can go wrong. Sometimes you check in a bag in South Korea and it ends up in Japan. That is another delay.
"Then there are cases of lost luggage. An airline has at least 14 working days to try and locate the bag. We will have to inform the buyer that their items are potentially missing. And if they are confirmed lost, we will have to replace and ship them back. In these circumstances, we normally offer a discount on their next engagement with us.
"If the item is damaged at the point of first contact, we engage the buyer and ask if they would like to have it changed. If the item is damaged upon arrival, then our insurance will cover the damages."
Yellow Porter is using the grant it received from Cradle to work on its technology platform. "We are finalising our porter app to ease the process for porters to communicate with us. And to concentrate on marketing," says Vimal.
"We have first-mover advantage in Malaysia. There are similar large-scale businesses out there, but most of them have a high cost structure because they have to maintain a 1,000 sq ft warehouse and 50 people working on shifts. And most of them only provide a single shipment option, which is express shipping, and a single shipping address.
"We, on the other hand, give you time and price options so you can choose what suits you. Our partners are the key value we bring. We do not have a high cost structure and it allows us to scale much faster."
Vimal has set his sights on expanding Yellow Porter's areas of coverage to Indonesia, Thailand, Vietnam and the Philippines. The fast income growth in emerging economies has accelerated the demand for goods.
"It is not only about what people here want from Vietnam. There is a huge opportunity to serve Vietnamese who want things from all over the world as well," he says.
They are also hope to set up a base in Australia by the end of the year. This way consumers could send and receive items without having to bypass Malaysia.
Moving forward, Vimal hopes to expand Yellow Porter's scope to more countries in Europe, the Middle East, Africa and the Americas. "The processes are very scalable. Now, it is about getting it right regionally, within Southeast Asia, and then moving on to other continents," he says.