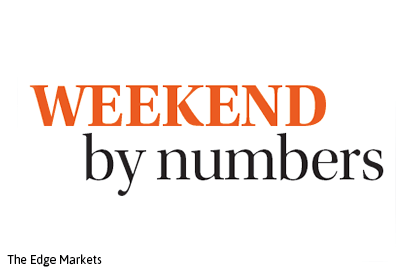 This article first appeared in The Edge Financial Daily, on December 4, 2015.
3 places to shop till you drop
Parkson's 12 Days of Christmas
Kickstart your Christmas shopping with Parkson's 12 Days of Christmas guide to gifting, inspired by the classic Christmas tune. Parkson injects a big load of festive cheer in its season's selection of merchandise, making shopping for the holiday season a joy to give as much as it is to receive. This festive season, the first 200 shoppers with a storewide purchase of RM380 and RM200 (and above) will receive special edition tin boxes and the classic Parkson Christmas carrier respectively. Visit www.parkson.com.my for more details.
Mari Market
If you are a fan of all things organic, check out the organic food products sold at the farmers' market as well as arts and crafts items at Mari Market. Hosted by Justlife Shop, the market will take place this Sunday at Dewan Orang Ramai Sungai Buloh from 9.30am onwards. Visitors are encouraged to bring their own shopping bag (or buy one from the vendors) as it will be a plastic bag-free event. The multi-purpose hall is situated at Jalan Hospital, Sungai Buloh. More information can be found at www.justlifeshop.com.
Big Bad Wolf
Calling all book lovers! The annual Big Bad Wolf book sale begins today. Pop by any time and enjoy discounts up to 95% at the sale that will run nonstop from today till midnight on Dec 14. The genres of books on sale include bestselling fiction, animation, cooking, biography, pop art, travel and automobiles. The Big Bad Wolf Sale will take place at the Malaysia International Exhibition & Convention Centre, Jalan Dulang, Mines Resort City, Seri Kembangan. Visit www.bigbadwolfbooks.com for more details.
1 television show premiere
Energy on the Edge
Follow the work and lives of men and women in the alternative energy industry in this fascinating documentary. The show will feature the likes of engineer Louis Michaud, who is building a tornado machine and harnessing the energy it produces as well as the team at the US National Ignition Facility, who are trying to save the world by harnessing the power of controlled fusion. Energy on the Edge premieres tomorrow at 10pm on National Geographic Channel and National Geographic Channel HD (Astro Channel 553 & 573). More info on www.natgeotv.com.
3 ways to indulge in the performing arts
This weekend, the Temple of Fine Arts (TFA) will be busy with the Shantanand Festival of Arts, a multidisciplinary three-day event consisting of music, dance and theatre workshops and performances staged by some of the region's best. The festival's highlights include a qawwali presentation by Farid Ayaz and Abu Muhammad Qawwal from Pakistan, the dancers of Srjan and Odissi extraordinaire Rathikant Mohapatra, and Malaysia's gamelan exponents from Rhythm in Bronze. The festival's evening performances for today is headlined by the Philippines Ballet Theatre while Southern Indian violin duo, Ganesh and Kumaresh and TFA's bharatanatyam fusion production, Neo Margam will complete the entire festival. The Shantanand Festival of Arts happens from today till Sunday at TFA, 116 Jalan Berhala, Brickfields, Kuala Lumpur. Admission to the various events are by donation, call (03) 2274 3709 for details. For the full festival schedule, visit tfa.org.my.
Angels in America: Part II
Watch the second part of the Pulitzer Award-winning play Angels of America, an iconic piece of literature on the issue of HIV/AIDS. The play takes a metaphorical look at the HIV/AIDS epidemic in America in the 1980s and revolves around a group of people in New York City, coping and dealing with the situation. The play also showcases angels and ghosts, and multiple storylines with multiple characters whose lives intersect at various points throughout the story. Catch the 8.30pm show from today till Sunday at the Damansara Performing Arts Centre, Empire Damansara, Jalan PJU 8/8, Damansara Perdana, Petaling Jaya. Angels in America: Part I is also showing at DPAC, should you like to watch the prequel to this play. Tickets for both shows are priced at RM55, RM60 and RM65. Visit www.dpac.com.my for ticket booking and more information or call (03) 4065 0001 for queries.
In Your Face
Have a laughter-filled night at In Your Face, a star-studded musical variety show starring Joanne Kam and Tony Eusoff. It will feature music ranging from cabaret to 1980's pop, Bollywood to EDM as well as spoofs and comedy skits that poke fun at popular social issues. Tickets priced at between RM58 and RM108 can be purchased via www.ticketpro.com.my. Head on over to Nexus @ Connexion Auditorium, Bangsar South City, 7 Jalan Kerinchi, Kuala Lumpur to catch the 8.30pm show today and tomorrow. Call (03) 2386 9188 or visit www.facebook.com/joannekamcomedy for further details.
3 shows to watch
Next New Wave S-Express
This week, six short films from the South East Asian region will be showcased at part of Kelab Seni Filem Malaysia's event, Next New Wave S-Express. Check out Xing by Bradley Liew and Salvaj by Cho We Jun from Malaysia, Myth of Modernity by Chulayarnnon Siriphol from Thailand, The Story Of One by Pham Ngoc Lan from Vietnam, Class Picture by Tito and Tita from the Philippines and Anchovies by Zul Salleh and Lee Chee Tian from Singapore. Admission is free and the movies will be screened from 7.30pm onwards at Unit G09 & G10, Platinum Sentral, Jalan Stesen Sentral, Kuala Lumpur. Visit www.facebook.com/kelabsenifilemmalaysia for more details.
Ai Weiwei: Never Sorry
Peek into the life of renowned Chinese artist and activist, Ai Weiwei as documented by Beijing-based journalist and filmmaker Alison Klayman. Get a glimpse of Ai's artistic process in preparation for major museum exhibitions, his intimate exchanges with family members and his increasingly public clashes with the Chinese government. The documentary will be screened at Battery Acid Club, 21 Jalan SS21/34, Damansara Utama, Petaling Jaya from 7pm to 8.30pm tomorrow with tickets priced at RM20. Email [email protected] for ticketing enquiries or visit www.facebook.com/batteryacidclub for more details.
The Nutcracker
Catch a comedy ballet production of Tchaikovsky's The Nutcracker performed by an international cast of male dancers, the Men in Tutus from Les Ballet Eloelle. Journey with the main character Clara on her fantasy of toy soldiers, giant rats, snow fairies, magic and mystery before she is finally transformed into a beautiful ballerina. Tickets are priced at between RM90 and RM180 for the 8.30pm show today, tomorrow and the Sunday matinee and can be purchased at www.tix.my. The Nutcracker is showing at PJ Live Arts Block K, Jaya One, 72A Jalan Universiti, Petaling Jaya. Log on to www.pjlivearts.my or call (03) 79600439 for more.