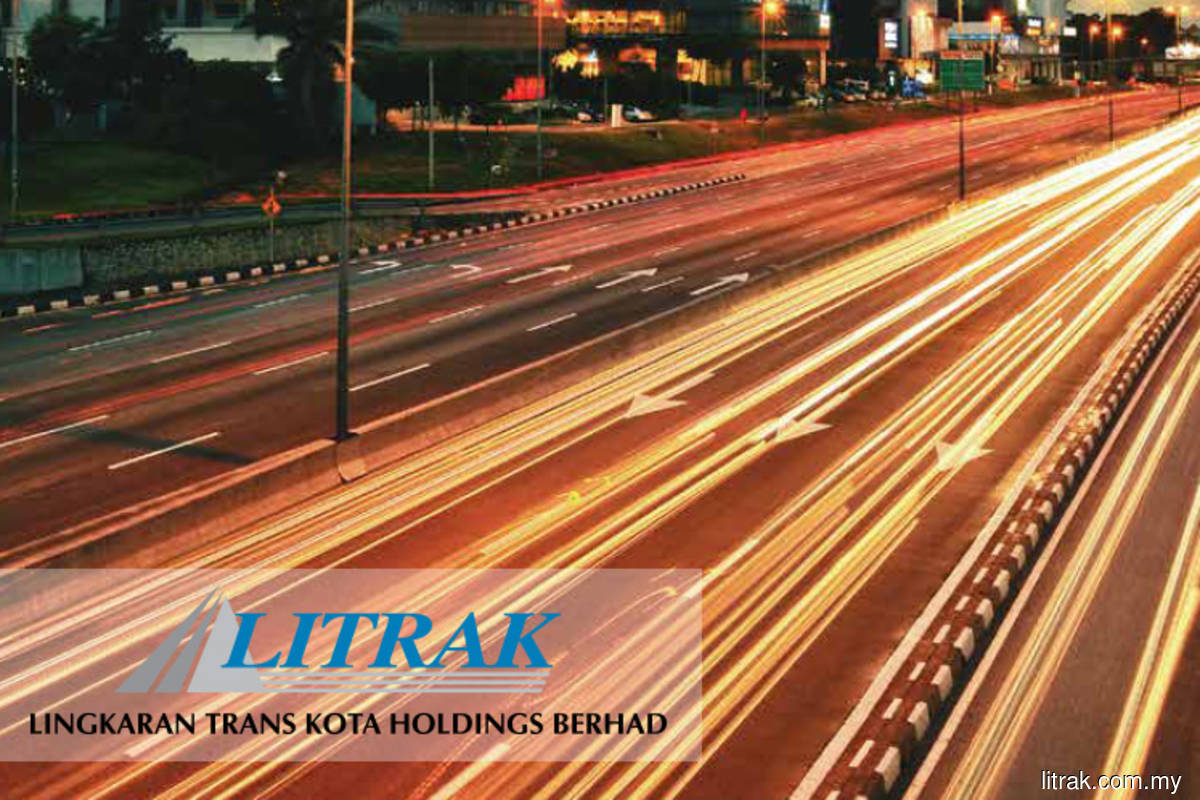 KUALA LUMPUR (June 8): There will be bumper dividends for the shareholders of Lingkaran Trans Kota Holdings Bhd (Litrak) and its parent Gamuda Bhd, following the divestment of their toll concessionaires for RM4.48 billion to Amanat Lebuhraya Rakyat Bhd. 
Litrak — in which Gamuda holds 42.8% stake — announced that it will distribute RM2.71 billion proceeds it is expected to receive from the asset sale. 
The amount is equivalent to RM5.08 per share, its Bursa Malaysia filing showed on Wednesday (June 8). 
Upon completion of the sale, Litrak's board does not intend to maintain its listing status. 
"The proposed disposal signifies the disposal of the company's core business (i.e. toll operation business and the company will have no future revenue and profit from toll operation business) upon completion of the Proposed Disposals. 
"It is not the intention of the company to maintain its listing status. If the proposed distribution is not approved or carried out, the board of Litrak will consider other available options to return the disposal proceeds to the shareholders through a proposal to voluntarily wind up Litrak Holdings. 
"If the proposed distribution is approved and carried out, the board of Litrak will apply to Bursa Securities for the voluntary withdrawal of Litrak from the Main Market of Bursa Securities after completion of the proposed distribution," it said. 
Gamuda, on the other hand, said it intends to distribute RM1 billion of the total of RM2.35 billion it will be getting from the divestment, to its shareholders. 
Based on the issued share capital of 2.55 billion shares, the amount distributed is equivalent to 39.16 sen per share.
Earlier on Wednesday, Gamuda announced that it has finalised terms and conditions of a draft share sale and purchase agreement with Amanat Lebuhraya Rakyat, recently established as a private, not-for-profit entity.
Gamuda said the finalised agreement will only be executed upon the fulfilment of all conditions set out in the respective conditional letter of offer from Amanat Lebuhraya Rakyat, which includes approvals from shareholders of the respective concession holding companies.
The four Klang Valley highway concession holding companies are Kesas Holdings Bhd, Sistem Penyuraian Trafik KL Barat Holdings Sdn Bhd (Sprint), Lingkaran Trans Kota Holdings Bhd (Litrak) and Projek Smart Holdings Sdn Bhd (SMART).  
Shares in Litrak ended 19 sen or 4.10% higher to RM4.87 on Wednesday, giving it a market capitalisation of RM2.62 billion. 
Meanwhile, shares in Gamuda, closed eight sen or 2.27% higher to RM3.60, valuing the group at RM9.19 billion.
Read also:
Gamuda finalises four highway disposal draft agreement for proceeds of RM4.5 bil