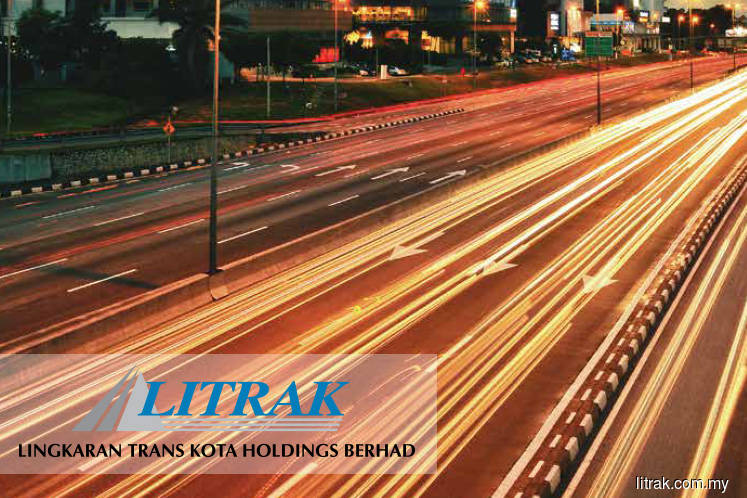 KUALA LUMPUR (June 25): Lingkaran Trans Kota Holdings Bhd's (Litrak) share price extended gains today after rising as much as six sen or 1.22% to RM4.97 on the government's planned acquisition of four tolled highways, which include Litrak's highway concessions Damansara-Puchong Expressway, also known as Lebuhraya Damansara-Puchong (LDP), and SPRINT.
Finance Minister Lim Guan Eng said in a statement on Saturday (June 22) that the government is offering RM2.47 billion and RM1.984 billion to buy LDP and SPRINT respectively for a total of RM4.45 billion.
Yesterday, Maybank Investment Bank Bhd analyst Adrian Wong, quoting Litrak, wrote in a note that the offer price translates into an equity value of RM3.2 billion.
Based on Litrak's 100% and 50% stakes in LDP and SPRINT respectively, Wong said the offer price translates into an effective equity value of RM2.75 billion for the company.
He said Maybank Investment deems the government's cash offer to be an attractive exit level for Litrak "in an environment of tapering traffic growth as a result of new public transportations".
"The government's offer price translates into effective equity value of RM2.75 billion (RM5.207/share) for Litrak's two highways, 8% above our equity DCF (discounted cash flow) value of RM2.55 billion.
"In an environment of tapering traffic growth and unlikely scenario of an extension of the concessions for both LDP and SPRINT, we believe further upside for Litrak is capped. Our DCF-based target price (TP) is raised to RM5.21 (from RM3.90) to reflect the takeover value. With a potential upside of 24%, we tactically upgraded Litrak to a BUY," Wong said.
MIDF Amanah Investment Bank Bhd analyst Adam Mohamed Rahim wrote in a note yesterday that from a shareholder's perspective, MIDF believes the offer is appealing.
"The combined price tag of RM2.75 billion for both highway concessions translates to an effective offer price of RM5.21 per share with a price/book value (P/BV) of 2.96x, a 24% premium to the 12-month trailing P/BV of 2.39x. Moreover, the anticipated offer price of RM5.21 per share constitutes a 28.0% premium to our TP of RM4.08 per share derived from DCF valuation.
"Due to the attractive upside from the current price and our valuation, we advise investors to accept the offer as an exit strategy amidst the lack of catalyst (for) LDP and SPRINT. As such, we upgrade our call on Litrak from NEUTRAL to TRADING BUY with a TP of RM5.21 per share, reflecting the offer price by Minister of Finance (Inc) on the basis that the deal will go through," Adam said.
At Bursa Malaysia today, Litrak's share price settled at RM4.95 at 12:30pm. The stock extended gains today after closing up 70 sen yesterday at RM4.91.