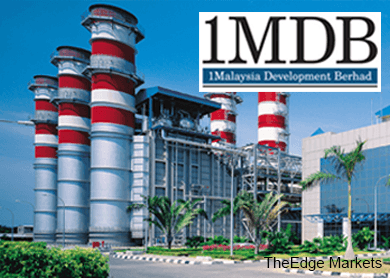 (January 7): Sovereign wealth fund 1Malaysia Development Berhad (1MDB) has sought an extension on the completion of the Jimah east power plant, which could see a delay in the listing of the controversial company's power assets on the local bourse, an opposition lawmaker revealed today.
PKR secretary-general Rafizi Ramli said 1MDB has asked for a six-month extension from the Energy Commission, which is a breach of the power purchase agreement it had signed.
"This means that the project could only be completed on May 15, 2019, six months after the scheduled completion date of November 15, 2018," he said at a press conference today.
"With 1MDB's current cash-flow problems, I doubt that it could complete the Jimah east power plant by May 15, 2019."
The Edge Financial Daily reported in September last year that the 2,000mw combined cycle gas power plant project was expected to beef up the prospects of 1MDB's power asset portfolio for a listing.
According to bankers familiar with the matter, 1MDB was expected to submit the listing application for its energy unit "soon".
But, Rafizi pointed out that the 6-month extension would further delay the process to list 1MDB's power assets and this in turn, would weaken its financial position even more.
"1MDB needs a financial injection from the listing of its power assets to balance out the debts it has accumulated so far, which has reached RM42 billion up to 2014.
"As their existing assets are old assets, they feared that their IPO (initial public offering) would not be attractive enough to draw in investors, hence why Jimah East is so important.
"And 1MDB believes that by having Jimah East in the portfolio of power assets, it could get the premium," he said.
Opposition lawmakers, including DAP's Tony Pua have criticised the awarding of the multi-billion ringgit contract to 1MDB, which he had noted, was "conveniently" ahead of its listing.
Energy, Green Technology and Water Minister Datuk Seri Dr Maximus Ongkili revealed in Parliament that the Malacca power project had been awarded to 1MDB through direct negotiations.
"The rapid succession of the multibillion power producing contracts awarded to 1MDB proves that the government is pulling all stops to ensure the viability of the initial public offering (IPO) of 1MDB Energy Sdn Bhd, which was postponed twice due to unattractive valuations," Pua said in October.
1MDB, through its subsidiary Powertek Energy Sdn Bhd, controls two power plants in Malacca: Teluk Gong Power Station 1 and Teluk Gong Power Station 2. The power purchase agreement for the 440mw open cycle Teluk Gong Power Station 1 was due to expire in 2016.
1MDB has been dogged by controversies over its debt portfolio and for keeping RM7.18 billion in the Cayman Islands.
This also comes as it failed for a second time to pay a RM2 billion loan to local lenders due on December 31 last year.
The Edge Financial Daily reported that sources said 1MDB has now been given until January 30 to settle the debt that was originally due on November 30, 2014.
Rafizi said today that given 1MDB's problems as seen from the rescheduling and restructuring of its staggering debts, it was likely the fund would have trouble completing Jimah East.
"The site where Jimah East is to be built is currently a swamp area that needs to be reclaimed and because of 1MDB's situation, this will be delayed.
The delay would also mean that 1MDB cannot honour its commitment to supply electricity as per its agreement.
"The Energy Commission would have planned [for] a certain time the load or capacity required at a certain level and that is why these IPPS were awarded?.
"The failure of even a single contract would mean a shortage of power and to make up for the shortage, TNB (Tenaga Nasional berhad) would have to come in and the costs would eventually be passed back to the public," he said.
Rafizi said he would reveal more tomorrow on the amount the public would have to bear due to the delay in completing Jimah East. — The Malaysian Insider