This article first appeared in Digital Edge, The Edge Malaysia Weekly, on May 31, 2021 - June 06, 2021.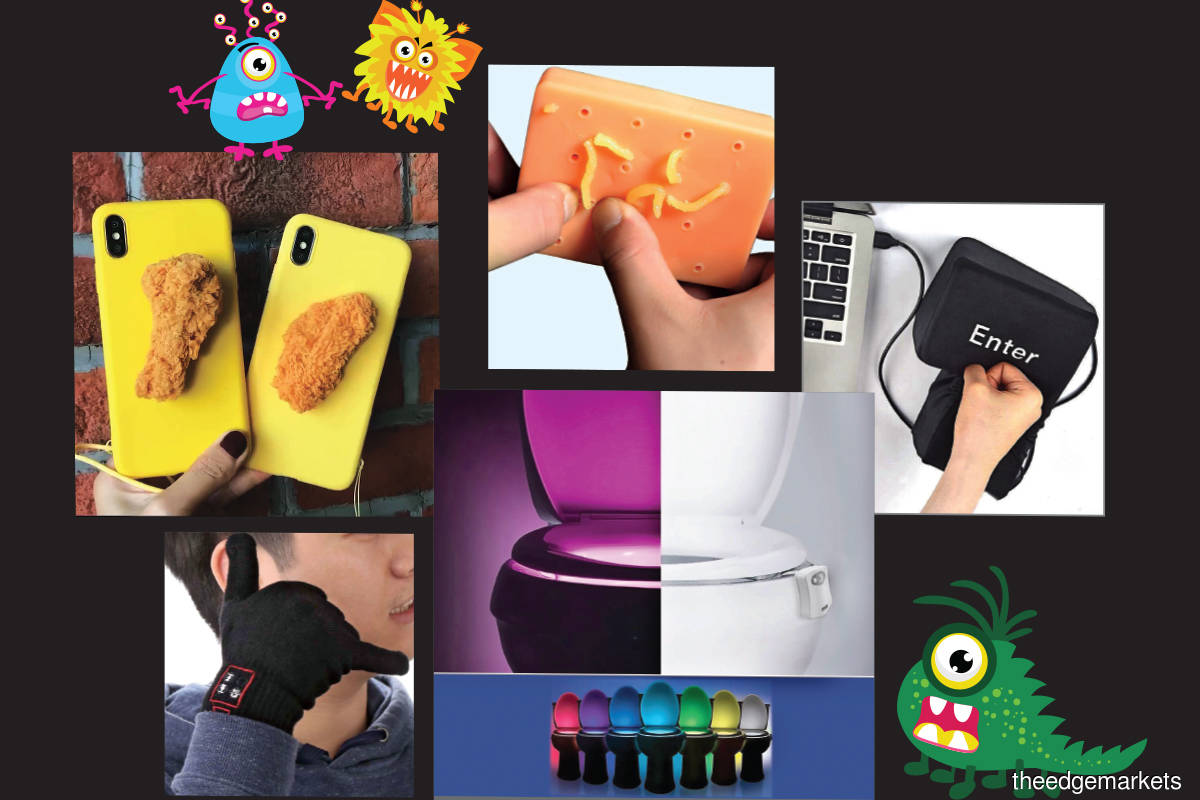 We are now lockdown veterans and many of us reach for our trusty laptop or phone to order just about everything we want online. Some may have developed a taste for the more esoteric items in the wilderness of e-commerce platforms. Here are a few of the stranger things that Digital Edge has managed to unearth.
 1  Fried chicken phone case
"Oops! I'm afraid you dropped some chicken on your phone." What better way to insert food into your finger-licking-good conversations than to use a fried chicken phone case! Whether it serves as a conversation starter, showcases your love for fried chicken or acts as a gag gift, this case is sure to turn a few heads — either in amazement or disgust.
The chicken is made of durable soft silicone and is embedded into the phone case itself. It comes in two variants — leg and wing. Unfortunately, the case is original-flavoured by default, and does not come in the hot and spicy option.
 2  Squeeze acne toy/pimple popper
Popping bubble wrap is an easy and tactile way to relieve stress both during and after work. Popping acne can be even more satisfying, though. Revolting as it may seem, using this acne toy for the first time may awaken something visceral in even the most avid of bubble-wrap poppers.
The toy is fairly straightforward — just inject fake pus into a skin-safe silicone pad, and you can squeeze, twist and pop those pimples to your heart's content.
Some horrified readers may wince at the idea of popping zits for fun. Still, this divisive product may find a niche audience in those who appreciate the gratifying aspects of pimple-popping. Now, users can relive their teenage years without paying the price in scars and skincare products.
 3  Bluetooth gloves
More of a "handset" than a "headset", bluetooth gloves allow users to accept phone calls by pressing a button on the glove and mimicking the phone gesture using their hands. A microphone and speaker are sewn into the thumb and pinky-finger portions of the glove, allowing users to talk to their hands as if it were their phones.
The product was initially intended for skiers, who find it difficult to access their phones under a thick layer of winter wear. Later variations of the product allow users to access their smartphone's touchscreen capabilities without removing their gloves, somewhat defeating the product's original purpose. With the permanent summer conditions in Malaysia, however, the bluetooth gloves are surprisingly helpful for users with sweaty hands who do not wish to mess up their touchscreens and keyboards.
It may seem gimmicky, but the technology that goes into this glove is pretty heavy duty. The battery-powered gloves can last for seven days on idle or allow for six hours of talk time. You can charge your glove phone with a mini-USB cable.
 4  Toilet night light
It is the middle of the night, and you stagger out of bed with a full bladder not wanting to disturb your sleeping partner. You stumble towards the bathroom in the dark. Wouldn't a glowing toilet night light be just the thing?
Jokes aside, a toilet night light is a great alternative for users looking to relieve themselves in the middle of the night, without being blinded by a glaring ceiling light. The light is RGB coloured, giving users 16-colour customisation options that are vision-friendly at night. It even comes with a motion detector and automatically turns on when you enter the bathroom and turns off when you leave. 
The light is in the bowl. Which means you can see where you are going, what you are doing and, in addition, what you have done. Isn't that worth the investment?
 5  'Enter' key pillow
Imagine writing a lengthy email to your arch nemesis that sounds like this: "Dear Karen, *punch* I hope this email finds you well. *sarcastic punch* I would like to point out several mistakes in your report. *smug punch*"
This sample email sums up the value proposition of the giant "Enter" key pillow, which you can use as a real Enter key, just like the one on your keyboard. Simply plug in the USB cable to your device and it will serve as an excellent outlet on which you can vent your frustrations, all while remaining productive in the workplace.
Instead of breaking your keyboard, take out your aggression on this soft Enter key pillow and punch away. It also doubles as a standard pillow, which you can use for a quick nap. Just remember to unplug the device first!