This article first appeared in The Edge Financial Daily, on January 6, 2020.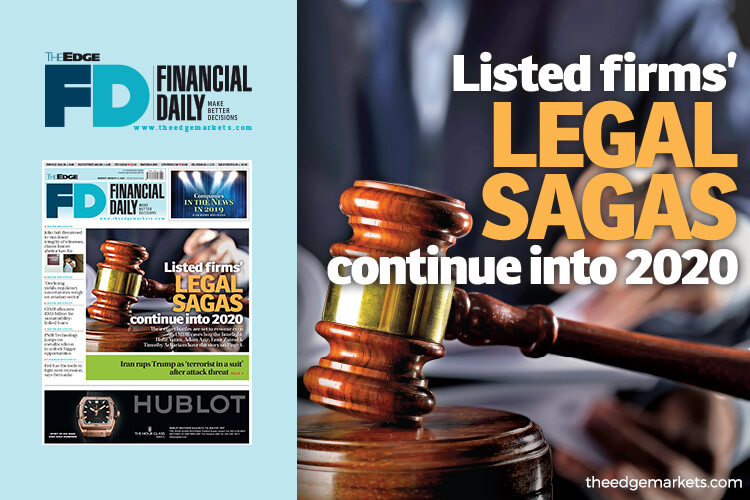 KUALA LUMPUR: 2019 was a busy year for the courts, thanks to several suits involving Datuk Seri Najib Razak, his family and political allies.
The 1Malaysia Development Bhd (1MDB) trials involving money laundering, criminal breach of trust, abuse of power, and graft amounting to billions of ringgit from the scandalised fund and its former subsidiary SRC International Sdn Bhd took centre stage (see sidebar). Meanwhile, questionable dealings with public authorities and government-linked companies also dominated headlines.
Amid all this, other legal sagas resumed in 2019 that are set to continue this year include decades-old land tussle between a family business and the government, and an accounting scandal that shook the investing community. Meanwhile, a budget carrier continues to spar with a national airport operator over fees levied on passengers.
These are the cases that we will be following this year.
AirAsia versus MAHB
AirAsia Group Bhd and Malaysia Airports Holdings Bhd (MAHB) have locked horns over higher passenger service charges (PSCs) imposed on travellers as part of a move to equalise the fees across airports in Malaysia. The low-cost airline had refused to collect the higher charges from passengers, claiming that the standards of service and facilities at klia2 (Kuala Lumpur International Airport 2) — the budget carriers' hub — were inferior to those of KLIA, which serves full-fledged airlines.
In May 2019, AirAsia filed a judicial review application against the Malaysian Aviation Commission (Mavcom) and MAHB to get the commission to mediate a dispute between the airline and the airport operator over the higher PSC.
The High Court on June 25, 2019 dismissed the legal challenge, with Justice Datuk Nordin Hassan refusing to grant leave as it ruled Mavcom had not made a decision on the MAHB-AirAsia dispute, but had merely deferred it.
This means there was no decision that had adversely affected or aggrieved the airlines which the court could rule against.
The budget carrier had also tried to strike out a suit by MAHB and its subsidiary Malaysia Airports (Sepang) Sdn Bhd (MASSB) over unpaid increased PSCs since late 2018.
The airlines lost again on July 18, when High Court Justice Datuk Azimah Omar refused to strike out the suit and allowed MAHB and MASSB to enter into summary judgements against AirAsia, resulting in the company having to pay RM40.73 million. Besides this, there is a pending defamation suit between MAHB and AirAsia in the High Court, which has refused to remove Riad Asmat and Benyamin Ismail — chief executive officers (CEOs) of AirAsia and AirAsia X Bhd — as defendants.
This follows their statements in December 2018 and February 2019 implying it was MAHB and MASSB that had increased Malaysia's PSC from RM50 to RM73, when the decision was in fact made by Mavcom.
Justice Datuk Mohd Firuz Jaffril said this was not a plain and obvious case for the two CEOs' name to be removed.
In October, AirAsia filed an RM480 million negligence suit against MASSB for "loss and damages caused by negligence on the part of MASSB, in the management, operation, maintenance and provision of airport services and facilities at klia2".
With ongoing appeals in the Court of Appeal pending and disputes going to trial in the High Court, it looks like AirAsia and MAHB's legal battles will continue this year.
Semantan Estates (1952) Sdn Bhd versus government of Malaysia
This legal battle started in 1960, when the government took over 106.7ha of prime land in Jalan Duta (now Jalan Tuanku Abdul Halim).
The owner of the land, Semantan Estates (1952) Sdn Bhd, deemed the RM1.32 million compensation paid by the federal government as insufficient and took the latter to court.
The property is now occupied by a government complex, the Federal Territory mosque, hockey stadium and other landmarks.
The High Court only ruled in 2009 that the government did trespass on the land, which entitled the stakeholders in Semantan Estates to damages. The decision was upheld by the Court of Appeal and the Federal Court.
The federal government also lost its bid to review the apex court's decision in late 2018, resulting in the stakeholders in Semantan Estates continuing their legal challenge to have the land returned to its company.
Semantan Estates was granted leave by the High Court early this year to initiate a hearing on the merits of its claims to retain beneficial interests and cause to transfer ownership of the land.
However, the hearing was interrupted by the entry of Kenari Maluri Sdn Bhd, a company claiming to represent the majority of the Semantan Estates stakeholders, into the dispute.
Even after being granted permission by the High Court to intervene, Kenari Maluri's participation continues to be disputed by Semantan Estates which is challenging the High Court's decision in the Court of Appeal. Hence, there is no sign the case would be resolved in 2020 yet.
Felda and FGV versus Mohd Isa and others
FGV Holdings Bhd filed multiple suits in late 2018 against its former chairman Tan Sri Mohd Isa Abdul Samad and its former board of directors following purported losses it made.
In the first suit, it accused Mohd Isa and former FGV CEO Datuk Mohd Emir Mavani Abdullah of purchasing two units in the upscale Troika condominium at KLCC at an inflated price, as well as abuse of company cars and petrol allowances by the latter. FGV is seeking RM4.54 million from the two defendants and a further RM3.15 million from Mohd Emir. The suit is still ongoing.
FGV also filed another suit against Mohd Isa and 15 former directors following the questionable acquisition of Singapore-based Asian Plantation Ltd in 2014 of its plantations in Miri and Bintulu, Sarawak at a purportedly above-market price of £2.20 per share or £120 million.
It sought to recover an RM514 million loss from the deal. Five of these directors then filed a counterclaim against FGV, but it was struck out in November 2019.
Meanwhile, in April 2019, the Federal Land Authority (Felda) — largest shareholder in FGV — lodged a police report alleging it was duped into purchasing a 37% stake in Indonesia's Eagle High Plantations TPK for US$505 million by former prime minister cum finance minister, Najib.
In November 2019, Felda filed a RM2 billion suit against Mohd Isa, his successor Tan Sri Shahrir Abdul Samad and company Synergy Promenade Sdn Bhd and Synergy Promenade KLVC Sdn Bhd over the controversial Kuala Lumpur Vertical City (KLVC) project through which the authority claimed that the defendants had plundered Felda and Felda Investment Corp Sdn Bhd.
Synergy Promenade then filed two separate suits against Felda and Mohd Isa and Shahrir over the KLVC project the same year. The High Court has set Feb 14, 2020 for a summary judgement of the case.
This does not include Mohd Isa's ongoing graft trial in the High Court scheduled to resume next Monday and Tuesday.
Merger of JF Apex and Mercury Securities
Stockbroking firms Apex Equity Holdings Bhd and Mercury Securities Sdn Bhd are locked in a corporate-turned-legal tussle, as the merger of Apex Equity's stockbroking outfit JF Apex Securities Bhd and Mercury Securities announced in September 2018 remains unresolved amid backlash by some of Apex Equity's shareholders.
It started with a proposal by Apex Equity to take over Mercury Securities' stockbroking, corporate advisory and other related businesses for RM140 million in cash and new Apex Equity shares, which it would then transfer to JF Apex.
Apex Equity's largest shareholder is ACE Group. ACE Investment Banking Ltd had earlier acquired a 25.01% stake from Apex Equity's late founder Chan Guan Seng, then transferred its 24.02% to Ace Credit (M) Sdn Bhd to meet capital adequacy ratio requirements. The Chan family still collectively control 16.52% in the company.
In the first extraordinary general meeting (EGM) held in June 2019, 54.8% of shareholders supported the merger while the remaining 45.2% were against the proposal.
However, Apex Equity minority shareholders Concrete Parade Sdn Bhd and Pinerains Sdn Bhd took Apex Equity to court in order to invalidate the merger.
In response, Apex Equity responded with its own legal action in May 2019 against 18 shareholders who hold a collective 40.54% in Apex Equity for allegedly acting in concert to obtain control of the company.
This includes Concrete Parade and Pinerains, which is said to be linked to Lim Siew Kim, daughter of the late Tan Sri Lim Goh Tong.
Subsequently, Pinerains successfully got the court to invalidate Apex Equity's shareholder resolution in its June 2019 EGM on the basis that the circular to shareholders was opaque on the deal.
Undeterred, Apex Equity called for another EGM in November. This time, 55.32% of Apex Equity's shareholders voted for the merger.
But the tussle did not end there. The hearing for Concrete Parade's appeal against the High Court's dismissal of its original summons continues next Thursday, and the application for the vesting order — needed to proceed with the merger — will be heard in January.
Transmile
Transmile Group Bhd's case is still being tried at the Sessions Court after the accounting scandal broke out over 10 years ago. The chartered freight service company — whose investors included business tycoon Robert Kuok and Pos Malaysia Bhd — reported stellar earnings for the financial year ended Dec 31, 2006 which were revealed to be due to massive accounting irregularities.
After the revelation, the company slipped into the Practice Note 17 category in 2010, and was eventually suspended and delisted from Bursa Malaysia in 2011.
Most notably, founder and former CEO, Gan Boon Aun pleaded guilty to the alternative charge — but with some caveats — of being the director of Transmile when the company furnished a misleading statement to Bursa in 2006 with intent to deceive.
Gan denied certain facts of the case presented by the prosecution, which basically absolves him from the responsibility of knowing the fact that there were untrue statements and irregular transactions prior to Transmile reporting its quarterly results to Bursa.
As a result, Sessions Court Justice Hasbullah Adam rejected his guilty plea, as it was done with certain repudiation of the facts of the case, causing the trial — which is at the defence stage — to resume. Gan will continue to be cross-examined by deputy public prosecutor Mohd Hafiz Mohd Yusof on Friday.
Meanwhile, Transmile's board had decided to withdraw its civil suit against Gan and former chief financial officer Lo Chok Ping for failing in their judicial duties and trust towards the company.
The withdrawal came after the decision by shareholders at the company's EGM in June. The civil suit was reportedly dropped due to a lack of funds, as well as for "closure".
Its chairman Liu Tai Shin noted that there is no certainty whether Transmile can eventually claim damages from the respondents, and as such, would burden the company with costs to pursue the suit.
"The board is of the view that it would be in Transmile's interest to discontinue the suit and bring closure to Transmile," he said.