This article first appeared in The Edge Financial Daily, on November 19, 2018.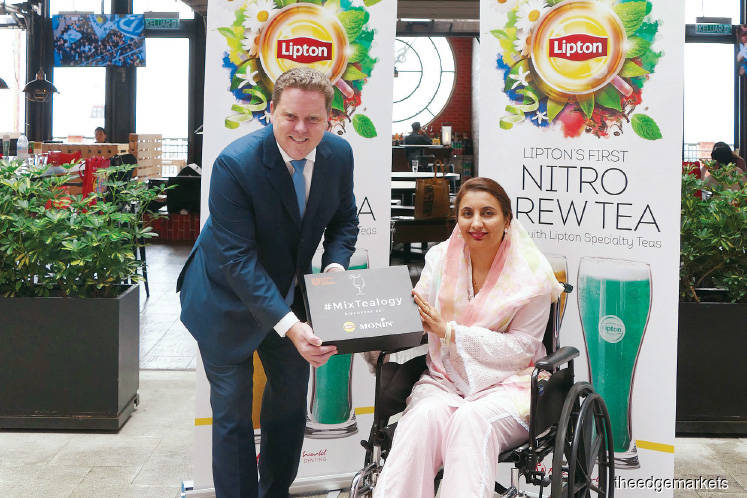 KUALA LUMPUR: Resorts World Genting, Unilever Food Solutions Malaysia and French premium syrup maker Monin have teamed up to introduce Lipton Nitro Tea, a tea beverage that is the first of its kind in Malaysia.
According to Resorts World Genting, Lipton Nitro Tea is the culmination of research by Unilever Food Solutions with French flavouring specialist Monin.
"This started with #MixTealogy in 2017, where Lipton tea was infused with Monin syrups to create a tantalising array of tea-based drinks and mocktails, pushing the boundaries of tea drinking culture forward. This then formed the basis of Lipton Nitro Tea, which takes Lipton tea prepared from real leaves thoughtfully sourced from sustainable tea plantations across the world and infused [it] with exciting natural spices and flavours from Monin.
"That liquid is then poured into a food-grade nitrogen gas cylinder to [be] blended for over seven hours," it explained. The presence of nitrogen instantly chills the beverage, creating a frigidly cool and refreshing tea. "The nitrogen bubbles in the tea also result in a drink with a 'thicker' mouthfeel and a beautifully creamy and rich 'head' as it is served from [the] cylinder to [the] glass just like draught beer from a tap," it added.
The drink was recently launched at the newly opened High Line in Resorts World Genting's SkyAvenue mall by Resorts World Genting vice-president of food and beverage Gerard Walker and Unilever Food Solutions Malaysia managing director Nusrat Perveen.
"It is a great honour that Unilever Food Solutions has chosen to debut Lipton Nitro Tea here at the resort. We have always considered ourselves one of the front runners of the culinary world in Malaysia, and this opportunity to introduce an innovative world's first here is [a] testament to Resorts World Genting's reputation and also our customers," Walker said.
Nusrat said there is a misconception that coffee is more popular than tea. "It is not. Tea is the second most consumed liquid after water. Using tea blends sourced from the world's most renowned tea regions and certified by the Rainforest Alliance, we have  created something very unique and very exciting in Lipton Nitro Tea through the power of technology and human ingenuity.
"This is tea like you have never tasted before. You may not believe it is tea, but [it] is," she added.
At High Line, two types of Lipton Nitro Tea marked the debut of Lipton's latest and most exciting product — Blue Owl Nitro Tea and Spice Bloom Nitro Tea. "Spice Bloom Nitro Tea, with its spicy profile, is meant to pair well with meat dishes, while Blue Owl Nitro Tea, with its sharp citrusy tinge, goes well with seafood," said Resorts World Genting.