This article first appeared in Personal Wealth, The Edge Malaysia Weekly, on April 1, 2019 - April 07, 2019.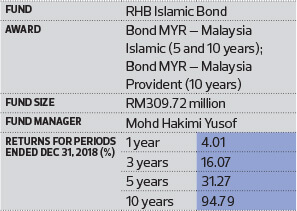 RHB Asset Management Sdn Bhd (RHBAM) clinched the Best Bond Group (Provident) award for the third consecutive year at the 2019 Lipper Fund Awards from Refinitiv. It also took home three fund awards.
RHB Islamic Bond won the awards for Best Bond MYR (Islamic) in the 5 and 10-year categories for the second year running. It also grabbed the award for Best Bond MYR (Provident) in the 10-year category.
Eliza Ong Yin Suen, managing director and regional head of RHBAM, says the fund house's success was due to its investment strategy. Its team of investment experts utilised both top-down and bottom-up analysis to create a bond portfolio that was consistent with its clients' aims and risk limits.
"From a top-down perspective, we carefully analysed global macroeconomic and interest rate trends across developed and emerging markets while also conducting bottom-up fundamental analysis on issuers and their peers. We also leveraged our regional presence to articulate strategies that took on a more holistic approach to investing," she says.
"Our presence across key economic centres in Asean provides us with intensive on-the-ground fundamental knowledge, which allows us to produce actionable insights and apply it to our investments to benefit our end-investors. To ensure that our investment philosophy and style remain consistent, we hold regular meetings at our regional offices to establish a uniformed house view on key macro trends and opportunities."
Malaysia had a highly volatile year in 2018, given the events before and after the 14th general election (GE14). Prior to the polls, the fund house took profit on some of its sukuk positions to build up cash so it could be deployed in the bond market should there be a knee-jerk sell-off post-GE14, says Ong.
"We were proven right on the first day of trading after GE14 and were able to capture some alpha in the sukuk space arising from the temporary sell-off in the bond market. We were of the view that even if the election results were a surprise to the market, bonds or sukuk generally benefit from these uncertainties and there would be potential alpha to be gained should there be a short sell-off," she adds.
"When sentiment over bonds and foreign exchange had stabilised, we were able to enhance the position of our clients based on market uncertainty, which we took advantage of. This event demonstrated the strength of our investment process and the strong team acumen in the company, where through constant knowledge sharing, we were able to overcome very volatile market situations and remained competitive."
While RHBAM stayed invested and generated carry for 1Q2018, it gradually reallocated funds to higher-grade credit and raised more cash ahead of the election risk in May last year, which proved to benefit its portfolio as the sharp sell-off following the unexpected GE14 results allowed it to reinvest quickly at more attractive yield levels and had been generally overweight in 2H2018.
RHBAM made some successful moves for these funds. Ong cites the example of its early calls or house view where it was bullish on bonds and sukuk even before the US Federal Reserve looked at less aggressive interest rate hikes in 2019.
"With a less aggressive Fed stance on interest rates, we believe that call has trickled down to Malaysia's monetary policy sentiment to remain accommodative as well. Domestic inflation was also muted in general," says Ong.
"We also had a bullish view on duration and that generated quite a bit of alpha when the US Treasury and Malaysian Government Securities (MGS) yield curve flattened. As RHB Islamic Bond invests in Government Investment Issue (GII), decent alpha was captured for the fund when the spreads between GII and MGS tightened. We think the ample liquidity within the financial system also helped in the bullishness seen in bonds, coupled with the tepid global growth outlook."
RHB Islamic Bond outperformed its benchmark over a five-year period (as at end-2018), delivering a cumulative return of 31.27% compared with the 17.78% of its benchmark. The outperformance was even more pronounced over 10 years, with the fund returning 94.79% versus the 36.28% of its benchmark.
Ong says the key strength of the fund is its established track record of more than 10 years. It has been through many market cycles and has been able to weather numerous periods of volatility to beat its benchmark.
"This fund has one of the most competitive fee structures among sukuk funds in the unit trust market. So, investors can benefit from the fund's returns a lot more minimising upfront costs and management fees. We have been able to declare yearly income for the fund on a consistent basis as well," says Ong.
According to the fund fact sheet, there is no sales charge for RHB Islamic Bond, but there is a profit-sharing asset management fee at 15:85 of net investment income and an annual trustee fee of 0.1% of the net asset value, subject to a minimum of RM35,000 per annum.
Ong says the investment team will continue to adhere to its fixed-income strategy going forward. It will also utilise active investing strategies and exclude companies' leverage from the universe of approved securities for its sukuk portfolios.
"The credit profile assessment of these sukuk issuers will provide fund managers with insights into the valuation of these sukuk vis-à-vis their respective credit risk and merits. Over the years, we have also developed our own in-house credit-scoring model, which has been continually improved and fine-tuned to ensure it is robust enough to meet the current investment climate," says Ong.
"Apart from selecting the credit of sukuk issuers for investment, we have adopted an active asset allocation strategy for interest rate trends and calls, especially when trading government securities, to improve the fund's performance in generating excess returns or alpha."
She says that while the fund house expects the current positive momentum to continue and US economic growth to stay robust for the first three quarters of 2019, there is always the risk that the US-China trade war may escalate. The potential negative impact, such as higher inflation, disruption of supply chains, higher raw material costs, loss of market share and lower investment, would hurt the global economy.
"Any risk-off events could potentially lead to 'flight-to-quality' trades that would benefit US Treasuries which, in turn, would lead to lower yields. These risk-off events could be triggered possible contagion effects from emerging markets such as Argentina and Turkey, political surprises in a heavy Asian election year or worsening of trade tensions between the US and China," says Ong.
Last year, RHBAM launched its AI Fund to provide investors and customers the opportunity to invest in the equities of companies whose businesses will benefit from the evolution of artificial intelligence. Ong says the fund house plans to launch new equity and fixed-income funds this year.