This article first appeared in Personal Wealth, The Edge Malaysia Weekly, on April 1, 2019 - April 07, 2019.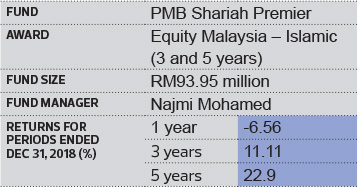 PMB Investment Bhd's shariah equity growth fund, PMB Shariah Premier, secured two wins at this year's Lipper Fund Awards from Refinitiv. The fund won the awards for Best Equity Malaysia (Islamic) in the three and five-year categories.
CEO Najmi Mohamed says the fund's performance was due to the composition of its portfolio. It invests in blue-chip stocks on Bursa Malaysia, which outperformed last year. The fund will continue to invest in these counters this year, he adds.
PMB Shariah Premier was launched in August 1972 as Kumpulan Modal Bumiputera Pelaboran Perwira, exclusively for bumiputera investors. It was opened to the public in June 1995 under the name ASM Premier.
In October 2012, the fund's investment objective was changed to make it shariah-compliant. It was subsequently relaunched as ASM Shariah Premier in January 2013, targeting those who prefer to invest in large-cap companies.
"Prior to the relaunch, the fund was allowed to invest in any shariah-compliant companies on Bursa. After the relaunch, the fund's universe was changed to only the top 75 shariah-compliant companies on the bourse. It assumed its current name in April 2014," says Najmi.
The fund's strength lies in its investment process, which consists of two levels, he says. The first level is the fundamental screening, which searches for financially strong companies that can be included in the fund's universe. The second level is the technical screening, which is done to select stocks from the universe for the fund's portfolio.
Last year, PMB Investment's winning funds were PMB Shariah Growth, PMB Shariah Aggressive and PMB Shariah Dividend. Najmi says the funds underwent active rebalancing in 4Q2018. Several stocks were dropped from the portfolios and replaced with new ones based on momentum analysis.
This year, Najmi expects the local equity market to remain volatile. "From our research and the strategy reports produced by stockbrokers and research houses [especially after 4Q2018's corporate earnings results were announced in February], the 2019 earnings estimate has been lowered from their previous projection following lacklustre results," he says.
"On average, the number of underperformers were higher at 32% compared with outperformers at 21%, while 47% of the companies met expectations. This gives an above-to-below expectation ratio of 0.67 times. This year, earnings are projected to grow between 2% and 6.7%. The average earnings growth is estimated at 4.9%, according to brokers."
The fund house favours the technology sector as it anticipates the market's transition to the 5G network. In addition, new sensors and the automotive headlamp business will be a positive catalyst for companies in those segments, says Najmi.
"We are also looking at oil and gas. With stable crude oil prices at above US$60 per barrel, we will see continued improvement and encouraging activity in a sector that will contribute stronger revenue recognition and higher earnings contribution. We have seen more orders coming in since last year. We expect this to translate into a much better earnings outlook for the sector in 2019."
The fund house will avoid the media industry this year as there are no rerating catalysts. "Moreover, the recently concluded results for 4Q2018 showed the outlook for advertising expenditure remains challenging due to weak consumer sentiment and competition from new mediums of advertisement, which have greatly affected traditional media platforms," says Najmi.
PMB Investment's assets under management increased 8.4% last year, thanks to the net fund inflows of its top five funds. Najmi says the fund house plans to launch another cash management fund this year. — By Khairani Afifi Noordin