This article first appeared in Personal Wealth, The Edge Malaysia Weekly, on April 1, 2019 - April 07, 2019.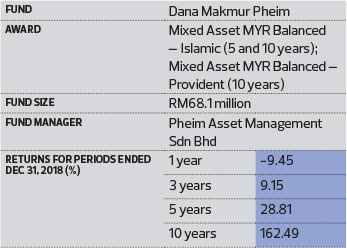 Pheim Asset Management Sdn Bhd bagged three awards at the 2019 Lipper Fund Awards from Refinitiv. For the fourth consecutive year, Dana Makmur Pheim won the fund awards for Best Mixed Asset MYR Balanced (Islamic) in the 5 and 10-year categories. It also won the fund award for Best Mixed Asset MYR Balanced (Provident) in the 10-year category.
Chief strategist Dr Tan Chong Koay attributes the funds' outperformance to the firm's investment philosophy of "never being fully invested at all times". This is combined with its in-house research and pursuit of value investing through a careful stock selection process and proper asset allocation. "These philosophies guide us to reduce equity exposure when we believe the market is near its peak and increase exposure when the market is deemed to be near its trough," he says.
Tan says the global economy saw some growth last year, but stock markets did not do well due to the US-China trade war and the US Federal Reserve's interest rate hikes. On the local front, there were many policy changes and review of public projects after the change in government for the first time in Malaysia's history.
Amid these uncertainties, Pheim closely monitored local market movements and engaged with companies that had strong fundamentals and long-term prospects. Tan says the firm had been able to reduce its equity exposure in early 2018 when markets were near their peak. "We thought markets were rising too fast and valuations had turned unattractive. That turned out to be the right decision as markets were generally trending downwards last year."
However, the falling markets still affected Pheim's portfolio performance, especially in 4Q2018. "The local market dropped sharply, adversely affecting companies in the small and mid-cap sectors. These included good companies with strong fundamentals," says Tan.
But the negative market sentiment did not deter Pheim from re-entering the market to bargain-hunt in 4Q2018. "When the market took a significant negative turn in the last quarter, we started to gradually increase our equity positions when buying opportunities came up. We did not believe the economy would crash in the near term, so we remained focused on value investing by carefully selecting bashed-down stocks that had a good long-term outlook," says Tan.
The investments that Pheim made towards the end of 2018 started to pay off at the beginning of this year. Dana Makmur Pheim, after underperforming some of its peers last year over a three-year period as at 4Q2018, regained its top position in January, says Tan.
"When the market recovered close to its intrinsic value, the fund regained its No 1 ranking [in terms of returns] for the three-year period and continued to be No 1 for the 5, 10 and 15-year periods in the Lipper performance table," he adds.
Tan expects the global and local equity markets to perform better going forward after being bashed down in 4Q2018. "We do not expect 2019 to have high growth. But we do expect people to invest in value stocks," he says.
From a sector perspective, Tan is bullish on technology and semiconductor stocks. "We believe these are the future of the market. The fact that the market is focusing on technological advancements — especially artificial intelligence, the Internet of Things and cloud computing — will certainly stimulate growth in these sectors in the near future," he says.
"The furniture sector is also expected to perform better, driven by growth in new contracts arising from the US-China trade war." — By Kuek Ser Kwang Zhe