This article first appeared in Personal Wealth, The Edge Malaysia Weekly, on April 1, 2019 - April 07, 2019.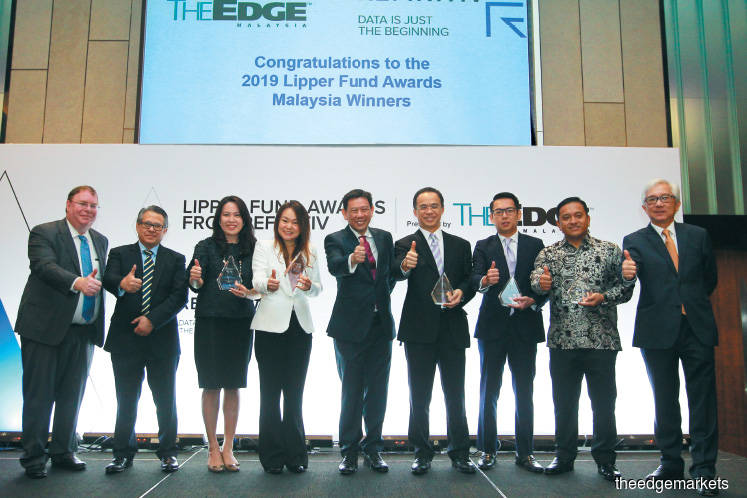 Group award winners with Carroll (left), Badrul Hisham (second from left), Wong (centre) and Ho (right)
Public Mutual Bhd was the biggest winner at the 2019 Lipper Fund Awards from Refinitiv on March 25. The fund house not only won the award for Best Equity Group (Islamic) but also a whopping 28 fund awards — the most in a single year. This meant that it picked up nearly 40% of the 74 fund awards up for grabs this year.
Eastspring Investments Bhd was the second biggest winner. It took home the award for Best Equity Group (Provident) and 12 fund awards, just two shy of its all-time record achieved at last year's event.
Affin Hwang Asset Management Bhd won the award for Best Mixed Asset Group (Provident) and six fund awards while RHB Asset Management Sdn Bhd took home the award for Best Bond Group (Provident) and three fund awards. Maybank Asset Management Group Bhd picked up the award for Best Equity Group (Malaysia) and one fund award.
Xav Feng, director of Lipper Asia-Pacific Research at Refinitiv, told Personal Wealth on the sidelines of the event that there was no overall group winner this year because not enough fund management companies met the qualifying criteria. "There needs to be a minimum of three qualifying fund houses, each of which needs to manage at least three equity, three bond and three mixed-asset funds. And all the funds must have historical data going back at least three years. We will not present an overall group award if these criteria are not met."
Of the 74 fund awards given out this year, 36 were won provident funds, 20 conventional funds and 18 Islamic funds (see the winners' list on Page 17).
Eugene Wong, managing director of corporate finance and investments at the Securities Commission Malaysia, delivered this year's keynote address. Building on key themes that he mentioned at last year's awards ceremony, he referenced the increasing visibility of sustainable investing and noted that millennials are a key driving force behind its rise. "In the US, assets under management (AUM) using sustainable and responsible investment strategies grew from US$8.7 trillion in 2016 to US$12 trillion in 2018, representing 26% of AUM."
Wong also cited a Schroders survey that showed more than half of millennials often or always invest in sustainable investment funds, as opposed to 40% of Generation X and just 31% of BaBoomers.
The second key trend he spoke about was technology and how it "continues to influence the fund management industry in unpredictable ways, including through new and previously unthinkable business models".
He also touched on the prospects of passive investing, saying that this approach has seen a significant inflow of investments at the expense of actively managed funds. "Cost is a major driver, with some quarters estimating that passive investing has saved investors a staggering US$1 trillion in fees."
Having said that, Wong emphasised that he still believes in the value that active fund management can provide investors. "Actively managed funds support fair valuations through their investment research. This research benefits the entire market as well as passive funds. The participation of actively managed funds in initial public offerings help capital formation and price discovery."
"Actively managed funds can help promote good corporate governance, if they monitor their investments and exercise their voting rights. While all funds are meant to vote on shares they hold for the benefit of their investors, the passive and low-cost approach taken index funds may lead to managements and boards not having to be accountable to anyone."
Refinitiv's Feng then presented key data on global fund flows in 2018. "After a harvest year in 2017, there was a total continuing net inflow of US$532 billion for global fund markets last year. However, a huge fluctuation took place in the global markets in the fourth quarter and we saw bond, equity and mixed-asset categories post net outflows."
Globally, the US saw the biggest net inflow of funds last year. The top performing sectors included money markets (US dollar) and global (excluding US) equities. Meanwhile, high-yield bonds (US dollar) saw the biggest net outflows.
According to Feng, Malaysia saw a sizeable dip in net inflows last year compared with 2017. "After a net inflow of nearly US$10 billion in 2017, there was a net inflow of US$5.3 billion into Malaysian markets last year. Of these, equities enjoyed the highest net inflows at more than US$3 billion."
"The sectors that enjoyed the highest net inflows were money markets (ringgit) and Asia-Pacific ex-Japan equities."
The Edge Media Group publisher and group CEO Datuk Ho Kay Tat, in his welcome speech, referred to 2018 as a wild year for financial markets. "Many industry players told us that it was an extremely challenging and tiring year of trying to navigate multiple unexpected events."
He added that few could have predicted the outcome of Malaysia's 14th general election last year and the developments that followed soon after.
The outlook for this year is set to remain weak with central banks, such as the US Federal Reserve, abandoning their credit tightening policy on the back of increasing economic risks, said Ho. "Against this backdrop, it becomes imperative for investors to look at their strategies again and plan for the uncertainties ahead."
Badrul Hisham Dahalan, head of quantitative and performance analysis at the Employees Provident Fund, and Steven Carroll, head of Asean at Refinitiv, also presented awards at the ceremony.
Following the rebranding of Thomson Reuters to Refinitiv, the awards are now known as the Lipper Fund Awards from Refinitiv. The Edge is its official presenter. This year's awards marked 20 years of collaboration between Lipper and The Edge.
AmInvest remains the most successful
AmFunds Management Bhd (AmInvest), whose funds were previously marketed under AmInvestment Services and AmBank, has been the most successful fund house in the last 11 years with a total of seven group awards.
Over the last few years, however, RHB Asset Management Sdn Bhd has been a more consistent performer, picking up three back-to-back Best Bond Group awards, the latest of which came this year. No other fund house has managed a three-year run of group awards in the same category since 2017.
This year, Public Mutual Bhd picked up its maiden group award in the Equity (Islamic) category. This marked the fund house's fifth group award. It won Best Overall Group last year and three more times from 2009 to 2011. — Oliver Christopher Gomez