This article first appeared in Personal Wealth, The Edge Malaysia Weekly, on April 1, 2019 - April 07, 2019.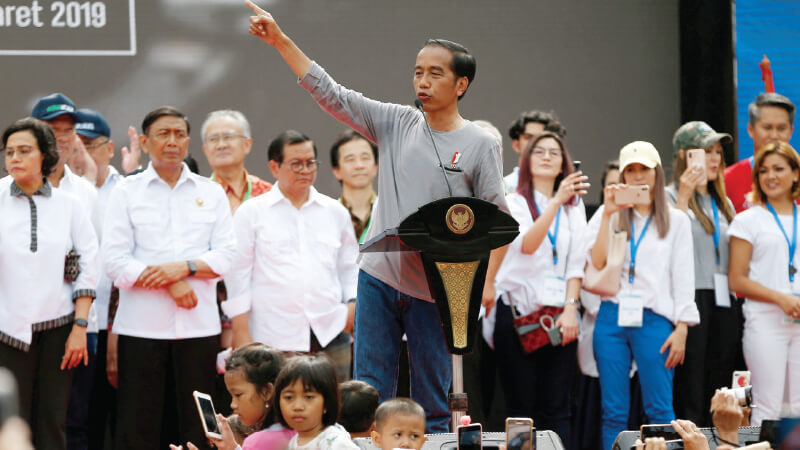 Indonesia President Joko Widodo at a launch event in Jakarta ...The fund house is overweight on Indonesia for its general election play that could alleviate the valuations of its equities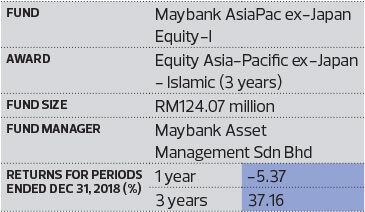 Maybank Asset Management Sdn Bhd took home its first group award and fund award at the 2019 Lipper Fund Awards from Refinitiv. The fund house won the Best Equity Group award while its Maybank AsiaPac ex-Japan Equity-I grabbed the fund award for Best Equity Asia-Pacific ex-Japan (Islamic) in the three-year category.
"We have received numerous awards, but this is our first Lipper awards. Winning these awards is a true testament of our investment expertise and commitment to excellence in delivering the best outcome for investors," says CEO Ahmad Najib Nazlan.
"It also marks a proud achievement for Maybank Asset Management Group, especially after the completion of our acquisitions of Amanah Mutual Bhd and Singapore Unit Trusts Ltd in May last year. We are now focusing our efforts and resources on growing our retail business."
He attributes the fund house's outperformance to its teamwork and ability to retain talent. "Teamwork has been our core strength when it comes to maintaining sustainable superior returns over an investment cycle. The investment team has maintained stability with a minimum staff turnover over the past five years. We believe the team has the right capabilities to deliver a good and sustainable performance going forward."
The fund house's investment approach of bottom-up stock picking overlaid its top-down macroeconomic outlook is another crucial factor that contributed to its success, says Najib. "We also take into consideration clients' requirements and risk appetite, which is an essential overarching component that completes our portfolio construction."
He says 2018 was a volatile year due to events such as the US-China trade tensions and Brexit negotiations. The fund house has an active asset allocation strategy to ensure that the performances of its funds are superior to the broader market.
"We raised cash to about 20% before the market corrected in September last year. However, the equities allocation increased again from October to December after the correction happened and investment opportunities emerged," says Najib.
Unit trust investors can expect higher returns from Asia this year compared with 2018, he adds. This is due to the massive sell-off that occurred last year, when market players priced in imminent risks such as more trade tariffs imposed the US and China and slower global economic growth in the years ahead.
"Asian equities are trading at a discount of about 25% to US equities, compared with the historical average of 14%," says Najib.
The US Federal Reserve is expected to pause its interest rate hike cycle in 2019. This could result in a weaker US dollar, which would benefit emerging markets. "We expect Asian equities to outperform those in developed markets as global fund flows return to emerging markets at the tail end of the US interest rate cycle," says Najib.
However, he expects market sentiment to remain cautious as the global economy seems to be slowing down, albeit not as drastically as market players had expected previously. He says any strengthening or weakness in the markets may be short-lived amid the uncertainties. "We remain mindful of this and in our view, a more tactical trading strategy and having high cash holdings from time to time will allow us to capture pockets of opportunities."
The fund house is overweight on Indonesia and the Philippines, says Najib. "We are still overweight on Indonesia for its specific election play that could alleviate the valuations of its equities against other emerging markets. We like the Philippines due to its positive outlook from a fund flow perspective. The country's consumer and banking sectors may perform positively as their earnings visibility is clearer than those of other industries that may be subjected to potential policy uncertainties."
He adds that the telecommunications, utilities and export sectors in Asean may be volatile this year. That is because several countries, including Indonesia and the Philippines, will be holding their general elections. Also, the technology sector may face some selling pressure as share prices of tech-related companies seem to have peaked and global chip sales have slowed in recent months.
The key risk to the global economy would be the rising populism fuelled irresponsible politicians or leaders who want to capitalise on the people's protectionism sentiment. The slowing global growth that investors are seeing now is a result of this, says Najib.
Going forward, the most significant opportunities in the unit trust industry lies in the ability of companies to attract investor money flowing into the Employees Provident Fund's investment scheme, which allows its members to invest a portion of their savings in a list of approved unit trust funds. Some RM800 million flows from investors' EPF accounts into these funds every month, says Najib.
He adds that some retail investors who directly invested in the equity market may have gone through some bad times last year. This could potentially lead them to put more money with unit trusts managed professional fund managers. However, it is essential for fund houses to showcase better risk-adjusted returns to investors.
"We also see opportunities for investors to diversify their investment portfolios into asset classes that could provide them with long-term returns and less volatility, such as fixed income and real estate investment trusts," says Najib.
Going forward, the industry could face challenges with the technological advancements and new services provided financial technology (fintech) platforms. "These platforms can carry crowdfunding projects or act as an aggregator for investors to invest directly in certain asset classes, therebypassing the professionals in the unit trust industry. It will be an interesting industry to watch over the next few years," says Najib.