This article first appeared in Personal Wealth, The Edge Malaysia Weekly, on April 1, 2019 - April 07, 2019.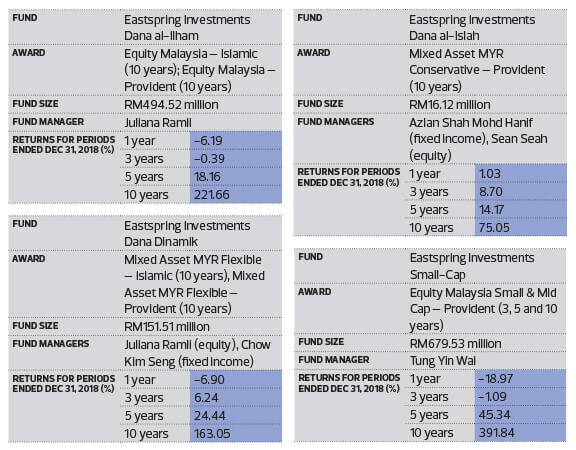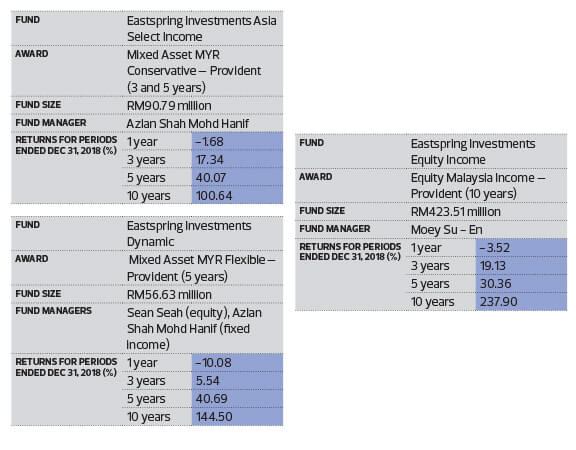 Eastspring Investments Bhd emerged triumphant again at this year's Lipper Fund Awards from Refinitiv. It came away with one group award and 12 fund awards, further cementing its place as one of Malaysia's top performing fund managers. This is the latest in a multi-year run where the firm has collected at least 10 fund awards.
Chief investment officer Doreen Choo attributes the outperformance to the investment team's strategy as well as the fund house's overarching investment philosophy. "Eastspring is a valuation and research-driven house with good fundamental stock-picking skills and a disciplined portfolio construction process. We believe our investment philosophy can generate consistent and attractive returns for our clients over the long run. The team's vast experience and strong drive enable us to add value during periods of market volatility."
One of the winning funds — Eastspring Investments Dana al-Ilham — had an impressive performance last year. "The fund is anchored several good-quality companies with solid long-term fundamentals. Even so, the fund's growth style places an added focus on alpha generation, thanks to our bottom-up stock-picking approach. The fund also benefits from the growing interest in shariah investing," Choo tells Personal Wealth.
Eastspring Investments Dana Dinamik is a more flexible fund. Thus, it is nimbler and easily positioned to navigate market volatility, says Choo. The fund invests in quality stocks with strong fundamentals and offers good long-term growth prospects.
Eastspring Investments Small-Cap Fund has been a long-term performer for the fund house. The fund's outperformance is particularly noteworthy considering that small and mid-cap companies took a beating last year.
"Our strength lies in our ability to identify good quality small-cap companies with good management and strong growth potential. Our investment horizon is typically more than three years, which allows us to participate in the growth phase of our investee companies," says Choo.
Eastspring had to operate in a very volatile investment climate last year, which presented several challenges, she says. "The change in government and announcement of various policies, volatile oil prices, soft palm oil prices and a weakened currency all made for a very volatile year.
"Some of the major challenges our fund managers faced last year were policy uncertainties due to the new government, which impacted a few local sectors. There was also the technology sector selldown, following a correction in several global tech names."
The fourth quarter of 2018 was particularly difficult, she adds. The Malaysian equity market corrected in tandem with global markets when the US market took a nosedive early in the quarter. US tech stocks declined sharply due to the US-China trade war heating up.
External events towards the end of the year added to the volatility, such as the arrest of Huawei Technologies' chief financial officer in Canada just after the US and China announced a temporary truce to the trade war at end-November.
Amid this environment, Eastspring's local equity funds were generally invested in large-cap and high-dividend-yielding stocks. This meant the fund house's offerings were more resilient than those of its peers, which possibly had more small-cap exposure.
Outlook for 2019
External headwinds are gathering pace, with ongoing economic and geopolitical uncertainties adding to the volatility, according to Choo. Weak China Purchasing Managers' Index (PMI) numbers and growing expectations of a faltering US economy are key risks to be mindful of.
"Malaysia's economy should be relatively resilient, but it is not immune. Weak global growth numbers will likely lead to slow demand for commodities such as crude oil and crude palm oil, which the country relies heavily on," says Choo.
In addition, Malaysia's largest trading partner — China — is experiencing slower growth. This has already had an impact on the demand for US branded handsets. "This will also impact the new orders of Malaysian electrical and electronics exporters," she says.
Meanwhile, local investors have little choice but to be patient with the new government, even if foreign investors are not as forgiving. "With a lack of near-term catalysts for Malaysia, we expect volatility to continue, whether in the form of domestic politics or policies, made more challenging external noise from the ongoing US-China trade spat, US monetary policy and oil price volatility," says Choo.
She is expecting modest returns for Malaysian equities this year, citing a challenging corporate earnings growth environment. That said, she and her team will continue to invest prudently in local equities while remaining sector-agnostic.
"As bottom-up stock pickers, we focus on valuations. Even if we do not like a certain sector, it does not mean we will avoid all the stocks in that sector," says Choo.
In the current climate, she advocates focusing on companies with strong fundamentals and a good track record of adapting well in challenging environments. She also advises investors to maintain a diversified portfolio, regardless of market conditions.
"Depending on your investment objective, a portfolio of different funds and strategies may help optimise potential returns from different market conditions. For instance, if an investor is skewed towards portfolio protection, there should be a larger portion of fixed income, which may comprise both local and global fixed-income funds. But if your objective is growth, your portfolio can be skewed towards equities, where one could have a mix of growth and small to mid-cap funds," says Choo.