This article first appeared in Personal Wealth, The Edge Malaysia Weekly, on April 1, 2019 - April 07, 2019.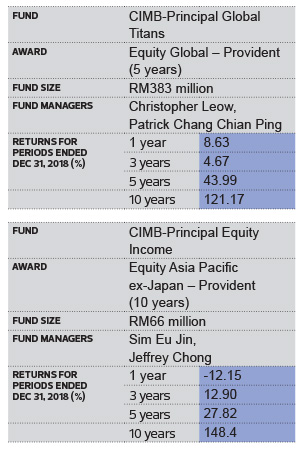 CIMB-Principal Asset Management Bhd bagged two fund awards at the 2019 Lipper Fund Awards from Refinitiv. CIMB-Principal Global Titans won the award for Best Equity Global (Provident) in the five-year category while CIMB-Principal Equity Income clinched the award for Best Equity Asia-Pacific ex-Japan (Provident) in the 10-year category.
CEO Munirah Khairuddin says the fund house's discretionary investing style and philosophy were pivotal to its wins. "We deploy different strategies in different cycles. For example, in a bear market, we look at things from a value investor's point of view. In a bull market, we like to be more cautious and look at things from a growth-at-a-reasonable-price (GARP) perspective. In a late bull cycle, we start harvesting and get into a more defensive mode.
"However, we do not compromise when it comes to risk management and corporate governance. Everything we do revolves around safeguarding our unitholders' best interests."
She points out that the winning funds were able to generate outsized returns last year despite major challenges on the local and global fronts. In 2018, the fund management industry had to deal with the country's 14th general election, slower economic growth in Asia as a result of the US-China trade tensions, and quantitative tightening in the US.
"This led to earnings declining, fund outflows and weaker Asian currencies and stock markets. We became more defensive in our strategy and turned to value hunting in the later part of the year," says Munirah.
However, things are looking up this year as the reflationary efforts of China, pro-growth policies of Asean, tapering trade war rhetoric and US government shutdown, among other factors, point to a pickup in global growth.
"Downside risks to global economic deterioration would be arrested. The low inflation environment is giving central banks more leeway to adopt dovish policies, with several countries in Asia possibly cutting interest rates this year," says Munirah.
She adds that the fund house is increasing its exposure to China, Indonesia and India. It is also taking a more balanced perspective when it comes to its funds, by strengthening the portfolios with growth and defensive sectors.
"On a sector basis, we favour [those with] more cyclical exposure such as technology, consumer discretionary and industrial. We will take this opportunity to add quality large caps and alpha to the portfolios," says Munirah.
"We prefer big-cap government-linked companies with improving fundamentals and those with solid cash flows and dividends in sectors such as utilities and renewable energy, banks, oil and gas and industrials. Dividend income will provide a buffer and safety net in the event of unforeseen circumstances."
As for sectors to avoid, she says CIMB-Principal is cautious of export-oriented players for the time being. "[That is because] there are downside risks to the US dollar and disruption to the global supply chain amid the US-China trade negotiations."
In the light of current circumstances, she advises investors to take a more balanced approach by integrating defensive and value-hunting strategies. — By Pathma Subramaniam