This article first appeared in Personal Wealth, The Edge Malaysia Weekly, on April 1, 2019 - April 07, 2019.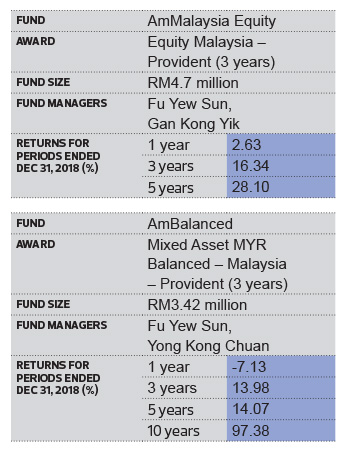 AmFunds Management Bhd (AmInvest) took home two awards at the 2019 Lipper Fund Awards from Refinitiv. AmMalaysia Equity won the fund award for Best Equity Malaysia (Provident) in the three-year category while AmBalanced won the Best Mixed Asset MYR Balanced — Malaysia (Provident) in the three-year category.
AmInvest chief investment officer Fu Yew Sun says the fund house focused on generating total returns through astute asset and sector allocation and securities selection, enhanced by well-timed tactical trading. "At the securities selection level, we sought positions with attractive upside backed by a combination of value and growth potential."
Last year was a challenging one for financial markets, especially the equity markets, says Fu. There were challenges on both local and global fronts, namely the rising US Treasury yields, strengthening of the US dollar, lingering trade war concerns, shift from quantitative easing to quantitative tightening led by the US government and change in the Malaysian government and subsequent policy changes.
Due to the market volatility last year, the fund house revised its tactical asset allocation calls swiftly to address market changes on multiple occasions, he adds. It started the year with a risk-on stance by being highly invested in equities, with positions in the mid and small-cap segments based on its bottom-up picks.
"Prior to the 14th general election (GE14), we had largely dialled back our positions with a defensive stance as we felt the risk-to-reward of being highly invested going into the election was not attractive. This proved to be a major catalyst for our outperformance against our peers," says Fu.
"Despite the weakness in the local market post-GE14, we started to observe significant uncertainties arising from global developments such as continual rate hikes by the US Federal Reserve and increased noise from the US-China trade war. Hence, for the most of 3Q and 4Q2018, we did not rebuild our equity positions aggressively despite the more attractive valuations. Instead, we maintained a largely defensive stance with increased income components from higher-yielding stocks and real estate investment trusts (REITs)."
With the Fed's interest rate pause and the less bullish outlook for the US dollar, the prospects for interest-rate-sensitive instruments have brightened, he says. "We still see upside for equities, but think the market will turn to more trading-oriented stock-picking. Hence, we look to hold a core portfolio of income-yielding assets, such as bonds, REITs and high-dividend-yielding stocks, to anchor portfolio returns via income and seek further upside via tactical trading of equities by focusing on stock picks."
Fu believes that from an industry perspective, factor-based funds will become more prevalent to supplement the wide selection of discretionarily managed funds in the marketplace. "Based on our views, we feel that absolute-return funds will serve investors well in the coming years. We are always looking to launch new funds to add to our product suites and enhancing our investors' asset allocation toolkit."
AmInvest CEO Goh Wee Peng says investors should focus on generating good absolute returns via diversification of positions, sources of returns and downside risk management. "The key risk will be a major market downturn during the transition from quantitative easing to quantitative tightening, which may be triggered by a major default that affects the global financial system. — By Vanessa Gomes