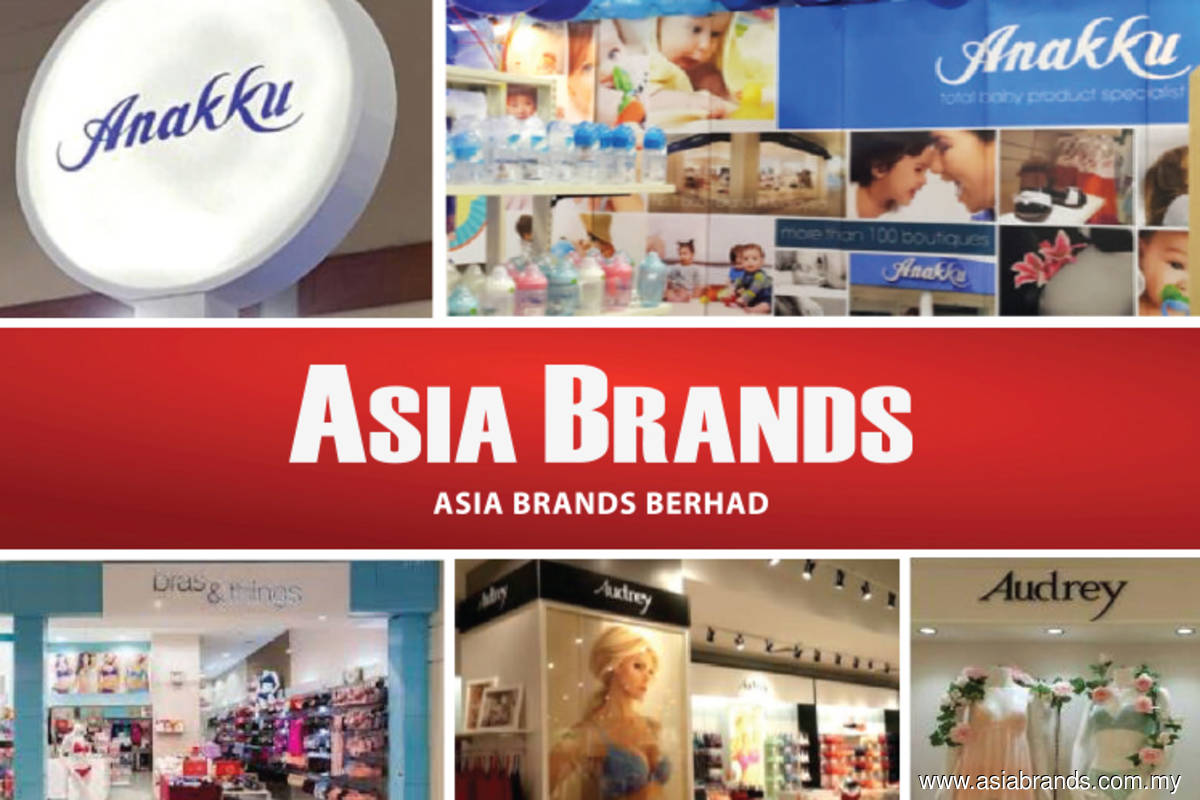 KUALA LUMPUR (July 27): Lingerie and baby apparel retailer Asia Brands Bhd will diversify its product range to dampen the impact of an expected decline in demand for its existing products as the company contends with the effects of Malaysia's Movement Control Order (MCO) to curb the Covid-19 pandemic.
Asia Brands chairman Datuk Seri Tan Thian Poh said in the company's latest annual report, which was filed with Bursa Malaysia today, that Asia Brands' cash flow was adversely affected due to the temporary closure of most of the group's core businesses following the MCO.
"The ongoing Covid-19 pandemic has had a dramatic impact on businesses globally with the retail industry being impacted the most. The MCO and its subsequent series of extensions have adversely affected the group's business and financial position.
"Productivity in all segments of our business has been reduced tremendously. The management team is monitoring the situation closely during this challenging time and business recovery plans are in place for all of our business units. The business is currently fully operational but we expect a slow path to recovery.
"Our teams will continue to support all of our customers' needs and will strictly adhere to the standard operating procedures implemented by the relevant authorities. We are confident in the resilience of our business and our ability to continue providing an extensive range of products to our customers. We remain cautious of the current economic environment but hope to fully recover within the next six months," Tan said.
He did not elaborate on Asia Brands' planned diversification.
Malaysia's MCO, initially scheduled between March 18 and 31, 2020, had for a start required non-essential businesses to stop operations, while the public was ordered to stay at home to curb the Covid-19 outbreak.
On March 25, Prime Minister Tan Sri Muhyiddin Yassin said the government decided to extend the MCO until April 14, because updates from the National Security Council and the Health Ministry indicated an increase in Covid-19 cases.
On April 10, Muhyiddin said the government was extending the MCO until April 28.
On April 23, Muhyiddin said the MCO would be extended for another two weeks until May 12.
On May 4, news reports, quoting Senior Minister (Security Cluster) Datuk Seri Ismail Sabri Yaakob, indicated that regulations under the phase four of the MCO were null and void with the commencement of the Conditional Movement Control Order (CMCO) or phase five of the MCO.
On May 10, Muhyiddin said the CMCO would be extended to June 9.
On June 7, Muhyiddin said the CMCO would be replaced by the Recovery Movement Control Order beginning June 10 until Aug 31.
At Bursa today, Asia Brands shares were untraded. At the stock's latest closing price of 38.5 sen, the company has a market value of about RM89.57 million.