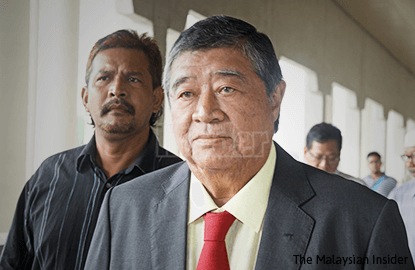 KUALA LUMPUR (Feb 18): Tun Dr Ling Liong Sik is applying to strike out a libel suit filed by Prime Minister Datuk Seri Najib Razak, reports Star Online.
Liong Sik's lawyer, Gregory Ling, said he filed the application to strike out the suit on grounds that it had no reasonable cause of action and was an abuse of the court process.
"My client takes the position that there are other people who are more vocal than him," Gregory was quoted as saying in the report.
Gregory was quoted as saying in the report that former prime minister Tun Dr Mahathir Mohamad also filed an affidavit to support Liong Sik's application to strike out the suit.
The court has set March 31 for case management.
October last year Najib filed the suit against Ling for claiming that he was unfit to lead Malaysia following the revelation last July that money was deposited into his private bank accounts.
Najib said the RM2.6 billion contribution by a donor from the Middle East was a personal donation and Ling could not use it as a defence.
The Umno president said there was no issue of him violating the party constitution and its financial statements for 2013 and 2014, as the money was a personal donation.
Najib had repeatedly said the money was held in trust for Umno.
He had admitted receiving RM42 million but denied the money came from SRC International Sdn Bhd.
Najib said he had no knowledge that the money was channelled through two intermediaries – Gandingan Mentari Sdn Bhd and Ihsan Perdana Sdn Bhd – and it was for Ling to prove.