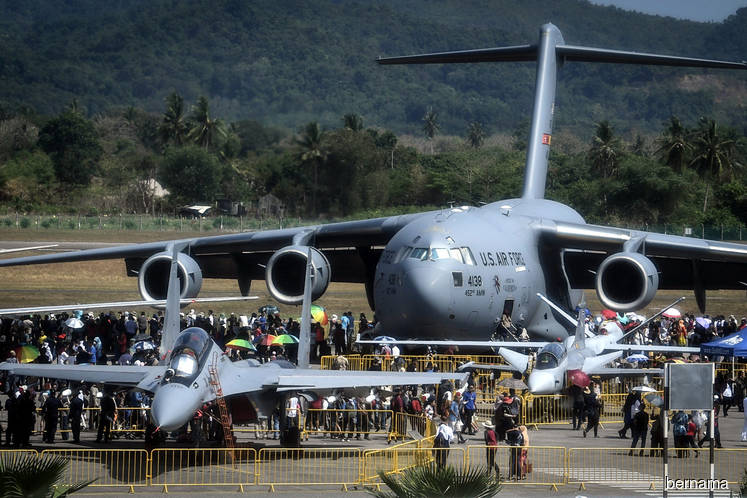 LANGKAWI (March 29): People have begun pouring into the Mahsuri International Exhibition Centre (MIEC) for the Langkawi International Maritime and Aerospace 2019 (LIMA'19) exhibition, which was opened to the public today.
Checks by Bernama found the MIEC crowded since morning, and it is only expected to grow in the afternoon as entry is free for visitors under the age of 12, as well as the disabled and senior citizens.
The current school holidays, coupled with Friday being a weekend in Kedah has enlivened the mood, with visitors donning LIMA'19 shirts, and some with the logo painted on their faces.
A visitor from Kuala Lumpur, Ahmad Saibani, 33, who came with his family, said he arrived in Langkawi by ferry yesterday, and was excited to see the exhibition.
"I never miss the opportunity to come here because this is a must-visit exhibition for me which is held once in two years. It's very interesting, because we can see airshows as well as our naval assets, proving the capabilities of our Armed Forces," he said when met by Bernama.
Meanwhile, it was the first LIMA experience for R. Kuhilan, 22, who flew in with three other friends from Terengganu two days ago.
"I came for this LIMA'19 exhibition because I wanted to look at our military assets as well as visit defence exhibition booths to see sophisticated weapons.
"I missed an opportunity before this as I couldn't get flight tickets at the time. For me LIMA'19 is the best platform for our country's military to showcase its assets to others," he said.
Bazliah Ashraf Bahrudin, 31, said she had lined up with two of her friends at 7am just to catch the airshow.
"I was surprised that there were others already in line when we got here. The air show was amazing," said the private employee, who is from Subang Jaya, Selangor.
Meanwhile, Mohd Feizal Mohd Salleh, 44, who works in the airline industry said he was disappointed with the entry system which was deemed inefficient at handling the crowd.
"It seems that the visitor entrance handling (by the organisers) is still unsatisfactory," said the visitor from Bangi, Selangor, who came with four children.
About 42,000 trade visitors have gathered at LIMA`19 to look at the latest products and services offered by exhibitors and explore business potential, especially with Malaysian-based companies.
LIMA'19 co-organiser EN Projects (M) Sdn Bhd expects some 200,000 visitors for the exhbition today and tomorrow, including the maritime segment at Resorts World Langkawi, about 10km from MIEC.
The biennial exhibition which is also co-organised by the Ministry of Defence and Transport Ministry is themed, 'Defence and Commercial Connecting Intelligence'.
LIMA'19, which began on Tuesday and ends tomorrow, involves a total of 406 companies — 206 local and 200 foreign — mostly related to the defence industry.