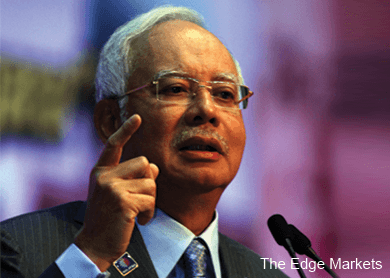 (May 22): Advertising man Tan Sri Lim Kok Wing, who has run Barisan Nasional's election campaigns, is Datuk Seri Najib Razak's new public campaign coordinator in a charm offensive to win over Malaysians and shore up the prime minister's flagging popularity.
Lim rode high during Tun Dr Mahathir Mohamad's administration, but the former prime minister is now Najib's harshest critic.
It was learnt that Lim, who has been appointed "special programme coordinator", has drawn up plans for Najib to go nationwide to gather support and listen to the complaints from the people.
Lim, who founded the Limkokwing University of Creative Technology, will report directly to the Prime Minister's Office which already has a string of advisors.
The 69-year-old, who set up Malaysia's first local advertising agency, has been involved in election campaigns for almost four decades.
In 1994, Lim, on recommendation by Dr Mahathir, was tasked by the late Nelson Mandela in South Africa's first free elections, giving his African National Congress (ANC) the slogan, "A Better Life for All".
He also conceptualised and ran Putrajaya's "Tak Nak" anti-smoking campaign and promoted the "Rakan Muda" and "One Heart, One Nation" programmes.
This latest appointment came months after Lim was first appointed as "Goodwill Ambassador" in the Prime Minister's Department in a Tolerance Day celebration that his university hosted in November last year.
Now, Lim has to run a fully political campaign for the embattled Najib against Dr Mahathir who has openly asked the prime minister to step down over the 1Malaysia Development Berhad (1MDB) scandal.
In 1975, Lim started Malaysia's first local advertising firm and went on to start Limkokwing Institute of Creative Technology in 1991, before it became a private university in 2000.
He also sits on the Malaysian Anti-Corruption Commission's (MACC) consultation and corruption prevention panel.
Lim now joins the list of four official advisors to Najib - Datuk Seri Dr Abdullah Md Zin, Datuk Johari Baharum, Tan Sri Rais Yatim and Datuk Seri Shahrizat Abdul Jalil.
It was also recently reported that  public relations firm Apco Malaysia's Paul Stadlen, had also served in the prime minister's National Communications Team.
The status of  Stadlen's alleged role in the government remains unclear with Putrajaya saying it did not pay any wages to the former Apco Malaysia boss.
"To date, the government did not pay any salary to Paul Stadlen," Minister in the Prime Minister's Department, Datuk Seri Shahidan Kassim told PAS's Hanipa Maidin in a written reply in Parliament on Wednesday.
Hanipa had asked about the amount paid to Stadlen who was purportedly a member of the communication team at the Prime Minister's Office.
However, the reply was silent on whether Stadlen was part of the team. – The Malaysian Insider