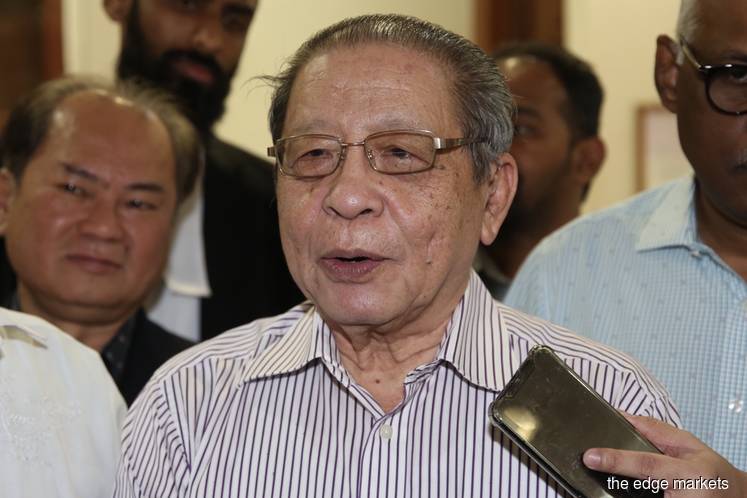 KUALA LUMPUR (Feb 24): Veteran DAP leader Lim Kit Siang today broke his silence over yesterday's events and vowed to continue to fight for justice and against "kleptocracy, rogues, rascals and rebels in the country".
Lim, who is also Iskandar Puteri MP, also denied a social media post that suggests the new government will arrest the DAP, PKR and Parti Amanah Negara leaders, saying they would not run away from the country.
"We are patriots and nationalists, and hence would not run away. This is irresponsible social media reporting. When I was warned from returning home a couple of years' back, I decided to return. We would not run away.
"We are in politics and we believe that we should be honourable and do good for the country and not led the country back into kleptocracy and worst still into kakistocracy," he said.
A kakistocracy is a government run by a nation's worst people, according to Merriam-Webster dictionary.
Lim had been calling for the eradication of a kleptocratic government, made known after Datuk Seri Najib Razak was charged with crimes in relation to 1Malaysia Development Bhd and its former subsidiary SRC International Sdn Bhd.
When asked what would DAP do, Lim said the party would hold its Central Executive Council (CEC) meeting today, and he does not want to pre-empt it.
It is understood the DAP CEC would be held at noon.
Yesterday, it was reported that several high-level meetings were held separately by Parti Pribumi Bersatu Malaysia, Umno, PAS, Sabah's Parti Warisan Malaysia and Sarawak's Gabungan Parti Sarawak and PKR's faction led by its deputy president Datuk Seri Azmin Ali.
Some party leaders reportedly had an audience with the Yang di-Pertuan Agong Sultan Abdullah at Istana Negara yesterday. They later gathered at the Sheraton Hotel in Petaling Jaya.
Also present with Lim were DAP chairman and Cheras MP, Tan Kok Wai, Klang MP Charles Santiago, Bukit Gelugor MP Ramkarpal Singh, and Jelutong MP RSN Rayer.
Lim was met on the sidelines at Seremban Jaya assemblyman P Gunasekaran's Liberation Tigers of Tamil Eelam (LTTE) case where the High Court granted a discharge and acquittal.
Rayer and Ramkarpal are representing Gunasekaran.
They have a separate LTTE case involving V Balamurugan.