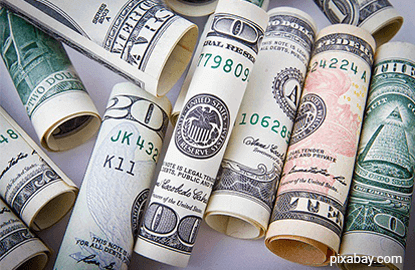 LONDON (Feb 17): The US dollar was stuck near a one-week low against a basket of currencies on Friday after upbeat economic data failed to lift Treasury yields, with concerns about policy under president Donald Trump quelling hopes of a new rally in the currency.
US government bond yields, rising steadily over the past 10 days, hit a wall on Wednesday and barring a broader revival in US time, the dollar index was on course for its sixth weekly loss in the past eight.
It traded less than 0.2% higher on the day in morning trade in Europe at 100.64, having hit an eight-day low of 100.410 overnight.
Indicators released on Thursday shed more positive light on the US economy, with the Philadelphia manufacturing index jumping to a 33-year high.
That followed robust inflation and retail sales data and a boost from US Federal Reserve Chair Janet Yellen who spoke on Tuesday in support of a near-term rise in interest rates.
Yet the political noise surrounding the Trump White House seems to have left some investors less confident about — or at least less focused on — the broad reflation trade that drove the US dollar higher in November and early December.
"The recent dollar rebound has lost some momentum after running into technical resistance," said Lee Hardman, a currency economist with MUFG in London.
"... The dollar is already deeply overvalued against the other major currencies. As a result we believe that the scope for further US dollar upside is more limited now even as US economic fundamentals are encouraging."
A combative presidential news conference on Thursday followed the resignation of National Security Adviser Michael Flynn earlier this week and had investors and analysts wondering how effective the Trump administration will be in pushing through his legislative agenda.
The greenback was 0.1% weaker on the day at 113.140 yen after losing 0.8% overnight. It had briefly risen to a two-week peak of 114.955 on Wednesday.
The euro was a quarter of a percent weaker at US$1.0644 after climbing 0.7% the previous day. It was on track to eke out a 0.2% gain against the US dollar this week, having been hit the previous week by perceived political risks in the euro zone.
"The dollar did rally in spurts this week but the surge lacked strong conviction. For example dollar/yen failed to take out the 115.00 threshold," said Junichi Ishikawa, senior forex strategist at IG Securities in Tokyo.
"This shows that the market is still trying to work out the implication of President Trump's policies, of which his approach to trade may not be supportive for the dollar."